Jas Sum Kral Red Knight Robusto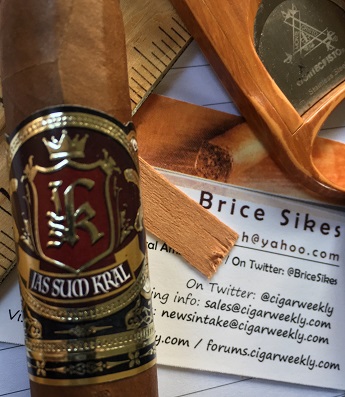 January 16th, 2016
Cigar size: 5 inches by 50 ring gauge
The Jas Sum Kral line is the creation of cigar industry newcomer Riste Risteski, a big man with a personality to match. The JSK line was his idea, and came to fruition with the help of master blender Noel Rojas of the New Order of the Ages factory in Esteli, Nicaragua.
The name Jas Sum Kral translates from Risteski's native language (Macedonian) into English as "I am King". The first cigar series issued in the JSK lineup is called Red Knight. There are four vitolas in the line. The cigar I smoked for this review was the Robusto.
The JSK Red Knight cigars are adorned with attractive red and gold bands sporting the JSK logo on a knight's shield between two heraldic lions. As for the blend that Risteski and Rojas developed, it uses a 'top secret' filler inside a binder of Mexican San Andrés and Nicaraguan seco leaves. The wrapper is a 'light claro' Ecuadorian Habano leaf.