Cigarticles
Ybor City Cigar Festival 2010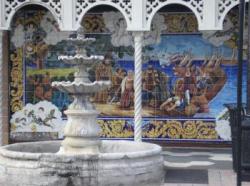 Tom Chapman (tchapchap)
Contributing Editor
February 14, 2011
Tampa. Ybor. Cigar City. They don't call it that for no reason. Tampa, and Ybor City in particular, are steeped in cigar history. This history was celebrated at the 12th Annual Ybor City Heritage & Cigar Festival held November 20. I attended my first Heritage Festival in 2009, and enjoyed it so much I had to go back. In fact, I did an article last year with an Ybor historical perspective. Check it out HERE if you like.
We arrived in Tampa Thursday November 18, and stayed right in Ybor. We parked the car and didn't touch it again until it was time to head home Sunday morning. Everything we wanted to do was within an easy walk from the hotel. Man, it was great! Three solid, worry free days of…CIGARS!
First off, a visit to Ybor isn't complete without paying homage to the man himself.
Vicente Martinez Ybor

Mr. Ybor was a Spanish American industrialist who founded Ybor City in 1886 as a cigar manufacturing center.
Ybor (the place) is home to several local cigar makers and retailers, all of them concentrated along an 8-block stretch of 7th Avenue. We spent the day Friday strolling around, sampling some of the local smokes and taking in the historical sites. Worth special mention are La Herencia de Cuba and Nicahabana Cigars. Both make very tasty smokes!
La Herencia de Cuba
Nicahabana


The 'big dog' of Ybor retailers is King Corona. Here, you can enjoy a Cuban sandwich and a beverage, then relax with a good smoke, all while watching the world go by from King Corona's comfortable sidewalk café. There is a very impressive walk-in humidor and a full line of accessories.
King Corona

Friday night, we attended a Festival kick-off and Ybor City Museum benefit event held in the Museum garden and dubbed 'Fire It Up'.
Kick-Off Party

I was surprised and delighted to find CW Brother Neil Noffsinger (Roadhawg) in attendance as well! It was a great event with great company, and a terrific way to get the weekend started.
The festival is held in Ybor's Centennial Park, which takes up one square city block. The festival staff members assemble portable fencing around the perimeter with a couple of entry points. I tell you this only for the following reason... When we called it a night Friday around 11:30 PM, nothing, NOTHING was set up. No fence, no vendor stands, no canopies….nothing. Only a few delivery trucks were parked in the area. When we strolled out of the hotel about 8:30 Saturday morning, the festival was totally set up! Phenomenal! The charge of $5 per person (to get in) is plenty fair enough for me. Hell, I'd pay $20 to show appreciation for the magic trick of getting set up in micro-time!
From this…
...to this in nine hours!
The Festival is an eclectic mix of food, crafts and cigars. For eats, everything from Vivian's Crawfish Pies to fried plantains and Argentinean Empanadas are available.
A small sample of the gastronomic delights available

On the crafty side, you'll find the usual stuff like soaps and candles, wood carvings and handmade jewelry. The one purveyor who really caught my attention was the gentleman who makes incredibly detailed and accurate miniature cigar rolling tables. My picture doesn't do his work justice. These things are really neat!
Now THIS is cool! A real craftsman

Now, the real reason to be here…CIGARS!
Cigar vendors are located along 9th Avenue between 18th and 19th Streets, adjacent to the Ybor City Museum State Park. Both sides of the street are lined full-length with cigars and cigar accessories. Am I in heaven?
Cigar vendor row!

By my count, there were 30 cigar booths, split evenly between retailers and cigar makers. As they say, a picture is worth a thousand words, so here are couple examples...
Gonzalez Habano Cigar Company
As you can see, these folks set the Guinness record for World's Longest Cigar. They accomplished this feat at the 2009 Heritage Festival. No contest this year, no one stood up with a challenge! I saw the cigar myself last year. Impressive is a gross understatement!
Here, we have the one and only Arturo Fuente Jr. manning the Tampa Sweethearts booth...
Mr. Fuente

Cigar Dave does a live radio show every year from the Festival.
Cigar Dave

I could easily go on and on. I'm certain any cigar enthusiast would enjoy this event immensely. I hope you'll be able to attend in the future!
Thanks for reading my article!
_____________________________________________________________________
Tom Chapman (tchapchap) is a recently retired mechanical engineer who survived over three decades in the bowels of the domestic car business developing future products. He's been a lover of the leaf for several years, and has been known to go considerably out of his way to make cigar-related visits. In addition to family and cigars, Tom enjoys motorcycles (owning more of them than he needs to!) and, in spite of living, breathing, eating and getting beaten up over cars, still loves them too! He's also an avid fisherman.