Cigarticles
Travelogue: Havana - From the City to the Farm and Back (Part 2 of 3)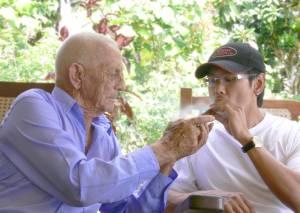 ---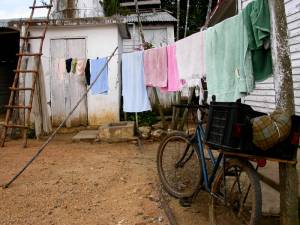 Life on Robaina's farm (Photo courtesy of Vansterdam)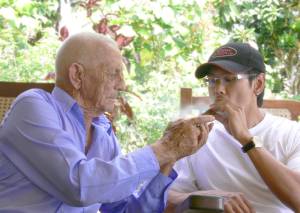 The nub gets a light from Alejandro Robaina (Photo courtesy of Cyclone)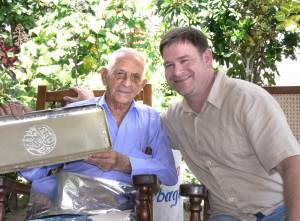 Cyclone presents Alejandro Robaina with a silver platter and smoked salmon from our hometown (Photo courtesy of Cyclone)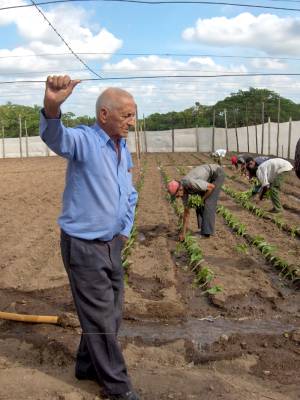 Alejandro Robaina overseeing the planting of the 2006 crop (Photo courtesy of Sinbad)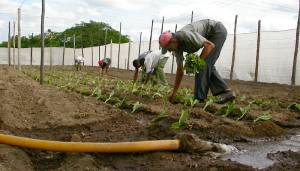 Planting of Criollo 2006... a new strain of tobacco (Photo courtesy of Vansterdam)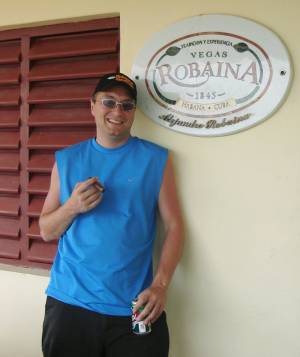 Marty Mix on the porch at Vegas Robaina (Photo courtesy of Marty Mix)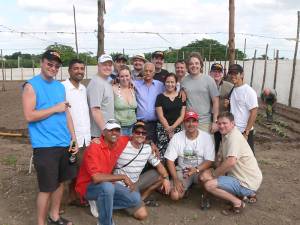 L to R: Marty Mix, Sinbad, Scottie2Hottie, Kathleen, Alejandro Robaina, Chaosgeek, Che, and the nub. Back: LusiHo, PJ, Tc, JayArr, and SergeAyotte. Front: Cesar, Vansterdam, Falcon and Cyclone (Photo courtesy of Cyclone)
Wednesday morning is a rough one. Seems that some of the guys went on a bit of a bender Tuesday night. Consequently, the greeting party at Partagas for new arrivals Scottie2Hottie and Kathleen is a little shy of a full load. By about this time in the trip, we're regulars at Partagas. Rum flows and we're in and out of the walk-in humi like it's our own. After an hour or so of rum and cigars, we're off to Conde de Villanueva to pick up my Reinaldos. The manager is not in when we arrive. That leaves me in a bit of a dilemma. On the one hand, these corona gordas are good and the price is right at 2.80 CUC apiece. On the other, there are so many great cigars that I want to buy and it's hard to justify eating up my limit with fifty of these. I consider leaving without picking up my order but luckily the assistant manager recognizes me from the other day and brings out the CG's. They look beautiful and later in the week, I smoke a few and wish I had bought more. They are better than the one I had sampled - I wouldn't trade them for 1998 box of Boli CE, they are that good.
Thursday morning and we're up bright and early for the long ride to Robaina's. Marty Mix has arranged for an air-conditioned bus to take us to Pinar del Rio city and then to Robaina's. It's roughly 11:30 when we arrive at the LCDH in Pinar del Rio. The selection is limited and some of the boxes appear to have suffered water damage. LusiHo picks out a box of VR Famosos and the saleslady freaks out when he attempts to inspect it. The rest of us go to the back bar and proceed to deplete their entire inventory of beer. Gone. All of it. Well, ok, we didn't drink it right then and there but we brought it to Robaina's.
Back to the bus and we're off. Somehow we get lost. It seems that some of the notes that Marty Mix made on the last trip don't add up. A particular landmark is missing. It so happens, that landmark is a car- to be more specific, a Lada. Someone has moved the Lada. Someone's decided to use the Lada as a parts car and a rusting heep of scrap metal is nowhere to be found. And we're late for our invitation to meet Robaina. The bus driver stops to ask for directions and in Cuban style, we've picked up a passenger and off we go in some unknown direction. Ten minutes later, the bus stops and the passenger exits, but not before pointing us in the right direction. How anyone could find the farm without a guide is beyond me. None of the roads are marked and I imagine directions are given with landmarks. " Turn left at the cantina, go up the road until you see the house with the goats, turn left again at the Lada, although if you come back next year, it might not be there...so look for the compressed patch of grass..."
We finally arrive at the gates and for a moment it appears we are refused entry. A man in dark sunglasses checks out the bus, hesitates, but eventually waves us through. We're invited to seat on the veranda. There is a long table set for lunch and the remaining 300 square feet or so is taken up by rocking chairs where we sit and wait in anticipation. After a brief moment, Alejandro Robaina is introduced and a respectful applause ensues. He's dressed in a long sleeved blue shirt, dark trousers and black leather loafers. He's a tiny man. He moves slowly but not laboriously. He walks towards me and shakes my hand. His skin feels like soft leather. When he speaks, there is immediate attention. The sunglassed man who was at the gate, we'll call him 'Chabo', is dispatched to get cigars. I later find out he is in charge of Public Relations. He returns with a handful of short Sublimes sized beauties, with dark, mottled, oily wrappers. One by one, we sit down beside Robaina whereby he punches and lights our cigar. He seems to enjoy it as much as we do; as if it is HIS pleasure to do so. The cigar is fantastic and tastes nothing like any regular production cigar I've smoked. It is smooth and creamy, medium strength and has a freshly rolled twang. I sit back in the rocking chair and try to take it all in.
Vansterdam and I talk with 'Chabo' as Robaina signs autographs. People have been coming to the farm even before he received worldwide recognition. Nowadays, there is a group of people arriving at the farm every week. There is a pay-telephone installed near the front gates. There is an official money exchange located on the farm. This is all big business for someone, but who? The homestead appears typically Cuban. There are no modern cars in the dirt driveway and the only hi-tech gadgetry to be seen is a twenty-year old tv. As far as I can tell, the only luxury afforded to him is an extra plot of land where he can grow his own vegetables and have his own rose garden.
I try to get more information from 'Chabo' about the operation of the farm but it is difficult. They are planting a new strain of tobacco this year, some 200,000 plants so far, early in the season. 'Chabo' says this is still experimental. The strain is Criollo 2006. By the time we board our plane to fly home, more than a million seedlings will be planted by hand. It's backbreaking work and I doubt that I could last more than an hour doing it, especially in the scorching heat of the day. I ask about the cafresias- the artificial curing barns. I had heard rumours last year that Robaina did not like to use them. 'Chabo' tells us some of the harvest is sent to a nearby processor, but does not specify how much.
Vansterdam has in his hand, a VR Don Alejandro that he bought earlier in the day at the LCDH in Pinar del Rio.
'Chabo' grabs it from his hand. "Where did you get this?"
"From La Casa del Habano", Vansterdam replies.
"In Pinar del Rio", I interject.
'Chabo' shakes his head. "Fuck".
Tc has a Don Alejandro also and 'Chabo' takes a look at it. "Fuck". "We don't have nothing to do with this piece of shit". He shows it to Robaina but I can't see his response. 'Chabo' says the cigar is wrapped with binder leaf and not wrapper leaf. He is disgusted with the quality of cigars made by Habanos that bear the Robaina name.
Our visit is briefly interrupted to the announcement of the arrival of the Club Havana manager and Dr. Fidel Castro. There's brief laughter at the explanation of Dr. Fidel Castro's name. Same name, different guy. Shortly after, lunch is served. With the arrival of Club Havana group, the main table has become so long that I've been relegated to the children's table with Vansterdam, Cyclone and the bus driver. I put down my cigar to feast on fried chicken, pork, black beans, rice, plantains and salad. I eat it all. Afterwards, Cuban style café is served and then a cake drizzled in honey. It is enough to make you want to smoke a great cigar. I relight the farm rolled Robaina. It's delicious and I ask 'Chabo' if any are for sale. He replies "No" and gives me a look that says either, "You shouldn't be asking" or "Yes, but not for you". I can't tell the difference and I don't ask again.
After lunch, we wander about freely. The curing barns are empty, but several racks of dried brittle leaves are left on display for visitors. The group assembles by the front gate for a photo. We walk back to the field for a group shot with Robaina. He is genuinely a nice person. He does not speak a word of English but communicates that he is happy we are here and that we are the best group he's had visit him. In his own way, he makes everyone feel like he or she is an old friend. We say our final goodbyes and hop onto the bus for the hour and a half ride back to the villa.
---
In the third and final installment Lawrence and company wander around Havana, smoke more cigars, drink more mojitos and tell more stories...
---
Lawrence Leung (the nub) is a self-employed commercial interior designer who devotes much of his spare time wondering what to smoke next. His days are often spent dreaming about the next trip to Cuba or planning an early retirement.