Cigarticles
Smoking Cuban Cigars and Eating Swiss Chocolates in Los Cabos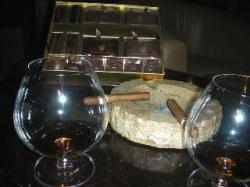 My husband Gil and I recently returned from our annual visit to Cabo San Lucas, Mexico. Gil is one of the managing partners of Cigar Weekly, and so naturally he looks forward to enjoying a fine Cuban cigar while soaking up the sea and sun of Los Cabos. We know many readers of Cigar Weekly occasionally visit Mexico as well, and that they may have questions about purchasing Cuban cigars there. Gil and I did some specific research, and collected interesting information to share. We hope this article will be of value in that respect.
Just before leaving Reno for our trip to Mexico, we were fortunate enough to receive a box of Swiss Chocolates in the mail from The House of Grauer, courtesy of our friend there, Thierry. Grauer Chocolates has developed interesting pairings of cigars and chocolates - a wonderful way to enjoy a cigar, and something we hadn't considered before.
This article will describe that experience as well.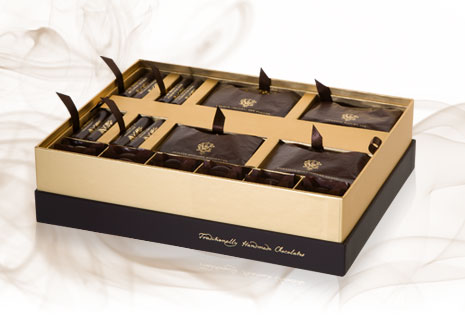 Aficionado's Regular Mixed Collection - The House of Grauer
As we boarded our plane at Reno Tahoe International Airport at 6:00AM, it was 17°F outside. Snow was coming down in big fluffy clumps, the chilly wind was howling, the wings of the plane were icing up and the weather threatened to delay our departure. The anticipation of our impending vacation grew as we sat on the runway awaiting take-off. Gil and I thought of warm, sunny weather and the little bungalow right on the beach where we'd be staying. We were anxiously visualizing the first hour after our arrival when we could at last relax, enjoy a cigar and say, "We have finally arrived once more at our home away from home."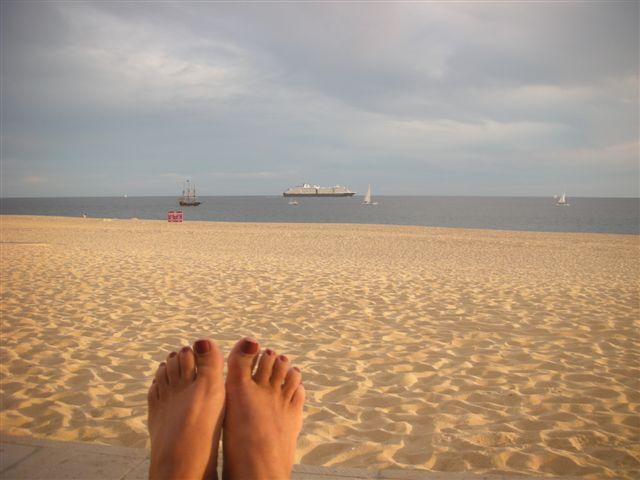 A view of the beach
Gil and I have been visiting Los Cabos for many years, and we've have done a lot of personal research on purchasing cigars in the area. Many small cigar shops dot the streets of Cabo San Lucas and San Jose Del Cabo. There are also tobacco shops in the town malls. And some of the resorts, restaurants and hotels sell cigars in their gift shops. All of these places advertise 'Cuban' cigars. Very few of them, however, actually sell authentic Cubans. How then, you may ask, is one to know which cigars are truly from Cuba?
The answer is actually very simple. There is only one official distributorship in all of Southern Baja. And it is held by J&J Co. This means that any tobacco shop, restaurant, hotel or resort in town that wants to sell original Cuban cigars to the public must buy them from J&J Co.
Jose Cantu, or Pepe as his friends call him, is Director General of J&J Co. Pepe owns two up-scale cigar shops in Cabo San Lucas. His first is J&J Premium Cigars, Tequila and Espresso, and the second Cabo Hemingway's Cigar and Tequila Lounge / Casa del Habano. Cabo Hemingway's is the only Casa del Habano in all of Southern Baja. Casa del Habano is the exclusive franchise and official retail shop for Cuban Cigars, the franchise being managed by Habanos S.A. (You will find LCDH stores in major cities across the world.)
In 2005, Habano S.A. recognized Los Cabos as a potentially great market for Cuban Cigars, and decided it wanted to open a La Casa del Habano there. Once that decision was made, Habanos S.A.'s first choice was J&J Co. Pepe decided to go ahead with the project, and that's when Cabo Hemingway's / La Casa del Habano was born (in Cabo San Lucas).
All Limited Edition Cuban cigars are made exclusively for marketing through licensed La Casa del Habano purveyors throughout the world. If you find a Limited Edition Cuban cigar in any shop other than an LCDH, you can be guaranteed it has either been sourced legitimately via the Habanos S.A. distribution network or that it's a counterfeit. Unfortunately, the latter scenario is often the case. And believe you me, you will find plenty of counterfeit 'Limited Edition Cuban' cigars - especially in the Caribbean and Mexico.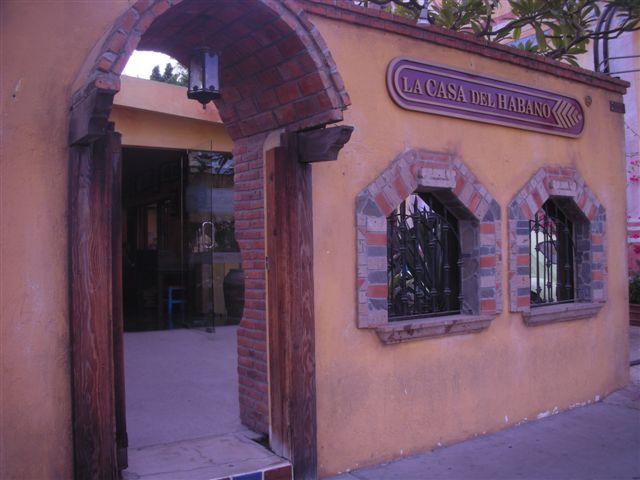 Cabo Hemingway's / La Casa del Habano
In a conversation with Pepe, he told us:
J&J Habano Co. was started in 1996. By 2000, the independent J&J Co. was already very successful, not only as a retail business but also as a wholesale distributor to 5-star hotels and restaurants, providing Cuban cigars, excellent service and cigar advice. At that time, Habanos S.A. recognized their work in South Baja and decided to bestow upon them the honor of earning the first exclusive sub-distributorship of Cuban Cigars anywhere in the world. As Pepe put it, "This was quite an honor, since Habanos S.A. honors only one distributor per country and had never before offered a sub-distributorship anywhere." When you see the logo 'La Casa del Habano', you can be certain that you are purchasing Cuban cigars from an authorized location, and you will be guaranteed the following:
1. A selection exclusively of Cuban cigars
2. An authentic Cuban Cigar
3. A cigar in perfect condition
4. A very knowledgeable staff
J&J Co. Project in Los Cabos, the wholesale division of J&J Co., is working on a certification for their client tobacco shops, hotels and restaurants who guarantee that they sell only 100% original Cuban cigars. A directory is also being created in order that tourists will know where to find these shops. This directory will also contain general information about Cuban Cigars. So far, besides J&J Habanos and Hemingway's/La Casa del Habano, there are a few other shops dedicated to selling 100% original Cuban cigars in Los Cabos. J&J Co. works closely with major resorts, including One and Only Palmilla and Palmilla Golf Course, Hotel Las Ventanas, Hilton Hotel and Playa Grande Resort. These facilities are dedicated to selling quality original Cuban cigars. Feel free to contact Hemingway's for any advice or information about Cuban Cigars, and go see them while visiting the Los Cabos area. www.j&jcompany.com
Jose R. Cantu - Pepe
The back gardens of Hemingway's
There is another important fact to consider when purchasing Cuban cigars in Mexico. Mexico is among the most expensive places in the world when it comes to taxes on imported tobacco and alcohol. To import any cigar from any country into Mexico, the tax is 98.9%. So for every $100 box of cigars Pepe purchases in Cuba from any official La Casa del Habano, he pays a $98.90 tax. In addition, the usual annual increase in price for Cuban cigars is approximately 5% to 7%. Three category four and five hurricanes hit the island of Cuba last summer, devastating all the tobacco fields and tobacco warehouses. As a result, the increase this year jumped to 25%.
Pepe has been visiting the island of Cuba for 14 years to make his cigar purchases. His favorite moments there have been the gala dinners after the Habano festival. On five separate occasions, he's had the opportunity to sit, chat with and enjoy a cigar with Cuban President Fidel Castro (when the President was still an avid smoker). Pepe has walked the safe streets of Habana, enjoying the people, their music and their culture, cigars and excellent rum. He's also visited the tobacco areas like Pinar del Rio as well as the cigar factories. These have counted as memorable and exciting times for Pepe.
On a Saturday night during our vacation, Gil and I prepared to make the trip into town to spend an evening at Cabo Hemingway's. We were accompanied by some great friends we've come to know down through the years while visiting the area. All of us were eagerly anticipating an evening of great companionship, Cuban Cigars and Chilean wine. Plus, I would finally be able to open that beckoning box of Grauer Swiss Chocolates I had transported so carefully and so diligently protected. We were all waiting for just the right moment to open the beautifully packaged box, and this was to be that perfect moment!
For a long time, I have, like many people, appreciated the pairing of good chocolates and red wine, good cigars and various Bourbons or Scotches. But I had never considered combining chocolates and cigars. This was going to be a brand new taste experience for me!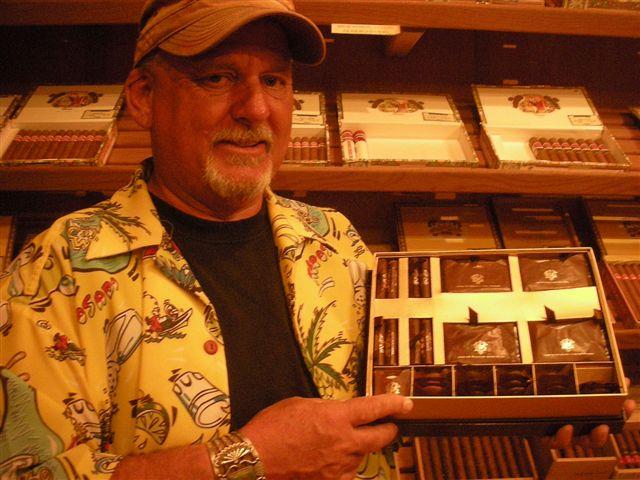 Gil displaying Grauer chocolates inside Hemingway's humidor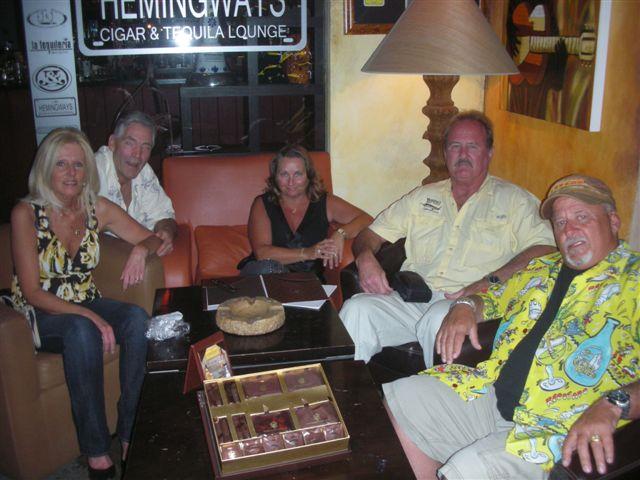 Grauers beautifully packed box of Swiss chocolates - ready to taste!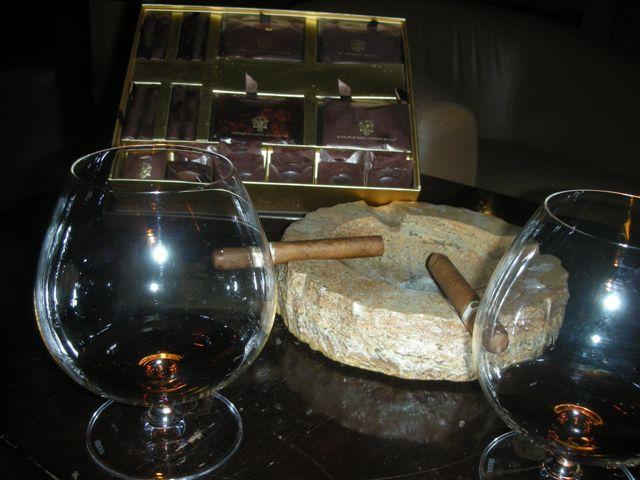 Cognac, Grauer chocolates and Cuban cigars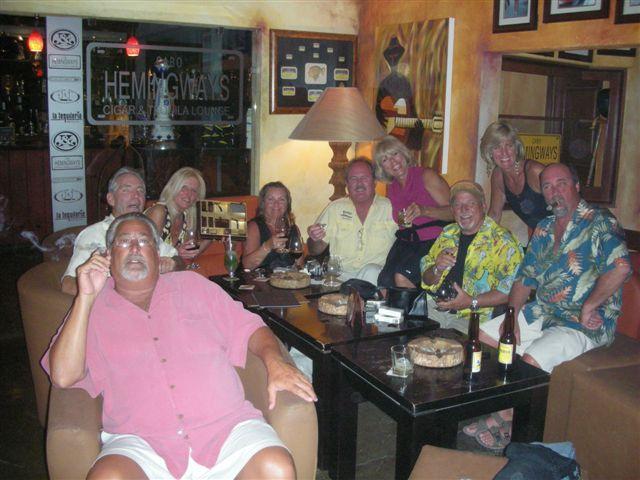 A fun time at Hemingway's with friends
A sweet chocolate enhanced kiss!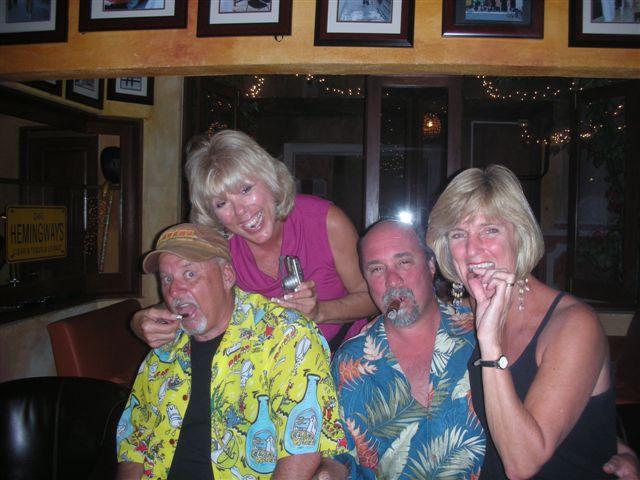 Pairing cigars and chocolate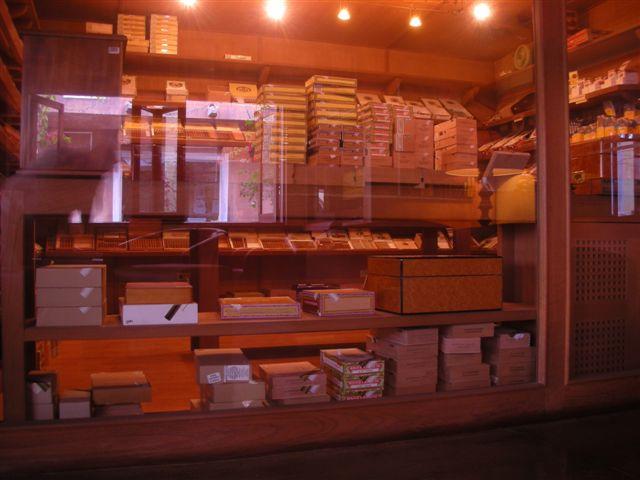 The fully stocked humidor at Cabo Heminway's
Hemingway's Tequila Bar
Upon arrival, we were greeted by the friendly folks at Cabo Hemingway's, promptly sank down into the plush, soft leather furniture, and ordered our favorite libations - Bourbon, Scotch, wine, Tequila (Hemingway's has an extraordinary selection of wonderful Tequilas) and even the specialty drink of the establishment - Mojito. Yum!
Some of us lit up our favorite Cuban cigars, and we then set out the much anticipated box of Grauer fine chocolates. It was ceremoniously opened, and then passed around to be enjoyed by our group, the staff of Hemingway's and anyone else sitting near us who looked like they needed a piece of chocolate.
Wow! All I can say is that I thoroughly enjoyed my experience of sharing the Grauer Swiss Chocolates as I sampled Chilean red wine and one of Pepe's Cuban Cigars. My mouth was so busy savoring all the tasty, beautifully blending sensations that I had no words to express the experience. My sensation of the chocolate is best summed up by quoting Grauer's own website:
www.grauerchocolates.com
To quote:
"The Cigar Smokers Chocolate Companion is based on one very simple concept - the pleasure of one's smoking experience should not be confined to the universe of one's cigar."
"Grauer chocolates are an online revolution for cigar aficionados."
"Our goal is to provide an uncommonly delicious taste experience."
"Grauer chocolates do not just offer the pleasure of a deluxe chocolate. They explore and enrich the ties between two of the most delicious products known to man: the cacao bean and the tobacco leaf. The chocolates naturally reinforce your cigar and intensify the sensation of union between bean and leaf. The richness of the chocolate heightens the delightful anticipation of the cigar experience, and once the smoke dissipates, the essence of the fine cacao beans awakens the latent earthy taste of the tobacco. This succession of tastes culminates in a harmony that creates an absolutely perfect union."
Pairing chocolate with cigars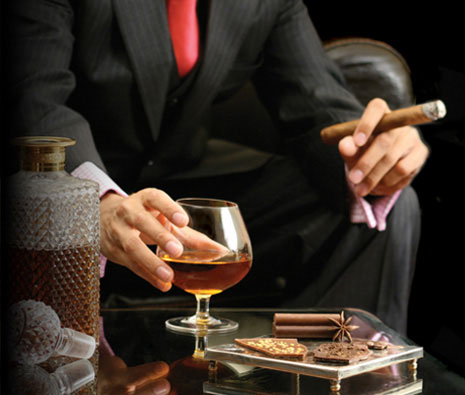 Photo from Grauer's website
The website has a page where they suggest pairing of specific chocolates with specific cigar types. It's a very interesting concept and worth your time to take a quick look.
We all had a blast at Cabo Hemingway's, enjoying great experiences and tasting great flavors of life. Now I have yet another excuse to eat chocolate - especially Grauer Swiss chocolates. And we enjoyed interesting conversations about original, authentic Cuban cigars and where to purchase them in Los Cabos. I hope this article will help you have a better cigar smoking experience when you visit the Los Cabos area. And don't forget to order your Grauer Swiss Chocolates before you go.
Adios Amigos and Amigas
Claudia Ellis