Cigarticles
Cigarticle: Purchasing Cigars Over the Internet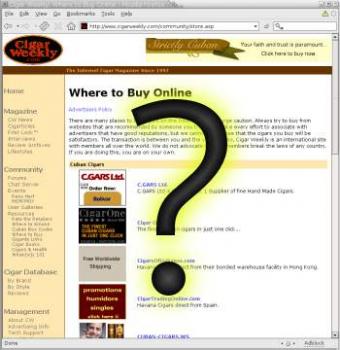 An alternative to procuring cigars in a shop has existed for a number of years. What are the advantages and disadvantages of purchasing cigars and smoking accessories over the Internet?
One of my most pleasurable experiences as a cigar smoker is strolling the length and breadth of a cigar shop - even without any intention of making a purchase. Just to look at the variety of boxes, to gaze upon the cigars themselves, to touch them and savor their aroma, constitutes a festive occasion that I always look forward to with considerable alacrity.
Nevertheless, there are people who seek an alternative solution to acquiring cigars in a shop - and such a solution exists: placing orders over the Internet.
Advantages and Disadvantages
With the assistance of a search engine such as Google or Yahoo!, one can come across scores of cigar retailers' sites. There are retailers who manage a shop in addition to their site, whereas others do business solely from their site. Purchasing cigars from either type of retailer awards the purchaser two distinct advantages: convenience and selection.
For example, whenever I crave cigars lacking in my humidor, but do not feel like traveling to a store (or do not have the time for it), I can sit beside the computer and place an order in a mere few minutes (or even less). Moreover, I can order brands and/or vitolas that are simply not available in my country.
On the other hand, there are drawbacks as well. In addition to the fact that a computer is miserably incapable of recreating the sublime ambience of a cigar shop, it is entirely possible for the buyer to fall victim to unethical dealers.
Beware!
A number of relevant question arise in the mind of the cautious, suspecting consumer, such as: is the site/retailer trustworthy? Is it safe to make credit card purchases over the Net? What is the quality and price of these cigars as compared to their counterparts sold in shops? How are the cigars delivered, and what is the cost of the shipment? What is the policy of the retailer concerning undelivered or defective goods?
I, personally, have accumulated many years of experience in purchasing cigars, smoking accessories and other related products, from a variety of sites originating in England, Germany, the U.S., Canada and Hong Kong, and while I have never encountered major problems with quality, shipments or payments, I must confess that I know a number of cigar lovers who indeed have.
Accordingly, I wish to suggest several precautions to the neophyte:
In making the initial purchase, choose a site recommended by a friend or acquaintance who achieved satisfaction. In the event there is no such person in your vicinity, you would do well to join a good cigar board (forum) on the Net (such as the Cigar Weekly Board, of which I am a member), where you could receive plenty of sage advice.

If you are loath to provide credit card details over the Net, a good site should accept this information by fax. (Incidentally, I have always either used a secure form provided by the site or sent off an e-mail - never with negative consequences of any kind.

If you are interested in a site which has not received an endorsement, it would be wise to check for the following details:

site identification, namely, the site address and its e-mail address;
policy pertaining to undelivered and/or flawed merchandise;
certification or logo which identifies an authorized or approved retailer.

Prior to the initial order, it is highly recommended sending off two or three e-mails to an unendorsed site, if only to get a sense of the way the staff relates to a prospective customer and to observe how long it takes to receive a reply. In my opinion, a lack of response within two days is a cause for serious concern.

When making the initial purchase, it is highly advisable, nay, imperative, to place a small, experimental order so as to cut losses in the event of an untoward experience.
Recommended Sites
Nearly every popular Internet cigar board has a section for rating cigar retailers, and much useful information can be exploited by the potential buyer for his/her consideration.
Additionally, I would be pleased to wholeheartedly and unreservedly recommend the sites I personally have had positive dealings with; they are sites which are outstanding in the quality of their goods, their prompt and courteous service and their overall approach to customer relations. I may be contacted at rubyz@bezeqint.net.
Take the Plunge!
Personally speaking, when all is said and done, I still prefer the adventure of haunting a cigar shop and immersing myself in its multi-dimensional magic. However, if you are like me, and do not often chance to visit a cigar emporium, it may be worth your while to log onto a cyberspace encounter of the cigar kind; you may even enjoy it.
---
Reuven Zasler (rubyz) has been savoring Habanos for the past twenty six years, and has been ordering them from websites for the past ten. He holds a B.A. in music, an MSc. in education, and three English teaching licenses. Reuven has been an English language instructor in Israeli public schools,universities and colleges, and currently runs a private English tutoring service. His wife, Gabbi, who neither smokes nor drinks, absolutely loves the aroma of fine Habanos and wines. Reuven and Gabbi have four children and four grandchildren, none of whom presently indulge either in the leaf or the grape.