Cigarticles
RTDA MEETS FOR 75th Time, Part 2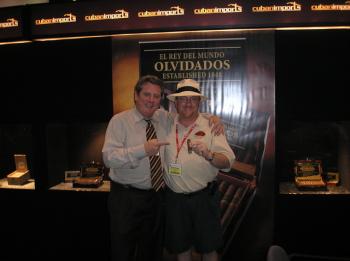 After lunch on Monday afternoon, I found my old friend (in terms of forum years) Al Argenti (Aja) of Cuban Imports, a company his brother Michael founded a bit over a year ago. Many here on Cigar Weekly know of our friendship, but these guys are making things happen. At last year's RTDA they debuted their company with three cigar lines. One is their own brand called Exile (which is quite good), but the other two were new blends of H. Upmann and Por Larranaga, affectionately know here as "Por Larry" (say it aloud, then wait for the ads to appear). These are two of Cuba's oldest brands and have had a presence in the American market for years as well. The brands are owned by Altadis, yet Michael and Al were able to work with Altadis to market these two new blends. They have, in effect, "made boutique cigars from two of the oldest brands owned by the world's largest tobacco company." They are introducing another line this week. This time it's a El Rey del Mundo blend called "Olvidados" which means "The Forgotten." According to Al, this is a blend that Frank Llaneza created years ago, but never produced in quantity. Frank Llaneza, the long-time head of Villazon Cigars (Honduras American Tobacco) is now retired. These cigars are made for Cuban Imports by Villazon, and this blend is the very strongest blend made in that factory today. Remember too that the Villazon brands are a subsidiary of General Cigars. In two short years, Cuban Imports have worked with three recognized brands owned now by two of the largest conglomerates in the world. I smoked an ERdM Olvidados this afternoon, and it IS quite good and has quite a nice punch to it. From their press release come the details of this line of cigars, which will be available in October:

Al Argenti and I

Aja wrote:
"El Rey del Mundo® OLVIDADOS is an imperiously bold cigar experience coupled with a complex mosaic of delicate flavors. Fastidiously crafted by legendary cigar maker Estelo Padron protégés Edwin Guevara, Marco Lean and Ramon Bueso, El Rey del Mundo ® OLVIDADOS is comprised of deeply aged Nicaraguan ligero, Honduran viso and Dominican seco filler tobaccos. The long-awaited new blend is delicately enveloped in a smooth Connecticut Broadleaf binder surrounded by a dark Ecuadorian Sumatra wrapper. Proudly presented in lustrous rosewood cigar boxes, El Rey del Mundo® OLVIDADOS is available in five (5) sizes: 'Chateaux R' (5" x 54 Robusto); 'Chateaux E' (6" x 52 Epicure); 'Chateaux T' (6 1/8" x 54 Torpedo); 'Chateaux X' (6" x 60) and 'Chateaux D' (7 1/4;" x 54 Double Corona). The suggested retail price of each cigar ranges from $7.99 to $11.99."

El Rey del Mundo Olvidados-Outer Box

El Rey del Mundo Olvidados-Inner Spanish Cedar box

El Rey del Mundo Olvidados-cigars

MrsYogi getting down to business with Aja
Look for this one in October.
One of the other Cigar Weekly folks we ran into in our travels around the hall, vudu9 (Dion Giolito of Fumare in Reno), is representing Illusione. He gave me a pretty PC which I smoked this on Tuesday morning and it was fantastic. Nice, complex and full-bodied.

vudu9

On Day One (Monday for us), while we walked the floor early on, we happened upon an exhibit of some fine "Mini Cigar Bars." They've already been profiled in cigar Aficionado. These are made by Max Benjamin of www.maxbenjamin.com

Mini Cigar Bar packed and ready to go

Mini Cigar Bar showing the open ice container and humidor with humidifier in the lid

Jeff Siegel showed these to us and they are simply beautiful. The ones already available are pure leather, hold two bottles of wine, have a humidor built in, and they come with acryllic tumblers. They're simply exquisite. At some point next year, they are going to make available a strong fabric version with leather buckles and straps which will sell for half the price of the leather ones available now.
I ran into Tinderbox215 (Roger McLain of Mobile), Live2Fish from the Dallas area and Mowee (Frank Seltzer) who I've been dying to meet for six years, now. Hockeymaniac (David Schwartz) who's here working with Stinky Salviano of Stinky Ash Tray fame also crossed paths with us and it was nice to shake his hand as well.

Fishermen: Trey Harris (live2fish) and Todd Golomb (Castanza)

David Schwartz (hockeymaniac)

I feel as though there is NO WAY that I can live up to the standards set by Nivek in compiling an RTDA review. He knew EVERYONE at RTDA, and was always able to sit down with all the players and discuss their new lines as well as their thoughts about the cigar business, where it is going, and what is succeeding. I don't feel like I came close, yet as I write, this report gets longer and longer. I hope to be able to cover more tomorrow.*
*These reports were posted on the Cigar Weekly Forums during the show.