Cigarticles
2009 IPCPR Wrap-up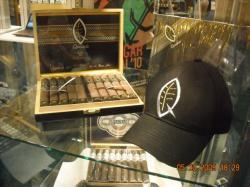 Well this year's IPCPR (boy that still just rolls off the tongue) was back in New Orleans since last time we had such a great impact. (As if we had not done enough damage to the city, 4 years ago we were the opening act for Katrina.) New Orleans can be a great city, even with all its troubles…but August in New Orleans is still a sticky mess. As I sit back in Dallas now, my shoes are still soggy. Not only did we have the usual 300% humidity, but also we were treated to monstrous thunderstorms every day.
To complicate matters further, the state decided to station 'revenuers' inside the convention hall. This was a little bit of an improvement from the last time when agents with guns showed up demanding tax from the manufacturers prompting several including Lew Rothman to say 'screw it' and leave.
While you could smoke inside the hall, the Louisiana State Tax agents walked the floor sometimes with badges out, other times "undercover"agents roamed the floors checking to see if retailers had samples and from which company. Announcements were made throughout the show warning manufacturers to be certain they accounted for every cigar they had and that tax had been paid on ALL the samples handed out. The only good thing was they were upfront about the thievery. I think they also had to pay tax on the floor displays. That being said, I received NO samples of any cigars at the show, but I CAN IMAGINE how they taste. Everything from here on is, ahem, speculation from my fertile imagination. No taxes were needed since no samples were received.
An overall comment on this year's show was it seemed like most of the manufacturers were writing good orders. I think one reason for that is it seems the cigars are getting better and better. Sometimes there is only one standout cigar for the whole show. In talking with others more knowledgeable than I, there were many tasty and interesting offerings this year and actually this was one of the best crops yet. (Ahem, that is IF I had smoked them.) The only downside was some of the best cigars were limited production because of the tobaccos being used. I have not smoked, err imagined, all the new cigars yet and will follow up with individual reports
The show kicked off Sunday night with a welcome party over at the Hilton. You could tell that this year's turnout was a bit light. Not only did the ballroom seem a bit open you could tell how light attendance was since there were no lines at the open bar or for the free food.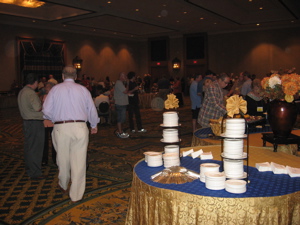 The welcome party was a significant improvement over last year's because this year we could smoke. One tip from a professional…do not eat a small breakfast, skip lunch but continue to drink all day. It does not end pretty and my walk back to the hotel while only 3 blocks ended up being about a mile considering my weaving. Wish I could say more about the opening party, but I was fairly alcohol impaired. I did have a great conversation with Dion, I just don't remember any of it.
Sunday was the opening of the trade show. It began with a breakfast, which again foreshadowed the light attendance. (I don't have any firm numbers but the one being rumored was about 600 stores.) As is the case these days, New Orleans rolled out the welcome mat for us, albeit in a limited fashion.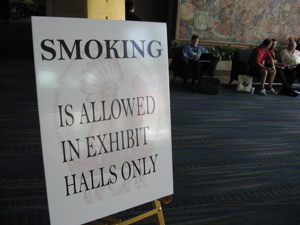 First stop once the show began was the SAG Imports booth to visit Manolo Quesada and the Q5. The Q5, or younguns as Manolo says, are the 5th generation of Quesadas in the tobacco business. They have come up with the new Quesada 35th to mark the 35th year of Manolo's factory in Santiago. (This box pressed beauty is a very limited release with only 1,000 boxes sold and priced at about $12.75 per stick. (They sold out by Monday morning.)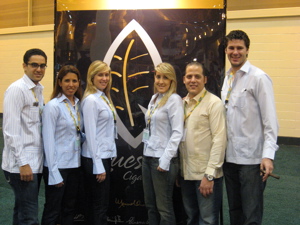 won't go into detail here since TommyBB already has provided a first look at this cigar, but I can say it was one of the big hits of the show. See Tommy's First Look article. MATASA also has a new Casa Magna Oscuro that comes from Honduras. It has the full flavor of the original Casa Magna but with a bit more floral overtone. It's prices range from $5.75- 8. It is a cigar I really need to revisit when I can taste better.
Next up for me was a stop at General Cigar's booth. General had its usual line but also a few additions. There was a new Punch called the Uppercut.
This was a blend used during the Punch election promotion. The Uppercut sports an Ecuadorian Sumatran wrapper with Nicaraguan binder and features some of General's Ometepe tobacco in the filler. It comes in three sizes ( Grand Corona, Robusto and Toro with an MSRP of $6.50- $7. La Escepcion is a limited release in old style Cuban boxes. The colorful presentation is highlighted by the first use of an Ometepe binder and is priced around 6 bucks.
The Brioso is a true value priced cigar from General. This could be your new yardgar. The prices for this bundle are $3 to $3.75. To be honest I was not expecting much because of its price. J.T. Gurvin—the brand manager who developed the line—said he was trying to hit the low price point with a LONG filler cigar. He did it.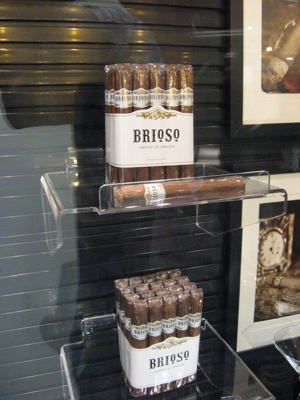 The Brioso uses Dominican seco and ligero with Nicaraguan and Mexican tobaccos in the filler with a Connecticut Habano binder and a Honduran Jamastran wrapper. The flavor is very good and it is an exceptional value smoke.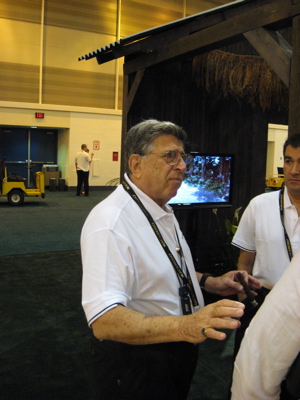 One of best new cigars of the show is a new limited release Partagas Majestuoso. Master blender Benji Menendez is back working in the factory again and his latest creation is the Benji Menendez Partagas Master Series Majestuoso. The cigar has a lot of flavor and balance. Benji used Dominican Piloto Cubano with Nicaraguan mainland and Ometepe fillers a Habano Connecticut binder with a high priming Cameroon wrapper. It delivers an incredible balanced flavor from start to finish. The one size, a 6x46, will come out in October with a price of about $10 per cigar.
A stop by the La Aurora booth showed me another fantastic cigar. This one is not really new, but it is. Guillermo Léon and José Blanco have done an encore on the Cien Años, this time in a limited lancero release.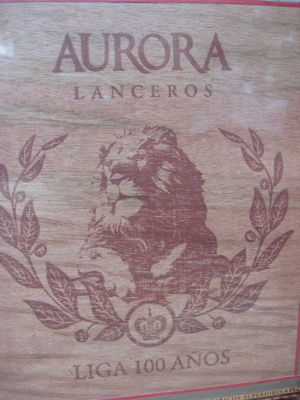 I have had the pleasure of smoking this cigar a couple of times this year while in Santiago and it truly rocks. Everyone knows the Cien Años blend that came out as a limited production in 2003 to mark the 100th anniversary of the company, but the response has been so overwhelming that while the company has a little more tobacco left for the blend it decided to do a reprise. To me the corona was always the best of the sizes because of the ratio of the wrapper to filler…so think of the lancero as a really long corona with virtually the same ratio but more to love. They will come in boxes of 25 with a retail price of $11 each. The company also is releasing a new Preferido robusto with a Maduro wrapper.
Sunday night brought the Altadis Party for retailers. It was the last time that Altadis U.S.A. CEO Theo Folz would attend since he is stepping down for retirement next month. It was noted at the party that since we were last in New Orleans, the Montecristo Relief Organization has contributed over a million dollars to help the city rebuild from Katrina. On Monday night, Altadis's Montecristo Relief Organization awarded yet another 25-thousand dollars to St. Michael's School for Disadvantaged Children to help them continue their rebuilding. At the party, we were given the new special cigar to mark Montecristo's 75th Anniversary in 2010.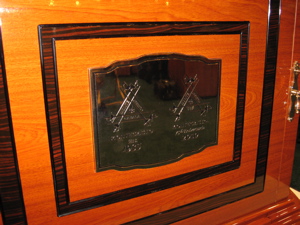 There are going to be special humidors and gift packs of the 75th, which is Nicaraguan and Honduran fillers with a Nicaraguan binder and an Ecuadorian Habano wrapper. Prices for the cigars will run from $10-18.50. The cigar had a nice flavor, but suffered from being very young. This cigar is being aged and will not be released until later in the fall.
Monday morning began at Altadis following up on the 75th and trying some of their other offerings. I had tried a new Romeo y Julieta Reserva Real Maduro with breakfast and found it to be lighter than my usual smoke, but I was surprised at the flavor. While medium bodied it did pack a lot of taste into the robusto. It was probably the San Andreas Morrón wrapper. Price $6-7.
The cigar that really interested me at Altadis was the new Llaneza 1961.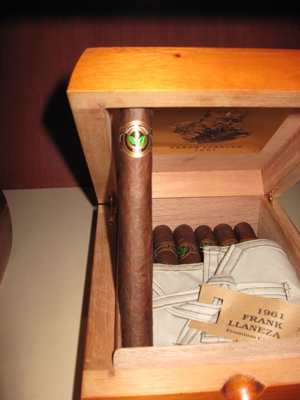 Frank is a legend in the business and his last offering for Altadis was the Siglo line (a favorite for me with its low price point and high flavor and now includes a new Maduro extension). Llaneza has been growing tobacco and making cigars seemingly for many decades (he worked with Villazon in both Tampa and in Cuba) but in 1961 he began making cigars in Tampa. This limited run cigar, which runs from $ 7-9, uses Dominican and Nicaraguan fillers with a Nicaraguan binder and a beautiful Ecuadorian Criollo 98 wrapper. There is a floral sense to it and I was expecting a full power much like the old Villazon or even the newer Siglo. Instead the cigar was more subtle with many flavors and medium body. Not wimpy at all, just extremely pleasant. They are shipping now and if you see them jump on it because they are limited.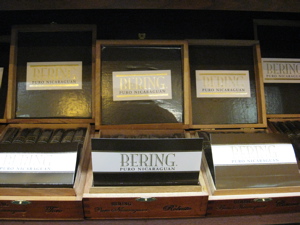 Another tasty cigar from Altadis is the Bering Puro Nicaraguan. I tasted this cigar back in September and really liked it. The prices are $6.25-7.25 but if you are a fan of Nicaraguan cigars, in the older style (lots of flavor without overwhelming power) you will like this one. I fear the name Bering may put some people off but it shouldn't.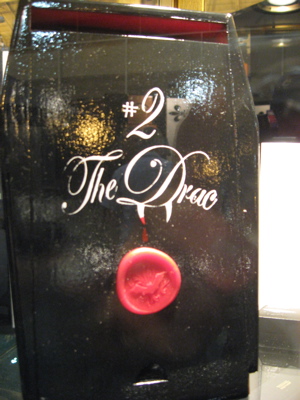 Speaking of Nicaraguans with power, there is the next in the monster series –the Drac -- that will be unearthed from Pete Johnson on Halloween. The box of 13 Torpedoes will be in a coffin selling for $13 each and comes with a Habano Maduro wrapper. Very tasty indeed. Pete is also releasing a limited reprise of last year's Frank with an as yet undetermined name. (It may be the Boris or Frank out of costume.) The cigar is a bit shorter than last year's release and will come 10 to a box. The wrapper also has changed to an Ecuadorian Sumatran. There will be 1,000 boxes of this one and like the Drac they will be out on Halloween.
Speaking of Pepin, Ashton has redone its La Aroma de Cuba, shrinking the line from 11 sizes to 5. Based on the success of last year's La Aroma de Cuba Edicion Especial from Pepin, Sathya Levin said the company decided to move the whole line from Honduras to Nicaragua and Pepin's new factory. Retail for the reblended line will be $5.25-6. Sathya says they wanted to keep the profile similar to the old La Aroma but make it a bit more spicy and rich. A Connecticut Broadleaf wrapper covers Nicaraguan binder and filler. Ashton also introduced a line extension of San Cristobal called the Selection del Sol, which features a hand selected sun grown wrapper from Pepin's farm in Esteli. Sathya says this modified blend is more medium body but complex. Making it more approachable.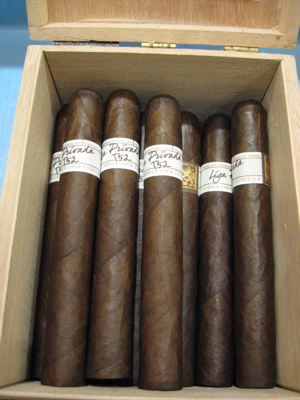 Over at Drew Estate, the booth was always packed. Other than fast hellos to Jonathan, Marvin and Steve we really did not have time to talk. Dr. Alejandro Martinez Cuenca of Joya de Nicaragua has a new stronger Antaño that he said to only smoke after a big meal. Coming from him that scares me. I have yet to eat a full meal so will report later. Drew Estate has the new Liga Privada T-52. This uses stalk cut sun grown Habano wrapper that is aged on the stalk. Nicholas Melillo – the director of tobaccos and production at Drew –told me this process lets the resins from the stalk continue to feed the leaves providing more flavor during the aging process. The T-52 has the dark oily wrapper and flavor you expect from a Liga. The company's limited release of a Liga Privada #9 Flying Pig is a short fat powerhouse. Be warned it has a bit more ligero and is stronger than the usual Liga Privada #9. Drew is also making the new Nosotros for Dion Giolito and Illusione with a retail of $7-11. Originally, Dion was going to blend a cigar with Joya de Nicaragua that was supposed to be the Cruzado but the timing did not work out. When Dion went back to Nicaragua and saw Drew's facility he was blown away. He went through the tobaccos and found true Habano Connecticut binder with Nicaraguan tobaccos to give him a unique flavor.
Monday night took us to a dive for dinner, Café Ernst that had great shrimp Po Boys and allowed cigar smoking in the bar. We were sold and finished our evening at General's party just down the street. The General personnel had a lot of fun handing out cigars, no revenuers here.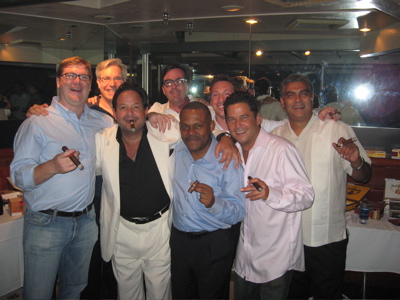 Some people danced to the band, but many just wanted to sit down after walking the hall all day.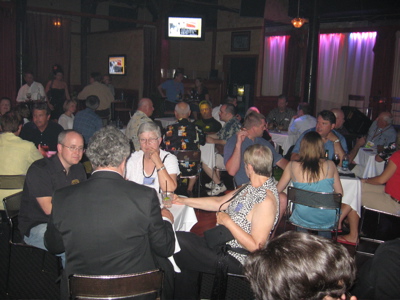 Tuesday brought the opportunity to sit down the Ernesto Perez-Carrillo, the former head of El Credito and La Gloria Cubana, who is now going back out on his own with his son Ernie and daughter Lissette.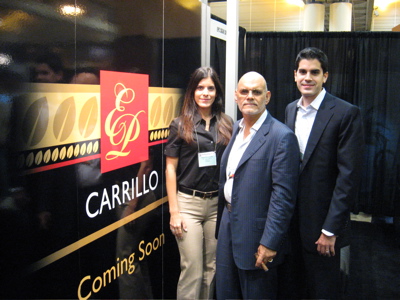 We will have more later on his efforts, but the family had a few samples of their new cigar Edición Inaugural 2009. The wrapper was an experimental Ecuadorian Habano grown about 3-4 years ago. Ernesto had seen the wrapper before and when he decided to open his own factory it was still available so he bought this aged wrapper. When he first announced his departure from General this spring he was not sure when the first cigars would be able to come out saying he doubted he would even be at IPCPR. But a couple of weeks ago, the cigars came together and the taste is a medium bodied cigar with great balance. This first limited batch should begin shipping in mid-November if everything stays on schedule. Ernesto plans on coming out with a regular line next year, but adding a special limited edition each year depending upon the tobacco he finds.
We briefly stopped by a few other places…Oliva has a new cigar Cain which was getting good reviews. Litto and La Flor Dominicana had a new double press that also was generating good buzz. Camacho had the Room 101 and Newman brought back an old brand the Brickhouse, which is a value priced stick.
We missed the CW herf Tuesday as we had to fly back that night…exhausted and overwhelmed. Bottom line, smokers should be excited about the new releases that will be arriving on retailer's shelves in the coming months. Lots of selections and a variety of prices.
_______________________________________________________________________________________________
Frank Seltzer (Mowee) is a former network correspondent who now owns a media consulting company in Dallas, TX. A regular cigar smoker since 1973, Frank runs the DFW Cigar Society, a group that has almost 300 members who get together twice a month to trade smokes and lies. He also runs away as often as he can to his condo in Maui... hence the name Mowee (which, by the way, was the way Captain Cook originally spelled the island when he heard Hawaiians speak it.)