Cigarticles
Cigar Weekly Interview with Ernesto Padilla
Recently, I read the salutatory and valedictory addresses from the commencement exercises of the local school where I used to serve as a librarian. In one of these addresses, a former student of mine openly admitted that she hated public speaking. Uncertain how to begin her address, she asked the rhetorical question, "Should I start with a quote?"

"No," came the answer. "My teachers would be angry because it wouldn't be a good speech anymore," or words to that effect. Her reluctance surprised me a bit. After all, I thought, could there possibly be a more appropriate opening to a speech, or an interview article for that matter, than a good quote? Well, not any more, it seems. That's definitely become passé, or at least it has for commencement addresses.

Over the centuries, learned men, gifted writers and satirists as well as their descendents in the entertainment field, have all been inspired by the cigar experience to wax eloquently, even poetically. Since I'm not addressing an assembly of families and graduates, allow me to sink to cliché and offer you just a few quotes from some famous and not so famous individuals. These personages include writers as well as early television comedians, not to mention a head of state and war hero.
"By the cigars they smoke, and the composers they love, ye shall know the texture of men's souls."
-John Galsworthy
"Eating and sleeping are the only activities that should be allowed to interrupt a man's enjoyment of his cigar."
"If I cannot smoke in Heaven, I shall not go."
-Mark Twain.

"Comes meus fuit illo miserrimo tempo
It was my comfort in those miserable times."
-inscription found on the tobacco box of Sir Walter Raleigh after his imprisonment and execution in the Tower of London , 1648

"I drink, I smoke one cigar after the other and I sleep very little. That's why I'm always 200% in shape."
-Winston Churchill

"The most futile and disastrous day seems well spent when it is reviewed through the blue, fragrant smoke of a fine cigar,
The kind that is self-centering but transfers you to another place,
The kind that is chocalate in color but vanilla in taste,
The kind that you nub so as not to waste,
And provides a sweet respite from the rat race."
-Cigar Weekly's SeaSmoke (Paul Bennetts), February 6, 2004

"Hey, I found a live one!"
-Red Skelton as Freddy the Freeloader, picking up a discarded, but still smoldering cigar butt.

"That's a good quarter cigar, I smoked the other 3 quarters myself."
-Groucho Marx.

Not only do cigars inspire literature and the arts, however. Literature and the human passion for beauty and understanding can also enliven and enrich our beloved cigars, as will become apparent from talking with our very special guest.

Cigar Weekly would like to thank Ernesto Padilla, of Padilla Cigars, for taking time to converse with us.*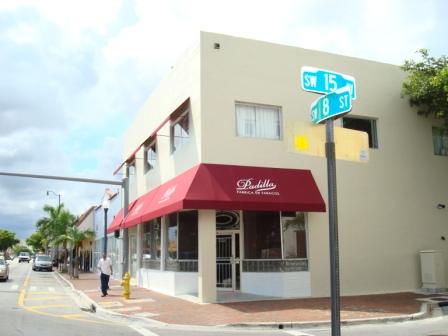 Padilla Factory on Calle Ocho in Miami
Cigar Weekly: There is such a rich history to your family, as evidenced by your website. This will be an interview about cigars, to be sure. But I would like to begin on a different note. On your site, you discuss your father, Herberto Padilla, as well as his poetry and where it took him in his life. You have photographs of him appearing alongside some of the giants of twentieth century literature, including Hemingway, Borges and Mario Vargas-Llosa. So it's certain that he was an important person in the world of literature. How has your father's art and his place in literary history affected your company, if it has?
Ernesto Padilla: Although my father is known more for literature than cigars, his path to poetry and writing began on his family's tobacco estate in Pinar del Rio . He had mentioned to me that guajiros - people who lived in Cuba 's countryside and who worked hard on the land, would recite what they called decimas or oral poetry that was brought over by their Spanish ancestors. As a young boy on a tobacco estate, he would hear freestyle musical poetry 'battles' enhanced by Spanish guitar.
CW: Which poem of his is your favorite? If it isn't too long, can you include it here?
EP: The Alchemist is one of my favorites:
When magic was in bankruptcy,
in those days when the crows
seemed to have given up the work
(and the philosopher's stone held
no more augury),
they took an idea, a furious formulation of life,
and they made it spin
like an astrologer's globe;
thousands of brazen hands
making it spin
like a whore returned to rape men,
but, as for that idea,
only its enemies remain.
CW: Your family is from Pinar del Rio, and part of your mission states, "We are dedicated to perfecting the art of premium cigars, handmade in the Cuban tradition. Since the Padilla family's migration from the Canary Islands of Spain to the Island of Cuba, at the turn of the last century, they have been involved with premium tobacco production." Please describe for us this part of your history, and the role it plays in Padilla Cigars today.
EP: My father's grandparents were of Spanish descent from the Canary Islands. They came to Cuba like most Spanish immigrants at the time looking for opportunities. They were able to procure prime tobacco growing land, and began wholesaling tobacco to cigar factories in havana. My father would be involved with his grandfather in this process.
Throughout his life, my father smoked cigars. There are many pictures of him in publications like Time Magazine of him smoking cigars. He was always enamored by his family's work on the tobacco estate. After the revolution, the tobacco estate was confiscated by the Cuban government. Having lived in many places with my father, I recall visiting many cigar stores as I was growing up in the 1980s when the industry was much smaller.
My brother and I's passion for cigars was passed down from my father.
CW: When and where did you enter into the cigar business?
EP: I started in the tobacco business with Perdomo Cigars, and branched out on my own with Padilla Cigars in 2003.
CW: What precipitated your decision to bring the Padilla family into its own company here in the United States?
EP: I got into the cigar industry first, foremost and last because I enjoy cigars. I wanted to continue to build on my family's tradition. Being Cuban and having family from Pinar del Rio really helped open doors. What I sought after was experience within a cigar company. I brought a marketing and graphics design background from my previous profession, which helped me greatly in an industry with a great tradition in the graphic arts.
Although our boxes and bands have a classic and simple look, people always compliment both the quality of the graphics as well as the quality of the cigars.
CW: Which line of cigars was your first? What is your impression of it?
EP: I started with three lines - the Padilla Hybrid, the Padilla Connecticut and the Padilla Maduro. The Hybrid was the most unique of the three and was the cigar that drew the most attention. All three were very good cigars but the wrapper on the Hybrid really gave that cigar a wonderful flavor. It was also the first cigar to generate a 90 rating for us in Cigar Aficionado. We continue to manufacture the Hybrid as an exclusive cigar for Cigars International.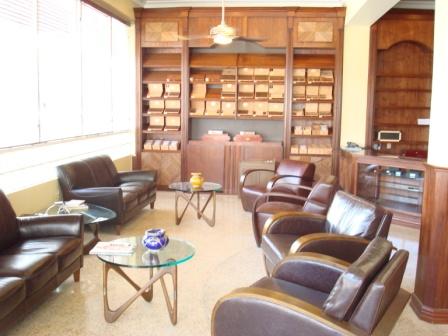 CW: Please discuss all of your lines, especially the new 8 and 11. Cigar Weekly member Dan P. (greenwit) asks, in a more colorful manner, to describe your main lines - especially since Padilla is the new kid on the block.
EP: With our new factory in Little Havana, we will produce three of our five lines right here in the United States . Padilla Miami (no longer 8 and 11 since the factory has moved), Padilla Signature 1932 and Padilla 1948 will all be produced in the new Fabrica de Tabacos Padilla.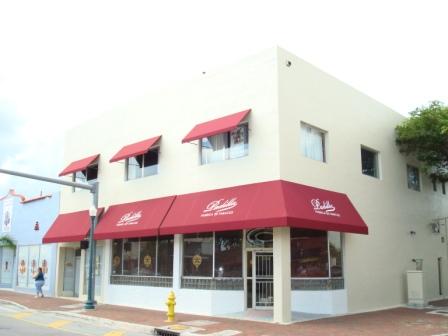 Everything we roll is designed to honor my family's Cuban heritage. We use traditional Cuban blending philosophies and rolling techniques. All of our cigars feature a triple cap for that reason.
The Padilla Miami features an all
Nicaragua
blend with a dark, rich Corojo wrapper. This blend is medium to full bodied but well balanced. This cigar will appeal to those with a heartier palate.
The Padilla Signature 1932 is our most decorated cigar. It was ranked in both the 2006 and 2007
Cigar Aficionado
Top 25
lists. This
Nicaragua
puro is draped with a 5 year old Corojo wrapper that really balances the flavor and the strength of the blend nicely.
The Padilla 1948 is our version of a mild cigar. We take some sturdy
Nicaragua
tobaccos and wrap it in a smooth
Connecticut
wrapper grown in
Ecuador
. This is not your standard mild cigar. It will be smooth, but will also have some oomph.
The Padilla Habano is a blend we developed with the Oliva family. It's a nice medium bodied cigar that features
Nicaragua
blend with a Habano seed wrapper grown in
Ecuador
. The cigar comes packed in traditional Cuban style cabinets of 25.
The Padilla Series '68 is our newest line. It recently received a 93 rating in CA. This cigar is designed to appeal to a broader audience for us. The Nicaraguan puro is medium plus, but I know that mild cigar smokers enjoy the spice and will smoke this cigar while the full bodied smokers also like this blend because the flavor is appealing to them. It is also one of our more reasonably priced cigars with a $6-8 MSRP.
CW: Do you grow your own tobacco? How much do you grow percentage-wise as part of your blends, and where is it grown? Cigar Weekly member P.J. Miller (petey) also asks, "Did you already have all the tobacco you needed for the eventual line extensions your company is now producing, or have you purchased from other suppliers on an as-needed basis?"
EP: While my family's history involves tobacco farming and brokering, we don't grow our own tobacco at the moment. After we have created a blend we like, we will secure enough tobacco to ensure that the frontmark will stay as consistent as possible.
As for new blends or line extensions, I am constantly searching for new blends and new tobaccos. We work with different tobacco brokers to get a good idea of what's available and what's smoking well. If we find something we like, we do our best to secure as much tobacco as possible so our lines stay consistent.
CW: Who is your master blender, if it is not you? And how did that relationship come about? What is your approach to blending?
EP: I usually do a lot of the blending, but many of my blends have also come from collaborations with different cigar manufacturers. I have been blessed to have strong friendships with people like Jose Oliva, Ernesto Perez-Carillo, Pepin Garcia. I have learned a lot about blending and cigar manufacturing from these people.
My approach to blending is a combination of tradition and modern sensibilities. My goal is to create blends that are true to my Cuban heritage - cigars that are well balanced, but also appeal to the current palates of cigar smokers.
CW:
I see from your product descriptions that you have factories in the
Honduras
and
Nicaragua
as well as in
Miami
. What challenges do you face making cigars in three different locations at such a distance?
Cigar Weekly
member Stefan (b0rderman) asks a similar question: "What are the advantages or disadvantages of having your factory in the
USA
?"
EP: Because we are using several different factories, logistics can be a problem from time to time. However, the families we work with know their business. We do set the standards when it comes to how we want the cigars rolled and the level of quality we expect. It is hard for a small company like ours to be everywhere at once so we really do have to partner with our factories and trust them. They do everything they can to ensure the production of our cigars stays constant, and that we are able to import them into the US as smoothly as possible.
As we all know, labor costs are definitely higher in the
US
as are other costs like rent, power, tobacco, etc. So a major disadvantage is cigars are more expensive to produce here in the
US
.
But having a factory here also means we can keep a closer eye on our production. I can personally insure that all of our cigars meet the standards our customers have come to expect. Having production here also means we have better control of our inventory, which means we can better supply tobacconists.
CW: As a follow up, how about having to build your own factory now? Are the challenges the same? Different? More daunting?
EP: The whole concept of building our own factory in Little Havana was scary at first. I mean the planning, design and execution is a huge project for me. And this factory is different in that it will also be a retail store and a cigar lounge. We really want people to come down, get a good idea of what happens in the production of a cigar, but be able to do it all in a luxurious and relaxing setting.
So creating those new elements is definitely more daunting because I've never had to build those things before.
CW: What's new this year? The IPCPR show was in early July. How did that go?
EP: There was a lot of interest in our decision to part ways with Pepin and build our own factory. We spent a lot of time letting our customers know that we are still committed to making the highest quality cigars, and that this transition will have little impact on the cigars they get from us.
Our theme this year for the IPCPR show really was, "What's old is new again." We've secured the original Nicaragua wrapper for the Miami, which returns the richness and depth to that blend. The Signature 1932 hasn't changed at all, and that says something when you transition from one factory to another. The Habano and the 1968 will continue to be made in their repective factories.
And the Miami and the 1932 got rave reviews from the customers who sampled them, so I'm confident that customers will continue to smoke and enjoy our products even after the transition.
We did introduce one new cigar - a 6 x 60 in the Series 1968 blend we're calling the Golden Bear. It will be a California exclusive at the outset. I wanted to give something back to those California retailers who have supported us. They will come unbanded in crates of 50 and will carry a price of $7.00 or $7.50 after CA tobacco tax.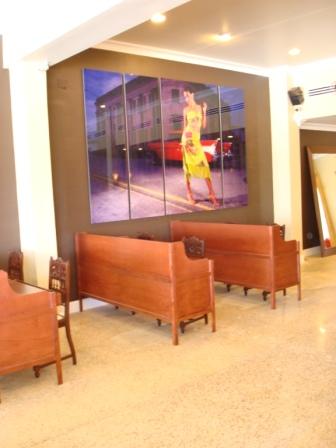 Some members of the forums at Cigar Weekly recently submitted other questions they would like to ask.
P.J. Miller (petey):
"Ernesto, when you announced you were starting up your cigar sales, I contacted you and purchased about 20 cigars from you, directly, in order to pass them around at an upcoming herf. You indicated that since Padilla Cigars was just starting up, "You couldn't afford to give me any cigars." Rest assured, I wasn't expecting you to do that, my friend. So I'm wondering what it was like to go from a start-up company to today's wildly popular cigar line?"
EP: I don't know about 'wildly popular', but work diligently to make quality cigars. The fact that people tell me they enjoy my cigars is really thanks enough.
Tom DeGraw (daggo66):
"Interestingly enough, I am smoking a Padilla Robusto at this very moment. Where do you see the future of Padilla Cigars? Do you plan to remain a small boutique brand or do you one day see yourself competing with the larger brands? Are there any new releases on the horizon?"
EP: My goal is not to make Fords but Ferraris. To maintain the standards in quality I expect, I roll fewer but better cigars. The new factory will definitely help me better control the cigars I release to the market. I don't mind being labeled as a 'boutique' if that means controlled quality production.
The new factory has several blends in the works, including a Maduro and other unique things you will hear about soon.
Don Riffe (deriffe):
"Since Padilla clearly is on the rise, what precautions will they take to ensure they don't market and sell more then they can produce at the same high level of quality? As business improves, is there any possibility of partnering with other companies, like Toraño, to help produce Padilla cigars?"
EP: Right now, we're a small enough company that I am able to keep watch on all products Padilla Cigars brings to markey. I prefer a traditional Cuban style roll to what's done in other factories. This means I hold my factories to a higher standard, and I think that translates to our cigars. As we continue to grow, I will put safeguards in place to maintain our high standards. I'm confident I will be able to do so as we grow.
And as I mentioned earlier. I have good relationships with many of the other cigar families out there. We're always bouncing ideas off one another. There's a good chance that you'll see Padilla teaming up with other manufacturers in the future.
Christopher Thayer (co-hiba):
"I have read all the reviews about the Padilla Miami 8/11, but was wondering what factors drive the price of a cigar. I would love to get my hands around an 8/11, but the price seems a little skewed. Your comments?"
EP: Many factors affect the price of a cigar. The cost of tobacco, the cost of labor, transportation, packaging, etc. can all factor in.
However, because we no longer contract out the production of the Miami (no longer 8 & 11), we have done our best to pass our cost reductions onto to you the consumer. At this year's IPCPR, we were one of the only companies to announce price breaks on many of our lines instead of price increases. I was actually able to roll back the pricing on the Miami 25-33%. You should begin to see lower pricing on the cigar later this year when we begin to ship the cigars with the new packaging.
Ben Lee (Mississippi Rifleman) :
"Will Padilla ever produce a Cameroon cigar? Will Padilla be producing more limited edition cigars like the Obsidian for Cigar International? Will Padilla be producing smaller ring cigars like the Corona size for your other lines instead of just the Miami ?"
EP: I'm always considering different tobaccos for cigars.
Cameroon
could be a possibility, but I haven't yet to find a
Cameroon
blend I like. Right now, the tobacco I like best is coming from
Nicaragua
and
Ecuador
. That's why our blends feature tobacco from those two countries. We have a few other things in the works, but I will take your suggestion to heart.
And we're one of the only manufacturers that tries to stick to the more traditional sizes like Coronas. There is a limited edition Corona Gorda in the 1932 blend as well as a Perla that will be making a comeback. I try to make sure that we have a few Coronas in my offerings.
Roger Farnsworth (ElkTwin) :
"How did Ernesto react to the recent Surgeon General's report being waved around in the press? What trends do you see emerging from the manufacturers' side in the cigar business, and what trends do you see from cigar smokers?"
EP: From a manufacturing perspective, larger ring gauges still show strength in the market. We don't think this is optimal for blending, but it's what a lot of smokers in the
US
prefer at the moment. However, there is a movement towards smaller ring gauges and we were the first company to offer lanceros in almost every one of our lines. Personally, I am pleased to see other manufacturers adding Lanceros to their lines.
We are also continuing to produce Coronas, which is the classic Cuban size.

Ernesto, On behalf of the members, the moderators and the administration of Cigar Weekly, thank you for your time and your willingness to talk with us.

Thomas Bender (TommyBB)

*N. B. Parts of this interview were compiled during July 2006 and revised for publication in 2008, with the assistance of Tim Wong (easyt).

Thomas Bender (TommyBB) is a husband and father of two who hails from Greater New Orleans, Louisiana. He enjoys fine cigars, good food and even better friends, usually at the same time in some form or fashion. Often times, at least in the fall of the year, these activities are also tied to following the Fighting Tigers of Louisiana State University. A university database librarian at Xavier University of Louisiana, and Church musician, he spends entirely too much time and keystrokes perusing internet forums and doesn't know when to stop typing once he gets there.