CWNews
My Father Le Bijou 1922 Box-Pressed Torpedo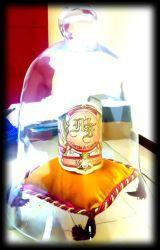 July 7, 2011
Thomas B. Bender (TommyBB)
Editor-in-Chief
Cigar Weekly, in an e-mail exchange with Vice President of Sales, José Ortega, has learned that My Father Cigar Company, named in honor of Don José "Pepín" Garcia (Don Pepín) and owned by his son Jaime, are bringing out a new size and style to one of their existing lines. The My Father Le Bijou 1922 has been a tremendous hit since it was first introduced in 2009. The first, according to Ortega is due to direct customer demand. "Being introduced at the show will be two new items. One of them is the My Father Le Bijou Torpedo Box Pressed.


Wrapper: Habano Oscuro Oscuro
Filler: Nicaragua
Binder: Nicaragua

Size: 6 1/8 X 52
Box Ct: 23/box

Reason: Customers have been asking us for a box pressed and we couldn't
think of a more fitting brand/blend than the Le Bijou to release this gem
in. We did not have a box pressed nor a torpedo in this line.

Production: We have decided to make this a regular production item.
Ortega has not, as yet, revealed the other new item from My Father. As with many of Garcia's products, both items, known and yet unknown, will be eagerly anticipated by many smokers.