CWNews
Hoyo de Monterrey Excalibur Legend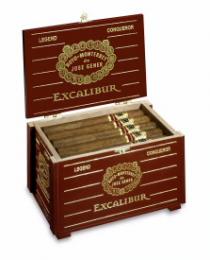 Richmond, VA-Hoyo de Monterrey® Excalibur® is regarded as one of the most exemplary brands to hail from Honduras. It is only fitting that the latest incarnation of this revered brand, Hoyo de Monterrey Excalibur Legend, pays homage to the brand's pedigree with a decidedly regal name and full flavor that commands as much attention.
As the boldest expression of Hoyo de Monterrey Excalibur, Legend begins when spicy Nicaraguan tobacco from the mainland is paired with a proprietary tobacco from Nicaragua's remote volcanic island of Ometepe and blended with a powerful Dominican ligero. Bound with a bold Connecticut Havana Seed leaf, Hoyo de Monterrey Excalibur Legend dons the same lush, well-oiled Connecticut Havana leaf that won praise for Hoyo de Monterrey Excalibur Dark Knight.
Cooper Gardiner, vice president of marketing comments, "Hoyo de Monterrey Excalibur Legend is tailor made for the tenured smoker who can appreciate the bold notes of full-flavored tobaccos. The new Legend is in keeping with the growing demand for full-bodied cigars that smoke smoothly and effortlessly and we are confident that Legend has all the makings of a consumer favorite."
Cigar Master Daniel Núñez has done a masterful job at blending these stand-out tobaccos into a cigar that flaunts its balanced taste. Hoyo de Monterrey Excalibur Legend opens with unabashed flavor, and draws evenly into a rich, spicy smoke. Its aroma is reminiscent of that of the base brand, spiked with a bold taste and aroma that promotes the cigar's Nicaraguan components.
Each of Excalibur Legend's frontmarks will be housed in boxes of 20 cigars at an accessible price point. The Crusader (5 ¾" x 45) and Challenger (5 ½" x 50) sizes will share the same suggested retail price: $6.75 per cigar, and $135.00 per box. At 6 ½" x 54, Conqueror will sell for $7.50 per cigar or $150.00 per box.
Orders for the robust Honduran collection will be taken during the product's debut at this year's IPCPR trade show in July. Consumers can expect to see Hoyo de Monterrey Excalibur Legend in tobacconists' humidors beginning in late July.