CWNews
IPCPR - Bayou Style!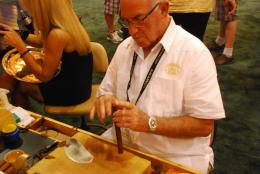 Ok I get it: New Orleans in the summer is wet. The air is a tangible element. But the city that loves a good party seems to have gone a long way to make itself more uncomfortable by getting rid of smoking almost everywhere. Last year, we found a small bar near the convention center which served Po'Boys and booze, with a great jukebox and it allowed smoking. This year, I got a text from Manuel Quesada on Sunday who wrote the world is ending, our place is now non-smoking. What a way to start IPCPR.
Usually the show runs Sunday to Wednesday or Monday thru Thursday…not this year. It ran from Tuesday to Friday, thereby screwing up everyone's calendars because most people were a day off. It just wasn't normal.
Monday night was the welcoming party thrown by IPCPR over at the Riverfront Hilton. Usually you want to get in early because seats are at a premium and the food goes fast. Not this year. We found seats easily and there was plenty of food. This either meant that IPCPR had really planned well, or else the show was going to be slow. I was opting for slow. At the party, I first ran into Steve Ross from Tobacconist. He gifted me one of Jesus Fuego's new Origen Originals. They come 5 to a paper wrapped pack and run about 12 bucks for the 5-pack. It is a rough looking cigar but I found it full of flavor and will be picking some up. A bit later I ran into Jesus Fuego himself who gave me one of his new Connecticut 777 which I smoked at the casino later. Very nice flavor and a bit lighter than the usual 777.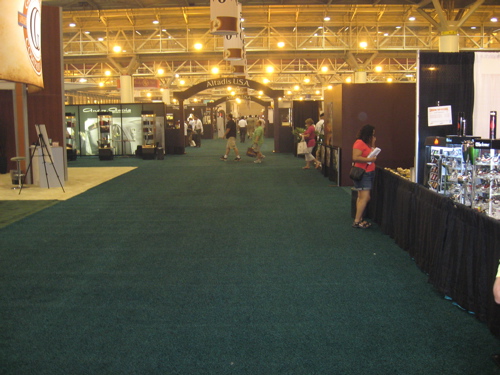 The show floor at IPCPR
When the show opened on Tuesday, there were no crowds. Part of this was because IPCPR cut the number of passes each member store received. In previous years, each store got 4 passes and could purchase a couple more. This time, stores received only 2 passes with the option to purchase 2 more at a higher price. The idea was to limit the number of consumers going to the show. While it did cut down on attendance, from some of the people I spoke with, it may have worked out in that the people at the show were here to buy, not just kick the tires. The other reason for the light attendance was with the new New York tax, many retailers from up north stayed behind having loaded up prior to the tax since there was no floor penalty this time round.
My first stop was the Altadis booth. I knew the company was planning a few new sizes, but had no idea about the new cigars they were debuting. Omar Ortez has been growing tobacco, making and blending cigars fairly quietly up in his Condega factory in Nicaragua for about 30 years. This year, he is becoming an "overnight" sensation with the introduction of 4 of his cigars by Altadis USA. The first is the Warlock, which sports a box that looks like a boutique brand. The Warlock uses an Ecuador-Cubano wrapper over a Nicaraguan binder and Nicaraguan and Dominican fillers.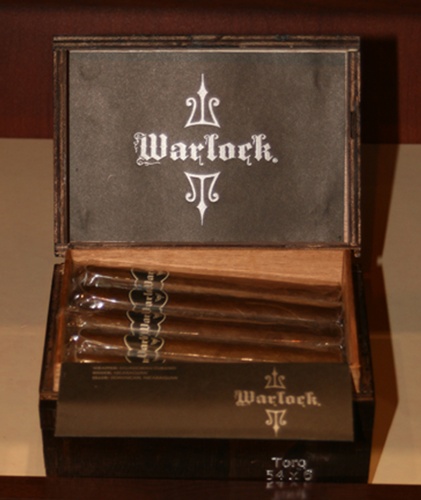 Altidis' new offering: Warlock
It provides a nice complex flavor, in the medium range and with a retail price of $5.50 to $6.50, which makes it affordable. It was impressive. Ortez also is working with the Turrent family from Mexico on a very interesting cigar. It is Dos Familias. Using a Mexican San Andrés Criollo wrapper grown by the Turrent family, over a Nicaraguan binder and Nicaraguan and San Andrés Negro fillers, this is another medium bodied smoke with full flavor. It is priced from $5.50 to $7.50. Alejandro Turrent—the fifth generation of his family involved with tobacco and cigars—worked with Ortez on the Dos Familias blend and then Turrent came out with his A Turrent Triple Play. The cigar is a triple Maduro with all the flavors and subtlety you expect from the ripe tobacco. Not a touch of harshness, just good flavor. The Triple play is made in Altadis USA's Flor de Copan factory and priced a bit more-- as you would expect for the all Maduro cigar-- from $7.25 to $8. Altadis USA also introduced an H Upmann Sun Grown which had great flavor and a Don Diego Fuerte—again blended by Ortez—that I have not yet smoked. His final cigar was the Omar Ortez Puro Maduro.
General Cigars, which is celebrating its 50th anniversary this year, was second on my list. It was convenient because it was near Altadis and it had couches. Rick Chandler gave me the lowdown on the new Hoyo de Monterrey Reposado en Cedro. This cigar is a slight step up in strength from the regular Hoyo, but it has very heavy cedar overtones. It is smooth, as you would expect from aged tobacco, but the cedar comes from their new Inmersión process, which lets the cigars rest in cedar for several months. The cigar will be coming out in November with three sizes—Robusto, Figurado and Churchill—and prices running from $6.50-$7.00. General also introduced two new La Gloria Cubana offerings. Its Artesano de Tabaqueros was introduced a bit earlier this year and featured a two-tone wrapper combining Connecticut Shade and Ecuadorian Sumatra. To add to the Artesano series La Gloria is coming out with an Artesano de Obelisco which is a tribute to the monument which dominates downtown Santiago, home to La Gloria. There is one size—a figurado measuring 5 inches long and a ring gauge running from 44 at the head to 57 at the foot. It uses an Ecuadorian Sumatra wrapper with Connecticut Broadleaf binder and Dominican and double Nicaraguan ligero fillers. Price $9. The other La Gloria offering is another first, Serie N for Nicaragua. Coming in a fire engine red hexagon box, each Serie N has the N actually etched on the wrapper leaf for a stunning visual presentation. The cigar uses a Nicaraguan Oscuro wrapper over Nicaraguan filler and binder. (It only comes in Maduro) With 4 sizes it will range in price from about $6-7.

The new Macanudo: Cru Royale
My favorite cigar from General is actually the new Macanudo Crü Royale. I know, most of you won't try a Mac, but if you liked the 1968, this is another winner. Benji Menendez worked with Francisco Rodriguez – general manager of General Cigar Dominicana—to come up with a medium to almost full bodied Macanudo. The flavors were complex and smooth with a nice finish. The wrapper is an Ecuadorian Habano wrapper over a proprietary Dominican "La Vega Especial" binder. Dominican and Nicaraguan viso leaves give the filler some oomph while Brazilian Mata Fina smoothes everything out. The cigar will ship in October with a price of between 5-7 dollars.
Tuesday night brought the parties. CW held a herf in New Orleans which I could not attend –since Tommy wanted me at the parties while he herfed. Would have loved to be there, but free food and drinks were a consolation.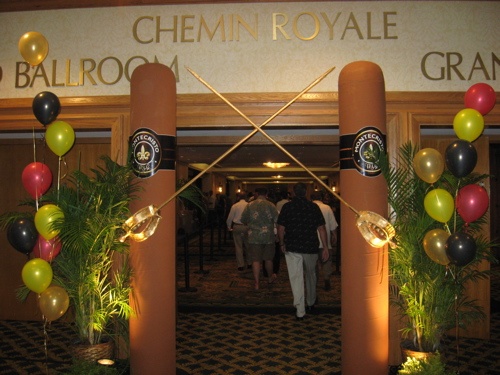 Altidis' celebration of Montecristo's 75th anniversary
The first up was the Altadis party celebrating the 75th year of Montecristo. It was a nicely done, upscale party complete with smoke eaters so the fog never got too dense and there was a wonderful ambiance as a pianist performed throughout. Copious amounts of food and drink and even a Marilyn Monroe type who sang Happy Birthday Montecristo. And Altadis gave each party goer a very nice Montecristo 75th sampler.
The next party was the launch of the new Guillermo León line from La Aurora. There was cold Presidente beer and plenty of other drinks along with fabulous food. The Bread pudding was amazing. Each of us received a sampler of the new Guillermo León cigars.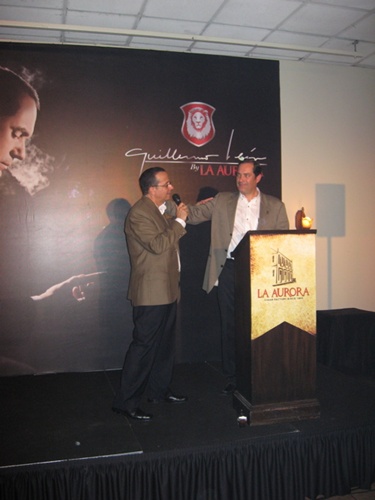 Launching La Aurora's new Guillermo León line
The newly svelte José Blanco was the evening's MC while Guillermo made a nice speech. The new cigar uses an Ecuadorian Habano wrapper over two binders—Dominican Corojo and Cameroon—for extra complexity. Guillermo joked that he drove José and Manuel Inoa ( La Aurora's top blender) crazy by going through over 50 blends before finding the one that was right. Priced from $7.60 to $9.80, the Guillermo León will only be available in Brick and Mortar stores. La Aurora also introduced a La Aurora with a corojo wrapper also only for retailers. It is slightly stronger than the usual La Aurora line and is priced from $5.60 to $6.80. The company also added a corona to the 107 line, which was needed because to me La Aurora does its best work in coronas. La Aurora's U-S Distributor -- Miami Cigar -- also came out with a couple of new offerings as well. The Calibre 58 with a 58 ring gauge and a 4 inch length ( hello NUB) at about 4 bucks and the new Art Deco which combines a Nicaraguan Corojo wrapper with Nicaraguan and Dominican fillers and binders for $6.60 - $8.60.
The final party of the night was to mark General Cigar's 50th anniversary and it was held over at Generations Hall, which was turned into Club Macanudo for the night.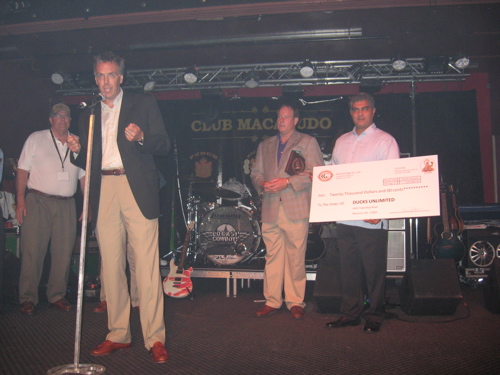 General Cigar presented a $20,000.00 check to Ducks Unlimited at Club Macanudo
There was booze, food , a live band and a highlight of the night was General's presentation to Ducks Unlimited a check for $20,000 to help support their efforts in restoring the wildlife to the Louisiana coast after the oil spill.
The rest of the convention was kind of a blur, but I will try to remember all the new cigars coming out. Wednesday was a helluva day. It started out tense because a Tropical Depression was heading for New Orleans and some reported that flights were being cancelled. Everyone's stress levels went up, but we kept on smoking. By the time we made it back to the hotel that evening, the Tropical Depression had petered out and all we had was some heavy rain…no winds and no flights cancelled. But Thursday came the news that Jean Clement, maker of the Juan Clemente cigars, had died. He was attending the show on Wednesday but when he felt ill he returned to his hotel room. Apparently, Wednesday night housekeeping found him dead. He was a very nice, if slightly shy man and he will be missed.
Ashton brought out a new La Aroma de Cuba called the Mi Amor. It uses a special Cuban–seed wrapper grown in Mexico combined with aged Nicaraguan tobaccos and was a very pleasant addition to the La Aroma line. I thought it was very tasty. There are 5 sizes ranging from $6.75 to $8.
Drew Estate was always hopping and had some sneakers done by the Subculture Studios up for people to get. They were terrific looking and Jesse and his team did a wonderful job.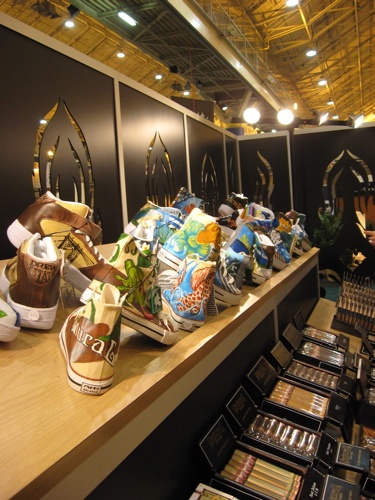 Drew Estates' sneakers
There were new cigars in the booth, which included the Joya de Nicaragua La Niveladora in the Antaño Dark Corojo series. This is a 6 x 54 bulldozer with a retail price of $8.75. Joya also added a 6x52 Alisado to the 1070 Antaño line. But on display were a bunch of Flying Pigs in the Liga Privada T-52 blend. (The Liga Privada #9 Flying Pigs are all gone,) These will ship in November and again are limited so get em when you see them.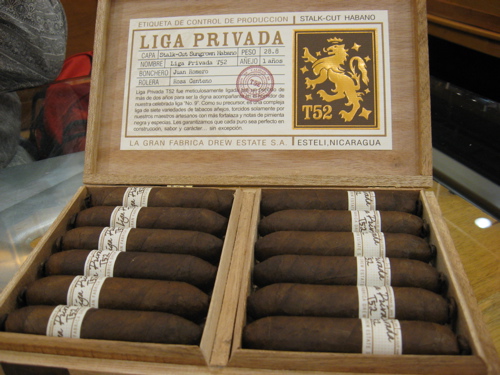 Liga Pravada from Drew Estate
But the one to drool over it the new Liga Privada Unico line. They are the Dirty Rat in a T-52 blend that uses the stalk cut Connecticut wrapper. The Dirty Rat was not commercially available until now…it was one of those cigars that if you knew someone you could get one…maybe. The Dirty Rats are a 5x44 with a rat tail (or pig tail) top.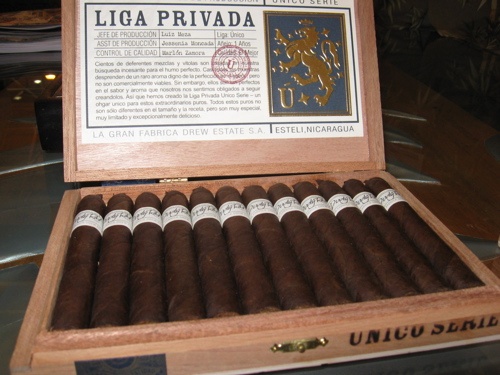 Liga Pravada's Unico Series
These cigars will be very limited and come 12 to a box with retail price of $12 each. They are very full bodied with terrific flavor. It is tough getting 5 fillers into the small 44-ring gauge. Anyone who has smoked a Dirty Rat before knows what it is like. Be on the lookout for these sticks, they should ship around the beginning of September. The company also is adding two new sizes to the T-52 line -- a Belicoso measuring 6x52 and a Corona Doble at 7x54.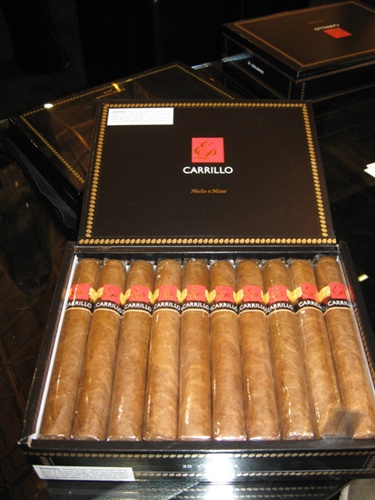 EP Carillo
Ernesto Perez Carrillo is coming out with his core line. Last year saw the Edición Inaugural followed by the Short Run. Now EPC Cigar company is launching its EP Carrillo line with 6 sizes ranging from the Encanto at 4 7/8 x50 at $6.45 up to the Colosos at 6 1/4 x 60 for $8.70. The blend is an Ecuador Sumatra wrapper over Nicaraguan binder with fillers from Nicaragua and the Dominican Republic. The company also plans an Edición Limitada for 2010 which will be a 6x54 for $15 each. The Special edition will use a Brazilian Habano wrapper with Dominican binder and Nicaraguan fillers.
At My Father Cigars, the Garcias have come up with a new line the La Reloba which comes in either a Habano or Sumatra wrapper with a price of $4.60 – $6.50 Jaime has his new Reserva Especial and together Jaime and Pepin are rolling a very special Limited Edition which will only consist of 2,000 boxes of 12—very limited with each store getting about 5 boxes. The cost will be $20 per stick.
Over at SAG, the fifth generation of Quesadas were busy selling their new Tributo, which actually debuted in February at Pro Cigar and began shipping a couple of months ago. This cigar has sold well even before people were able to try samples. The Tributo, as we have written before, is a Tribute to family members the Quesadas have lost. The 4 sizes run from just over 5 to just under 8 dollars. The cigar was blended by the Q-5 as the new generation calls itself and uses an unusual new hybrid wrapper that no one else has. The company also came up with a Special Fonseca just for retailers along with their Casa Magna, Cubana Limitada and Viso Fuerte lines.
Toraño Family Cigars, the new name for Toraño, is being ambitious. The company split from CAO's distribution about a month ago and already has three new cigars with aggressive pricing. The company continues its Exodus and Casa Toraño lines, but is adding a bundle called Brigade with a retail price of under $3 per stick. The new Single Region coming from one farm in Jalapa generated a lot of excitement. Crafted in the Raices Cubana factory, the three sizes are priced at $6.50 to just under $7. The new Master created by Filipe Sosa is priced $5 - $6.
Gran Habano introduced its Azteca line using a San Andres double Maduro wrapper and Mexican binder.
Alec Bradley has introduced a Connecticut version of its MAXX.
After a lousy start, since our favorite place had become non-smoking, we discovered a gem about 2 blocks from the Convention Center. The Howlin' Wolf. There is a dance area with live music but this is the bar on the corner. We dined on fabulous pulled pork sandwiches and cold beer and it was CIGAR friendly. A nice way to end the trip. Next year…Vegas.
___________________________________________________________
Frank Seltzer (Mowee) is a former network correspondent who now owns a media consulting company in Dallas, TX. A regular cigar smoker since 1973, Frank runs the DFW Cigar Society, a group that has almost 300 members who get together twice a month to trade smokes and lies. He also runs away as often as he can to his condo in Maui... hence the name Mowee (which, by the way, was the way Captain Cook originally spelled the island when he heard Hawaiians speak it.)