Interviews
Cigar Weekly Interview with Pete Johnson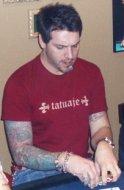 Pete was responsible for the purchasing for the store just a few months after he started working there part time. He remained at Gus' until 1995. Then he took a little break and tried to make his own brand, this was in the mid 90s and "it was an awful time to try to come out with something good". He landed at The Big Easy cigar shop in Los Angeles and managed it until late 1997. He became a member of the Grand Havana Room in Beverly Hills in 1995 and was ultimately asked in 1997 to run the retail end of the business. But he still really wanted to make a cigar and in early 2003, when he finally met the right match, Jose "Pepin" Garcia

They have been making Tatuaje part time and ever since and at the end of 2006, Pete works on Tatuaje full time from his new office on Sunset Blvd.

Cigar Weekly: How are things at Tatuaje?
Pete: Everything is really good. The brand is going so well and the new cigar really tastes extremely well. Everybody thought the brown label was my best cigar, but now with more flavor contrast, I can say that I am really happy with the red blend and more people are starting to realize how good that cigar truly tastes. I hope to get more of that product out to retailers, I just didn't have it in the past but now I'm able to supply it.
CW: What do you credit the meteoric rise of the Tatuaje line to?
Pete: When I met Pepin in early 2003, it was just me and his family together in Miami. They we making nothing but Tatuaje. I think this started a strong relationship that will last for many years. I think that we have great chemistry that translates in the style of cigars that we make together. I think we both hit the lottery when we met each other. A good balance. He knows what I want and need in a cigar and he makes great cigars. The ratings from Cigar Aficionado and the wonderful comments on all the online forums including Cigar Weekly and Cigar Family are also a great help.
CW: Cigar smokers tend to be creatures of habit so when you try to bring a new product to market; it has to be a challenge.
Pete: It's not easy because those people who smoke my brown label are very hard pressed to try the red label or the white label because they don't know if it's going to be as good or their cup of tea. A lot of people eat with their eyes. If they see a dark wrapper on something and a lighter wrapper on another brand, they don't tend to buy it.
CW: When you bring a new product to market, how long before you know if it's what you have created is acceptable of you run up the white flag and surrender?
Pete: (He laughs out loud) it's all a guessing game for me. I truly love cigars so when I come up with a new size or a new shape or a new blend, I try to get it out to a few retailers first to see what the response might be and if they get a good response, I roll with it. I've been fortunate enough and people have been receiving the product very well.
CW: Right now there is Cabiguan, a mild to medium cigar; Tatuaje medium to full bodied; Havana VI medium bodied; What is the next type of cigar that you have in mind?
Pete: For now I am going to keep it simple and just expand on what I have. You will see some interesting things coming in years to come. I want to take it slow and make sure the quality remains.
CW: Do you consider yourself a boutique cigar maker?
Pete: I consider Litto Gomez boutique and he makes upwards to 3 million cigars a year. With all my brands, this year, I'll make about 1 million cigars. The brown label will be about 350,000 and the other labels will fill out the rest.
CW: What does it take to come up with a new cigar and how much marketing before you see it accepted?
Pete: It's very hard to come up with a new blend. I've been very lucky because I have had brand names or sizes that I really love that I really want to feature in my line. So when I start planning something new, I think of something I really love. If it's a size of a Cuban cigar, and I love Cuban cigars and smoke a lot of them; I usually try to take off from them and what they're doing as far as the sizes go. I've been fortunate, lucky as far as sizes and names. Blends are the tough part. You never know if a blend will work. When I came out with my Cabiguan blend it had a light wrapper and people saw it and said with a light wrapper, it had to be a mild cigar. It's not a mild cigar and it's still slowly growing. When it comes to Cabiguan one, that's really, really a boutique cigar for me. I think this year I'll make about 80,000 sticks.
CW: Do you have a specific demographic in mind when you blend a cigar?
Pete: I do think about whom I want to smoke my cigar and of course, I want everyone to try them. But I go with what I love first. I'm happy when I hear that people are receiving the product well. And truthfully, if I hear people like what I'm doing, then I know I've got my idea across. I don't focus my blends on a certain demographic but I do make sizes for people that like to smoke a smaller size of cigar or milder cigars or bigger cigars. I don't think there's a gender decision. I think that any man or any woman could smoke a skinny cigar or fat cigar. I try to make cigars that will fit everybody's palate or what they like to hold. As far as strength of the cigar, I've always based it on my palate and thus far I've been very fortunate that people have received the cigars well.
CW: When you create a new blend, how much of the positioning against the competition do you take into consideration?
Pete: I know all the manufacturers very well and so for me it's the love of doing it. You do it with a lot of passion and you feel good about the product and then you go with it. I pay a lot of attention to the competition but I pay more attention to Cuban cigars. They are still the leaders and that's what everybody focuses on. That's why my packaging is a blatant rip-off of Cuban packaging. I've noticed more recently that more and more people are starting to go the Cuban packaging route; I guess it's really caught on. Again, it's the perception of what people first see that drives them to try something new.
CW: You pay attention to the Cuban cigar industry. What do you think the state of affairs are there and do you see a diminishing in that industry because there are not many young rollers interested?
Pete: I've heard of the problems…a lot of older rollers don't want to roll the way the younger ones do. Hope the family business will keep it going. With generations to come, I think the passion can be passed on and the spirit and tradition. Like the Fuente, maybe Carlos Jr. will come out with a brand 20 years from now. I think it is tough in Cuba now. But when Castro dies, I think some of the manufacturers from here will go there and you'll see more blending. I mean you won't see just one country blends. Some companies are doing multi-country blends already. I stick with one country because I like the flavor profile but when they can go to Cuba, I think you'll see a lot of new product based on multi-country blends. That will bring a lot of excitement to the industry and that may be the thing that keeps your people interested when they say I want to do this for the rest of my life.
CW: Are you finding any new regions of the world for tobacco?
Pete: Truthfully, I think Costa Rica is one part of the world whose tobacco is very much under used. There's really good tobacco there but I think it has to be used in certain blend elements. The Cameroon wrappers from Africa are still highly regarded and I know Africa has tobaccos but I don't know anyone really using any. Nicaragua's got great wrappers now and everything from the Dominican is doing well. There really is a lot of decent product out there.
CW: The major non-smoking trend in society is sweeping the country and indeed the world. What effect do you see it having on the industry?
Pete: I think the manufacturers who are producing are doing so because they love what they are doing and are truly passionate about their products. That's why you see more family anniversary blends and boutique producers popping up and even the major manufacturers are coming out with small production batches. I don't think the smoking bans are affecting what's coming out; it obviously is affecting the consumption. You see more cigars on sale and I think things will continue the way they are but I think we will find a way to live the way we do and non-smokers live they way they live.
CW: What's the most exciting thing about being in the cigar manufacturing business?
Pete: It's having fun with my retailers. I like the blending process and I really like doing special things for my retailers. (He made a private label for Fumare.) It's also nice to bring a prototype cigar to an event like this and get first-hand feedback from the customers. If they receive it well, I know that I have something I can take to market. I like the blending and looking at different tobaccos. I like the travel and meeting people all over the country. My wife doesn't like it…I go to the Dominican pretty regularly and get a chance to see what's going on and I get to smoke different tobaccos. I get to work with the growers individually and that is extremely interesting.
CW: Are you thinking of doing clothing apparel and other items with the Tatuaje logo, etc. for sale in boutiques, etc. What time frame do you have for that?
Pete: I have wanted to make clothing since I was a kid. I had an Uncle in the business and always thought it was a great creative avenue. When I started creating cigars I thought it would give me the opportunity to create a clothing line around the brand to help market the name Tatuaje. I am experimenting daily and hope to have something out there soon.
CW: Who's your favorite competitor?
Pete: We're the only cigar … there are no competitors. (said with a big laugh and the crowd laughed back) One of my favorite guys in the industry is Litto Gomez. I've watch Litto since day one when it was Los Libetores. Every year he's got something going on and he keeps growing and growing and growing. And to have him pop up as number two in Cigar Aficionado is really cool! I really like Litto; the Fuentes brought me up in the business but Litto is my inspiration for my style of cigar. I'm not thinking of producing 20 or 30 million cigars. The million cigar mark for me is nuts. This year I had planned to be in the 700 to 800 hundred thousand mark but the factory is pushing me to do more.
CW: Thanks to Pete Johnson for answering our questions.