Interviews
Cigar Weekly Interview with Dr. Alejandro Martinez Cuenca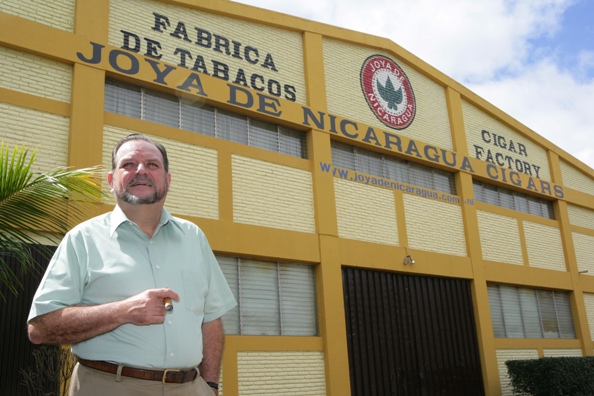 The mythology goes something like this... In 1962, the Soviet Union tried to base nuclear-tipped missiles in Cuba. Based on satellite intelligence, which showed the missiles, President John F. Kennedy (who single-handedly killed the fashion of men wearing dress hats) instituted a naval blockade of the island. The blockade, which lasted twelve days as I recall reading, ended when the Soviets dismantled the missiles and removed them. As has been noted, Soviet Premier Nikita Khrushchev 'blinked'.
Secure in the knowledge that Fidel Castro was a dyed-in-the-wool Communist, the same President Kennedy signed an order instituting an embargo on all goods, services of Cuban origin and travel to Cuba. Before doing so, he sent his press secretary Pierre Salinger out to round up all the H. Upmann Petit Upmanns he could lay hands on in Washington D.C. This cigar is reputed to have been the president's favorite vitola.
The story continues with the Cuban government (read Fidel Castro) nationalizing all agriculture and taking farms, plantations and cigar factories from individual and family owners. These same people took their brands and artwork with them as intellectual property and spent the 1960s and early 1970s trying to resurrect their businesses. Again, summarizing what I've read over the years as fact and as cigar lore, it's been said that the first post-Revolution cigars for domestic consumption were made from tobacco grown in the Canary Islands. This was followed by using well-established Jamaican tobacco and Dominican tobacco. At some point toward the end of the 1960s, many in 'cigardom' began to notice that the soil conditions around Estelí in Nicaragua were nearly identical to the favored Vuelta Abajo of the Pinar del Rio region of western Cuba.
Generalizations? Most likely. These reflect my reading over the years, and are not intended to comprise an official, researched history or timeline of the period in question. The history of Joya de Nicaragua as a company reflects this, and also reflects Nicaragua's recent history in microcosm. According to their website history:
At the end of the 60's in Estelí, where Caribbean experts started the tobacco cultivation a few years earlier with the purpose of supplying fillers and wrappers to American manufacturers. The tobacco demand from America was not up to expectations, so the solution was to open a cigar factory and export cigars manufactured in Nicaragua to the United States. The idea was supported by the Nicaraguan government that created a program of assistance for the tobacco growers of the northern region of the country. The economic potential of this industry immediately drew the attention of President Somoza in such a way that he decided to become the main shareholder of the Nicaragua Cigars Company, the first cigar factory in Central America that was created at the beginning of 1968. Thus the first Nicaraguan cigar brand was born under the name of JOYA DE NICARAGUA, 'The Jewel of Nicaragua'.

The fertile valleys of Estelí and Jalapa were excellent for the production of prime quality tobacco. The valley of Estelí with its comfortable climate and rich soil was the optimum place for the production of fine and flexible wrapping leaves. The valley of Jalapa generated very rich and aromatic filling leaves. The skills of cigar making were quickly learned by the people of the zone, always under the strict quality control of Caribbean experts.
In the meantime, the company has weathered the storms of political upheaval, including the Sandinista Revolution and Communist governance of the country by Sandinista president Daniel Ortega. Back to the official history we go...
It was in July 1979 when the Sandinista Revolution took place in Nicaragua. The Nicaragua Cigar Co. was dissolved and the factory was nationalized. The whole economy of the country was precarious after two years of war mostly in the North where the destruction and damage was huge. The factory was re-organized rapidly, by the end of the year keeping the production with raw materials and equipment that was recovered after the war.

In the early 80's cigar production continued at the same level of the 70's, nevertheless the brand could not be sold in the American market because the trademark of the brand in the USA belonged to the former owners of the Nicaragua Cigar Co. The economic embargo imposed by the American government on the country early in the 80's, made access to the brand impossible for more than 10 years.
The fall of the Sandinista government in 1990 was a fortuitous turn of events for the Joya de Nicaragua brand. The company was sold to private company, comprised of their own workers, and it was in time for the 'Cigar Boom of the 1990s' in the United States. With years of experience, the company was still making good cigars, but sales numbers were declining instead of increasing. In 1994, the workers sold the company to Tabacos Puros de Nicaragua with the stipulation that all in the company's employ prior to the transaction were to be retained. TPN owns the company to this day. It took TPN until the year 2000, after two years of negotiation, to reacquire the brand name Joya de Nicaragua. In 2002, TPN introduced the Joya de Nicaragua Antaño line to commemorate 32 years in the American marketplace.
On February 13, 2008, Rich Perelman's Cigar Cyclopedia reported that Joya de Nicaragua and SAG Imports (lead by Manuel Quesada) had come to an agreement to dissolve their distribution partnership. http://www.cigarweekly.com/magazine/cw_news/02-13-2008/joya-de-nicaragua-and-s.a.g.-imports-split On March 25, 2008, Dr. Alejandro Martinez Cuenca, president of Tabcacos Puros de Nicaragua announced in Cigar Weekly http://www.cigarweekly.com/magazine/cw_news/03-25-2008/joya-de-nicaragua-choose-drew-estate-as-distributor that they had reached a distribution agreement with Drew Estate, Inc. a relationship that will begin on April 28, 2008.
Cigar Weekly is pleased to be able to interview Dr. Martinez Cuenca at this exciting, changing time for TPN and their flagship brand, Joya de Nicaragua. We appreciate this opportunity.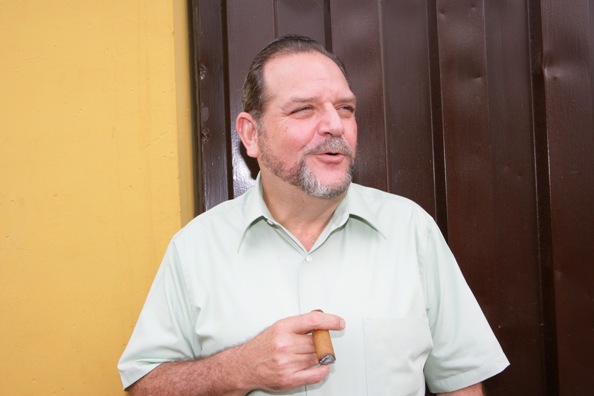 Cigar Weekly: Dr. Martinez, I tried not to be too detailed in the introduction, and most of that is from your website. Fill in some of the blanks, if you would, as it applies to your involvement with Joya de Nicaragua. How did you come to cigars?
I first came into the business of manufacturing and marketing cigars back in the 1980's, in my capacity of Minister of Foreign Trade of the Republic of Nicaragua. At that time the trade embargo between USA and Nicaragua was in place, and the factory that made Joya de Nicaragua Cigars was at its peak of production, but it did not have sufficient markets where to sell them. So, I got involved in finding the markets, as part of my public responsibility, for such noble industry which provided a way of living to thousands of families in the Northern Regions of Nicaragua. I searched out and found markets for them in Western Europe, as well as in Eastern Europe and some Asian Countries.
It was through this episode that I learned about making cigars, but more importantly, I learned how labor intensive this handicraft activity was, and since then, I strongly supported the development of this activity in Nicaragua while I was a public figure, and afterwards.
In the early eighties, I must confess, I only knew how to smoke and enjoy a good cigar, but as I started to learn more of this 'art', the more passionate I became about cigars. The making of a good cigar is really an art that requires craftsmanship and knowledge. From then on, my passion for hand made cigars and particularly for the Joya de Nicaragua cigar started; and it was 5 years after I had left my public responsibilities in 1990, that the factory went into sale by the Chamorro government and, I took the opportunity to buy it after competing with other potential buyers!! In short that is the story of my baptism into cigars!!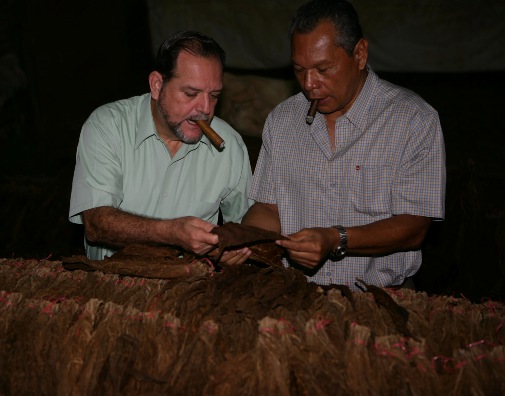 Cigar Weekly: So much of Joya de Nicaragua's history is wrapped up in political reality and government interventions. We interviewed another manufacturer based in Nicaragua not long ago, and he told us despite Daniel Ortega's election, the Congress is well-disposed to the United States. Do you see this as well? What is your view of the political situation in Nicaragua?.
In relation to politics, let me be short but fair. I believe Ortega has made the effort to sustain good and respectful relations with both Congress and with the US Administration, in spite of his personal 'Anti-Yanqui rhetoric'. I do not see any repetition of the past as far as government intervention is concerned, less likely with such a noble industry that provides direct and indirect jobs to almost 30,000 heads of households around the country.
Cigar Weekly: How do you see this affecting cigars in general?
The fact that President Ortega understands the contribution that cigars manufacturers, as well as tobacco producers make to the general well being of the country, gives the industry an important place to be respected and taken into consideration. I see that as a positive thing for the industry in general.
Cigar Weekly: How do you see this affecting Tabacos Puros de Nicaragua, and Joya de Nicaragua?
Not the least, I am happy and satisfied with how we operate, and there are no reasons for concern with this or any other government that might come in the future.
Cigar Weekly: Tell us a bit about your cigars and your process from seed to smoker, please.
The majority of the cigars we produce in our factory are totally made with Havana seed Nicaraguan tobacco, grown in the best regions around the country. The lines Antaño 1970, Celebracion and Clasico Criollo are great examples of the authentic Nicaraguan Puro. Nevertheless, we also make a line called Clasico Claro with a nice Ecuadorian wrapper.
Cigar Weekly: Without revealing anything too sensitive, what lead to the break with Manuel Quesada? Was it simply two companies moving in different directions?
As I had indicated in other occasions, our lifetime relation with SAG and particularly with Manuel Quesada, has always been exemplary and cordial. So, there is nothing to hide, we are two companies, (SAG and TPN) that, as it happens every so often in life, after many years of mutually working together, we have now decided to move separately searching for each others' vision of the future.
Cigar Weekly: We want to thank you and TPN for giving Cigar Weekly the opportunity to cover the new agreement with Drew Estate, the same way you did with the other media outlets. What did you consider when choosing a new partner?
Deciding with whom to work towards the future was not an easy decision. We have various options. The major aspect in choosing DE as our exclusive distributor for the US market was based on:
1. Drew Estate's commitment to adopt my vision of JOYA DE NICARAGUA and its goals.
2. The fact that DE had their own in-house sales force and marketing department with a very energetic and creative group of young people with whom we felt comfortable working with was also important.
3. DE success in increasing their own market share within the highly competitive US market was an additional precondition.
4. The willingness demonstrated by the high executives of DE, who negotiated with me, to recognize that our two companies were two solely independent companies embarking in a project in which we as manufacturer and sole owner of the trade mark of Joya de Nicaragua in the U.S. and around the world would keep each one our individual sole identity.
Both for Joya de Nicaragua Company as well as for Drew Estate. While Drew Estate was our distribution partner, in the U.S., we would continue to hold the full control of our manufacturing operation of our cigars, guaranteeing the consistency and excellent quality of all the cigars we have been manufacturing over the years, to continue holding the respect and appreciation of all our customers. Drew Estate, on the other hand, would continue exploring their own venues, as they had done in the past.
Cigar Weekly: With that said, how did Drew Estate meet those criteria?
They met all those criteria. It was because they met them to our satisfaction that my Executive Board voted unanimously to designate them as our exclusive distributor for the US market.
Cigar Weekly: Where do you see this relationship in five years?
I am a very realistic and pragmatic individual, and I am fully convinced that the decision of my Board will prove to have been a WIN-WIN proposition for our two companies.
Cigar Weekly: Taking a look at both the near future, and long-term, what plans do you have for your company? Do you have any new brands and lines being developed right now? And, can you tell us about them?
We are intensively working in the reposition in the U.S. market of our Joya de Nicaragua Clasico, that sells excellently well in the rest of the world. We want to bring back the old memories of our Joya de Nicaragua Clasico, and so we are working in new presentations and packaging of this line, always remembering the old days - as we have done with our fabulous Antaño and Celebración. In one simple word, we want to continue being considered as the factory where QUALITY counts higher than simply great production numbers!
Cigar Weekly: How do you see the strong, anti-tobacco movement, affecting your future, and that of smoking, in general?
It is a given reality. The important thing is that we have to live with it, and the challenge is to design our future steps knowing the existing constraints. How we do that? Let us wait and see.
Cigar Weekly: Which of your cigars is your daily cigar? Cigar Weekly member johnleeii (John Lee) submits this, as well. "What are your favorite types of cigars (flavor profiles, aromas, strengths)?"
I start my day with a Joya de Nicaragua Clasico or a Serie C. In the afternoon I go for a robusto grande in Antaño, and in the evening I take a Joya de Nicaragua Celebración in a torpedo size. The combination of the three types of cigars gives me the highest pleasure and satisfaction after a long day work.
Cigar Weekly: Do you smoke anyone else's cigars?
When I have the opportunity, I taste a Montecristo or a Cohiba from Cuba, just to keep myself informed of what the Cubans are doing, and to reinforce my belief that Nicaraguan tobacco and Joya de Nicaragua Cigars have nothing to envy.
Cigar Weekly: Despite the competitive nature of the business, who do you see doing nice or interesting things?
Cigar business today is a very dynamic world. I would say all the players are not sitting on their successes. They all know we need to be ahead of the game if we all are to maintain our position in a world that is dramatically changing, and full of new challenges. I have only admiration for everybody in the industry that is taking initiatives, and that is why I also admire competitors like Drew Estate and many others.
Cigar Weekly: Who has influenced you?
The greatest influence has been the team with whom I work. In particular, I appreciate what I have learned from the General Manager of my company, Leonel Raudez, who has been in the business of growing tobacco and manufacturing cigars for more than 30 years. He has headed the ' University of Cigars', as it has sometimes been referred to my company where JOYA DE NICARAGUA was born and made ever since.
Cigar Weekly: A few of our members have questions they would like to ask of you, also.
Johnleeiii (John Lee): "Sir, can you allay some of your customers' fears concerning the JdN Antaño Line, and how this business change may affect the quality, flavor profile, and the price of the cigars?"
Those fears are absolutely unfounded. There are no changes in the way we will make our cigars; on the contrary, the changes in distribution do not affect our commitment to consistency and highest standard of QUALITY for our products, be it for the U.S. market or for the rest of the world markets where we are present. The changes of who distributes us is in the United States should be for the better. We want to intensify our presence in the U. S. market. We want to give more consumers the opportunity to adopt Joya de Nicaragua as their preferred cigar for enjoying their hobby of cigar excitement, without us risking the quality of what we do.
Do not forget that JOYA DE NICARAGUA is marketed around the world, and only 50% of our production is presently coming to the U.S. market. We have the ability to produce always quality products, regardless of the market, and our production capacity is still much greater than what we presently have achieved.
So, by increasing our share of the market in the United States we are not even sacrificing what we have done the best, for more than four decades, which is making premium cigars of the highest quality in the world market. We are ready to increase our presence in the US market without risking quality - that is a fact.
Consistency and quality is what has made JOYA DE NICARAGUA be the oldest cigar in continental Latin America, and we will continue to be so. We will never put our reputation at risk. We know what we are doing and I am sure that with the distribution alliance we have agreed with DE for the U.S. market, we are moving forward to new grounds of exposure here, and that is part of our vision.
Black Plague (Dan Helton): Mr. Martinez, so many great cigars are coming out of Nicaragua. The Dominican Republic used to be THE place for tobacco outside of Cuba, now Nicaragua is rapidly taking its place and many people are saying the best cigars in the world are coming out of Nicaragua these days. Do you feel that Joya de Nicaragua has been the main innovator in that trend of great Nicaraguan cigars?
The facts speak by themselves, JOYA DE NICARAGUA Antaño, opened a new dimension to cigars not only in the U.S. market but I would say, worldwide. And we are proud of it. But as we say in Spanish, "No es bueno dormir sobre laureles." (Let us not sleep over our own successes.) Let us move!
I don't want to be pretentious and say we are 'the one and only'. But in my opinion, JOYA DE NICARAGUA, and particularly Antaño 1970, has made an important contribution to create a new dimension of tasty, full body cigar lovers not only in the U.S. market but worldwide. And we are very proud to be part of the group of companies that have contributed to rise the prestige of the Nicaraguan tobacco industry to its actual level.
Reconectn (Christian): I would like to know in which field Dr. Alejandro Martinez Cuenca receive his doctorate degree.
I did my Ph.D in Economics at Vanderbilt University, my Masters degree was in Economics and Business from University of South Carolina, and my Bachelors degree was in Economics and Commerce at McGill University in Montreal Canada.
Grtrx (Jeff Lackman): "If you've moved from Quesada to Drew Estates to grow or expand your market presence, are you certain you can maintain the quality of the cigars for which you are deservedly respected?"
I have no doubts of it, as I already elaborated before.
And I save this question for last, submitted by none other than your new partner, Mr. Steve Saka, President of Drew Estate:
"Here is one: Why in the world would you trust a company best known for making ACID cigars as the one sell and distribute such a traditional, historic brand?"
I respect what Drew Estate makes, and I see that each company (Joya de Nicaragua, Sa, and Drew Estate) has their own identity. Selling and distributing a product like ACID, is not incompatible in the world of today, with selling a traditional historic premium brand like JOYA DE NICARAGUA. On the contrary, I see that the effort is complementary for both brands. The vehicle to market and sell each product would be somewhat different, but we are mutually reinforcing the variety of products that each company can offer to the market, and thus economies of scale are bound to come and benefit both projects.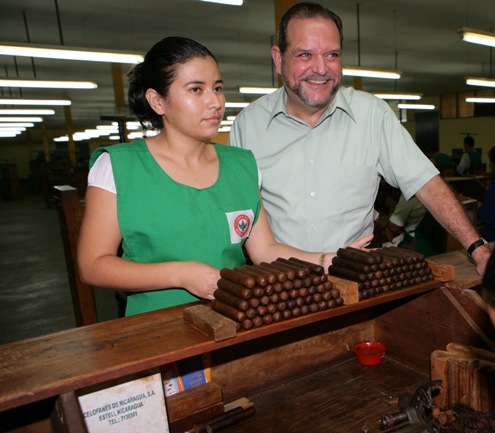 Speaking for myself, as editor of Cigar Weekly, and for our members and readers, we are grateful to have this conversation. Thank you so much for your time and willingness to talk to us, as well as your candor and forthright answers. We appreciate it.