Interviews
An Interview With Jonathan Drew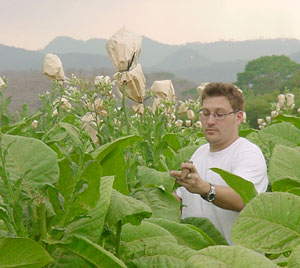 In the world of cigars, Drew Estate has repeatedly managed to set itself apart from the pack. President and co-founder Jonathan Drew met his future partner, Marvin Samel, while in college. Both were members of the same fraternity. Together, they forged not only a friendship, but a partnership. In 1995, Drew and Samel decided to take the plunge and go into business for themselves. Leaving promising respective careers in law and finance, they ventured to take on the cigar industry. Thus was born the adventurous and creative spirit of Drew Estate.
As with a tobacco plant, the largest plant can grow from even the smallest seed. Drew Estate got its humble start in a cigar shop located at the World Trade Center Mall, where Drew and Samel began developing their own house blend. Blended by master roller Antonio Almanzar, the cigar line's popularity took the company's owners by storm. Drew and Samel knew that they would soon need their own factory if they wanted to continue to grow within the cigar industry. In 1998, the two took their next big risk by moving permanently to Nicaragua and setting up a factory. There, they focused on developing a stylistic theme for their cigars. The pair brought in a friend and industrial designer, Scott Chester, a Manhattan artist known for his edgy urban art. It was from Chester's company (Arielle Chester Industrial Design) that the name 'ACID' was born. While there, Drew began experimenting with oils, herbs, flowers, and various infusion methods in order to create an edgy and distinctive cigar line that would be sought-after.
Since that time, Drew Estate has repeatedly turned the cigar industry on its head by adopting an inventive/creative approach to blending and marketing cigars. No stranger to taking risks, Jonathan Drew has guided Drew Estate in directions never before explored in the cigar world. His efforts have certainly paid off in leaps and bounds, and Drew's cigar lines have continued to increase in popularity. The down-to-earth and refreshingly straightforward Jonathan Drew recently agreed to speak to Cigar Weekly's Richard McRae (mealstrom) about the past, present and future of Drew Estate.

CW: What got you into the cigar industry?
J.D.: I've been smoking cigars since 1990, when I began working for [New York] Senator [Alphonse] D'Amato in Washington D.C. I started off with Cubans, and just kept digging into different blends and countries of origin. From there, I thought that it would be a great way to help me pay for law school, so we opened a cigar shop at the World Trade Center right after it reopened from the first bombing of 1993. We opened on a Sunday in early 1995.
CW: When you decided to start making cigars, what led to the decision to make infused cigars?
J.D.: I love all cigars, and believed that our identity of 'Rebirth of Cigars' would be best served by starting off with something especially unique and undervalued. We have always taken an underdog approach to things. We wanted to create a subculture that would respect time-honored traditions, and start a new movement at the same time.
CW: There are a lot of flavored cigars out there. How did you come to your method of infusion?
J.D.: Trial and error, hard work and the backbone concept of the very finest quality raw materials of tobacco. No cheap sh*t tobacco, as most flavored cigars were throughout history. As a matter of fact, we don't authorize the use of the 'F Word' at our office ('F word' meaning flavored). We own the trademark to the word 'Infusion', and that's what we do.
CW: You have a lot of very original and creative flavors, including some very interesting ingredients. How did you decide which scents to use?
J.D.: Experimentation and an extremely open mind. Sometimes the vision came first, such as Kahlua Cigars. Then we tried to get the taste correct. Others came from the blends first, then the marketing concept. Hit 'em from many styles, that's our 'MO'.
CW: What sets you apart from other flavored cigar makers?
J.D.: I don't like to talk bad about anybody else, so I'll just focus on the core, Drew Estate. We use high quality tobaccos, and make cigars draw perfectly every time without using a draw machine. We do not believe in draw machines. They are a virus that must be exterminated.
CW: Rumor has it that Java was meant to be a limited-run cigar, and that its popularity caught D.E. by surprise. Is there any truth to this?
J.D.: None. Sometimes rumors are just that - rumors. JAVA by Drew Estate was created for Rocky Patel, and was always designed as a continuing production line product. The Maduro was the first release. But when I temporarily ran out of Brazilian Mata Fina, I made up 8 boxes of the JAVA Latte (Connecticut Shade) for the Patel Gang to try out. They really liked it and supported the project fully. Rocky Patel is a genuine, decent individual, and he has a good team with him.
CW: You've stepped outside of your normal cigar lines to create a few non-flavored cigars. What led to this decision?
J.D.: NON FLAVORED IS MY NORMAL. We went through a tough time with the failure of 'Industrial Press' in 2002 because the cigar was really good, but the industry wasn't yet ready for DE to move into that (traditional) conceptual space. We took a few years to regroup. Steve Saka's entry to DE as president made the call more urgent, and it has been a pleasure working with him. He has an extremely refined palate. Most hard core cigar 'herfers' know him and respect him. He coined the term 'Herf'.
CW: Do you have any plans for creating another line of non-flavored cigars?
J.D.: Yes. Most definitely. This is the future of Drew Estate, period. We have invested almost 20 million dollars into first class, premium tobaccos. Ask anyone who's come out to visit the Gran Fabrica Drew Estate. We ain't messin' around. DE is the largest importer of tobacco into Nicaragua, and we purchase tobacco from the very best of them, as well as some of the smaller, newer farms. Some of my favorite farmers are A.S.P., Oliva Growers of Tampa, Universal Leaf, Fumex, Agonorsa and Chico Escorcia of Jalapa.
CW: The community of cigar smokers seem to have a love-or-hate opinion of your cigars. What are your thoughts on this?
J.D.: I love and respect both groups. Sometimes I hate Steve Saka and sometimes I love him. The yin and yang is balance. We respect everyone and everyone's opinions. Our goal is to continue with our movement. We are not afraid of adversity or struggle. Coming up when we did, during the collapse of the cigar boom of the mid nineties, there is virtually nothing that we haven't had to battle through. My goal is to deliver quality cigars that draw correctly every time to middle class, blue collar guys and gals. We are on course.
CW: What has been your biggest struggle in getting Drew Estate to its current level of popularity?
J.D.: Staying focused on making every cigar draw perfectly, and keeping all the blends as consistent as possible. We have around 1,000 employees at the factory. Sometimes, people lose their core focus, including myself. We remind ourselves daily that we have been fortunate to date and we cannot rest on the past. Today is today, tomorrow is tomorrow. We can make the finest quality cigars in the world if we believe in ourselves and put our soul into it. Nicaragua is a blessed place. Esteli is the new Mecca, period. We have these resources to work with. If we respect them, we will continue to advance and provide jobs to hard working artisans.
CW: What would you recommend for someone who's never tried one of your cigars?
J.D.: Go to your local 'brick and mortar' tobacco shop and ask if they will honor a box discount price for a mixed DE box and make a variety of all our offerings. A few ACID, Natural, Ambrosia, JAVA by Drew Estate, Tabak Especial, LVH, Liga Privada, and Isla del Sol. Ask for a box discount of 10% - minimum.
CW: What was your motivation behind the La Vieja Habana line?
J.D.: This was our first line, made in New York City by a true gentleman named Antonio Almanzar. After he was killed in an automobile accident, we moved the brand to Nick Perdomo in 1996. My motivation was to blend my own cigar, consisting of only torpedoes. I am not a big fan of torpedoes these days, nor lanceros. You overpay when you buy them. We have made them ourselves at the factory since 1998, but a few times I had a friend or two make some batches for us when we ran low on production in 2007/08.
CW: How involved are you in the Joya de Nicaragua line?
J.D.: Extremely involved. It is one of the best, most complex, most interesting cigars in the universe, including Cuba. I love Joya de Nicaragua Antano. I love the taste, I love what the brand stands for, I love the people who make them, and I respect the history of Nicaragua's Original Cigar. Joya de Nicaragua was the cigar of choice for full bodied smokers when the Cuban embargo made purchasing Cubans illegal. From that point, people realized that Nicaraguan tobaccos were full bodied and beautiful. I was extremely relevant in helping the JDN production team adjust the draw to the North American palate. 13 months ago, the draw was more calibrated for the European palate - firmer. North American smokers want a big, full draw. A blasphemous mouthful of smoke. I helped them with this calibration. We have had 14 successful months since. They understood my objective and trusted me. I feel as though I have left my mark on this historic brand because of that, not because of our distribution deal.
CW: Where do you see Joya de Nicaragua going in the future?
J.D.: Expanding the Antano line into the 'Extra Full' market. It's time to take their throne back. Antano is the original 'Rude Boy'. Working with Alejandro Martinez Cuenca, Mario and Lionel at the factory has been a great experience, and now they want to share their new offerings with the world. Antano represents the heart of full-bodied. As I said, time to take their throne back. They have projects that are 8 years in development. We mutually decided to take one year of distributing the basics - Antano, Celebration and Classico - before moving on to the new releases. We wanted to get a good understanding of their culture and ideals. The folks at JDN are extremely principal based people.
CW: When you reach for a Drew Estate cigar, is there one you find yourself smoking more than the rest?
J.D.: Yes, Liga Privada #9 and the new Liga Privada T-52. I like the Toro's (6x52) in the Liga line the best.
CW: Can you tell us some non-Drew Estate cigars we'd find in your humidor?

J.D.: Indeed:
(a) Padron Anniversario 1926 #9, Anny Maduros almost all sizes;
(b) Illusione 88, 68, 888 and Illusione Epernay (all sixes) ;
(c) Padilla Miami, 1948 and 1932. Mostly Robustos and torpedos;
(d) Cabiguan Guapo Jr's;
(e) RP Decade Lonsdale;
(f) Tempus Robusto;
(g) Cuban Montecristo #2 and Cohiba Robusto;
(h) Aged Arturo Fuente Opus Opus X, various sizes (must be aged);
(I) VSG smaller sizes;
(j) Vintage El rey del Mundo (Villazon) Double Maduro;
(k) La Aurora Preferidos in Corojo and Ecuador;
(l) Ashton Aged Maduro Churchill;
(m) Cuban Ramon Allones Robusto and Small Clubs;
(n) Others, including Jesus Fuego, David Blancos, Chris Kelly, Tatuaje Cojonu and Romeo Y Julieta (Dominican) Reserva Real Connecticut and Habano, Perdomo Habano, La Gloria Cubana Wavelle, Gran Habanos #5 and Short Story's. Got more, but don't want to bore you.
CW: What other cigar companies do you find yourself admiring?
J.D.: Padron, Arturo Fuente and Davidoff. Padron for their blending and consistency, Fuente for their originality and outright specialness and Davidoff for their excellence in teamwork and crafting cigars that draw correctly. I also admire Kiki Berger, Nick Perdomo, and Tommy Sullivan for their inner qualities as human beings and truly wonderful families. Placensia Gang gets respect 'cause Nestor is the Octopus. Mark and Alex Goldman (House of Oxford) get respect 'cause behind the tough shell, these are the finest people that walk the earth. Without them, we would have been finished a couple of times. They believed in us when the chips were down - really down. God bless Mark Goldman, Alex Goldman, Tommy Sullivan, Kiki Berger and Nick Perdomo. Finally, Ernesto Perez-Carillo. This man is my truest role model as a cigar man and professional. He has made me a better man and taught me the magic of perfect draw. I never strayed from his intensive week-long workshop at my factory. Sorry to get sentimental ...
CW: Do you have any other big surprises, like with the Opulence 3?
J.D.: Yes, but we do not release line after line of new cigars. We take our time and concentrate on line extensions. However, we do have an impressive new cigar breaking for the 2010 show as a collaboration with someone who I cannot yet mention, but he is listed above somewhere...
CW: What can we expect to see from Drew Estate in the future?
J.D.: A commitment to quality, Nicaraguan tobacco, and traditional blends that are strong, consistent and draw correctly.
CW: Anything else you'd like to say?
J.D.: Yes. I would like to thank you for including me in your cigar questionnaire. I feel extremely grateful to be asked to participate, and hope that you find my answers heartfelt and direct. Time to smoke an Illusione 88, my friends. Time to relax.
CW: Thank you for taking the time to talk with us.
| | |
| --- | --- |
| | Richard McRae (mealstrom) is a Navy veteran who discovered his love for the Leaf with an Ashton Double Magnum. Since then, to the chagrin of his wife, his love for cigars has grown at the same rate that his bank account has diminished. He is an aspiring author and a dedicated photographer, both of which are always done with a cigar in his mouth. |