Interviews
Local Flavors #4: Mike's Cigar Room, Conroe, Texas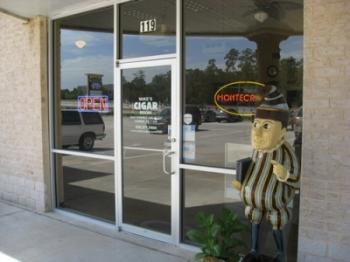 Monday August 16, 2010
CW: First of all Mike, thanks for spending time with me this morning to chat about your cigar business, trends in the industry, and to share your personal perspective with the Cigar Weekly members.
MM: I'm happy to do it, Neil. Cigars are my business and my passion, and I'm always happy to spend time discussing them.
CW: Can you retrace some of your personal history with cigars and bring us up to date on Mike's Cigar Room?
MM: Sure. It seems like I've been involved all my life. But it really started when I first lit up a pipe while in college, back in 1975. Honestly, I decided to smoke a pipe because I thought it would make me look cool and more mature. I'm not sure that was the case, but I did enjoy the tobacco flavor, and things progressed from there. I lit my first cigar when our daughter was born in 1977. Although it was a terrible cigar, I enjoyed it and my passion for cigars was ignited.
CW: What really steered you into the tobacco business rather than it just being a hobby?
MM: My first foray into the business was with the Pipe Pub in Houston in 1984, where I spent three years. You may not have heard of the Pipe Pub, but at the time it was the largest chain of pipe shops in the U.S., with over 100 locations. Then in 1987, with a partner, I opened McCoy's Fine Cigars, also in downtown Houston. It was a good business, and we had a steady stream of customers, mostly lawyers, courthouse employees and other downtown business people. In 1992, we amicably dissolved the partnership (we are still very good friends today), and I continued on my own. The timing was great, as the true cigar boom of the 90s kicked into overdrive, and I eventually moved the shop to the Main Street location, where it still stands today.
CW: So business was booming with no end in sight?
MM: There are always cycles in every industry. One serious issue for us was when the City of Houston decided to construct a light rail system on Main Street. Of course, the politicians tried to convince the business owners that this was going to be a real benefit for business, and it was intended to be a 6-month project. Well, many years later, we were one of only three businesses to survive on a 7-mile stretch of the light rail line. For three years, we had no sidewalk in front of the shop for customer access. We literally passed cigars to customers and received payment back by hand, with cooperation from the construction crews on the street. It was tough.
CW: How did your current location of Mike's Cigar Room come into your plans?
MM: Well, my wife Nancy and I have lived for a long time in the Northwest Houston suburbs. Several years ago, we moved a bit farther north. And over the years, with the increase in traffic, my commute downtown extended from 30 minutes to an hour to even longer at some times. I really wanted something closer to home, and I also wanted a larger space where I could have a large humidor and comfortable seating for our customers. In October of 2009, I sold McCoy's Fine Cigars downtown to my daughter and son-in-law, and I opened Mike's Cigar Room here in Conroe.
CW: What do you feel sets Mike's apart from other retailers?
Roadhawg, Mike & Brad
MM: This may sound like a marketing pitch, but it's true: I am here to have fun, and I want my customers to do the same. Mike's is a place my customers can come to relax, enjoy a cigar, engage in conversation and simply enjoy a piece of life. I want them to think of my shop as their living room away from home, and to feel completely welcome all of the time. We opened in November of 2009, and the response has been excellent so far. When Brad is at the counter, as he assists customers with their selections, he also welcomes them to stay for a while and light one up. Also, our selection is fantastic – at nearly 600 square feet, we have the largest humidor in Montgomery County, Texas, and are very proud of that fact.
Humidor has 900 selections
Largest Humidor in Montgomery County
MM: Business is great. We are about two years ahead of our initial business plan projections, and that is very satisfying. This is a challenging time to be in any type of business, but we are doing well and having fun in the process. Life is too short to have it any other way.
CW: What type of clientele typically frequent your shop?
MM: There is no such person as a typical customer. We get students from the local college, U.S. Marshalls, business owners, truck drivers, airline pilots, CEOs, teachers and a good number of women who enjoy cigars. We literally have customers from 18 to 80 years of age. I think the broad spectrum of customers helps us because we are not dependent upon a single segment for our business.
Customers enjoy the lounge at Mike's Cigar Room
CW: What are your customers' favorite brands these days?
MM: Well, our three most popular lines are Fuente, Padron and Ashton. However, we sell a wide variety of brands and offer an awesome selection to fit anyone's needs. With over 900 facings to choose from, I want my customers to feel like they are in a tobacco 'candy store'. It is not unusual at all for a customer to come in for a few of his regular sticks and then walk out with those, plus three or four other selections that he saw in the humidor and just wanted to try.
CW: What are you seeing as recent trends in the industry regarding size, taste profiles and pricing?
MM: There is a definite move away from the huge mega-ring gauge sticks, such as those 60-ring monsters. There has also been a bit of a change in demand for the extra-full bodied offerings. For a while, it seemed as though everyone wanted stronger and stronger tobaccos. That has subsided a bit, but the bulk of our demand is still in the medium to full bodied sticks. We do not have a lot of demand for mild strength cigars. What I call 'Boutique' cigars have slacked off a lot, and customers are buying fewer high-dollar smokes. There is steady demand for the $5 to $8 cigars, but sales of the over-$10 ones have slowed. Just because a manufacturer introduces a 'Special', 'Limited Edition' or 'Reserve' branded cigar, if it demands a significant price premium, there is no guarantee that it will sell unless it truly is an exceptional smoke.
CW: Have you seen a trend towards more single stick or bundle purchases rather than box quantities?
MM: The shop has only been open since last fall, so we are still in the phase where we expect most people to buy single sticks. As our business matures and we engage with more and more regular customers, I anticipate our box sales will increase over time. Also, we try to sponsor at least one quality manufacturer's event every month. This will also boost box sales, and our results have been very solid. We are looking forward to a Nub event coming up in September, which will be a lot of fun.
CW: What are the challenges of competing against the Internet retailers?
MM: This may sound crazy, but it's really just business as usual. Competing against the Internet companies in 2010 is like competing against the 'Catalogue Retailers' of the 80's. We will continue to do what we do as well as we can. That is, we offer personal advice and individual attention to our customers, we offer a great selection at competitive prices and we provide a welcoming, comfortable atmosphere for our clients. Internet retailers just don't have the local touch and personal relationships.
CW: What specific challenges do you now face based on current or 'threatened' legislation, and how do you combat it?
MM: Very simply, we have to fight every day. My wife and co-owner Nancy is a practicing attorney, and we are very actively engaged in fighting any legislation from a local or state level which intrudes on our freedoms and our livelihood. We are persistent and obnoxious, and are in a constant battle. We can never relax, and it is important to realize that, as a tobacco retailer and as citizens who enjoy the leaf, we have no friends. We are the low hanging fruit, and as retailers and consumers, are easy targets when a government entity needs more tax revenue or decides it need to 'appear' to somehow be protective of other people's interests. We have been lied to from both sides of the political aisle, and at this point, we trust no one. I am a strong believer in individual, personal responsibility, and don't believe that is our government's job to police freedom of choice.
CW: What changes in the cigar industry do you see in the future?
MM: I think there will be a continuation of what we have seen over the past few years. That is, there will be a lot of manufacturers who consolidate, as it will be increasingly difficult for the little guys and the boutique brands to survive. There will be similar phenomena at the retail level. Some shops may combine or integrate, and some will just disappear. For example, in the boom of the 90s, there were 30 cigar shops in the greater Houston area. Today, there are approximately 45. And this is certainly not a boom period. Unfortunately, I just don't think all of these shops will survive.
Roadhawg & Mike McCoy
CW: Are there any final messages you would like to convey to the CW membership and our readers?
MM: Yes, the same message I gave earlier. Live well, enjoy life and have fun! That's my philosophy.
CW: Mike, thanks again for spending time with me this morning and for sharing your views with the Cigar Weekly community.
8000 Highway 242, Suite 119
Monday -Thursday
10am - 7 pm
Website
: www.mikescigarroom.com/
____________________________________________________________
Neil Noffsinger (Roadhawg) is a retired sales executive from the semiconductor industry, and enjoys life with his wife Gail in Spring, Texas. The seven years since his retirement have been filled with motorcycles and extensive travel to all corners of the U.S. and Canada. He has been on 2 wheels in 49 states (missed Hawaii), and typically enjoys a quality cigar at the end of the day – especially after an 800+ mile day in the saddle of his motorcycle!