Interviews
Cigar Weekly Interview with Diego Trinidad

---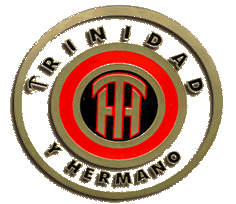 Cigar Weekly: Last week you announced the availability of the Trinidad y Hermano line of cigars. Tell us about the new line.
Diego Trinidad: We're very excited about this new line. They're being made in the Dominican Republic by Pedro Martin. This fine gentleman finally agreed to make the cigars for us after making sure he could fulfill our needs. He has been called by a cigar magazine "an artist" in the unique art of blending cigars and is one of the world's best, as well as a decent and honorable man. The filler is from the best Cuban-seed Dominican and Nicaraguan tobaccos, the binder from the Dominican Republic and the wrapper is a shiny, beautiful Ecuadorian grown Connecticut shade. I remember that my father's favorite wrapper was the Connecticut shade, so this new line is dedicated to his memory. We will have six sizes initially: Lonsdale, Robusto, Toro, Torpedo, Churchill and one of the new favorites, a Perfecto. Suggested retail prices will range from $5 to $7. And most importantly, we will have enough cigars to fill any demand. We should be able to ship this new line by the end of the month. We are offering a sampler with one of each cigar and people can try the cigars for themselves. Until November 30th we'll have a special on the samplers for $19.95 before we start shipping to retailers.
CW: That sounds great. I'm looking forward to trying the cigars. Now, the other part of your announcement was that the TTT Trinidad line is no longer available.
DT: That's right. We are looking for a new manufacturer that can do justice to the great cigars that the Fuentes created for us. Someday we will again offer these cigars but for now, there are no TTT Trinidad cigars available.
CW: Why did the Fuentes decide to stop making TTT Trinidad?
DT: You need to ask them that question, but I think it was a combination of things. You know, at first, the Fuentes never intended on making TTT Trinidads forever. They were going to make just the first 10,000 or so until we could find a permanent manufacturer. But as things went on, and we got such excellent reviews, we started negotiations for them to continue making the cigars and they did continue for a while. In fact, at one time, I thought we had a tentative agreement for them to continue to make the cigars as well as for them to own part of the Trinidad trademark.
CW: Then what happened?
DT: Then the Mondavi lawsuit started taking a lot of the Fuentes time, then we had the problems with the first version of Trinidad y Hermano brand, then the legal problems with my brother and the Sosas and then the last thing was this accusation of counterfeit cigars. I think all these things together are factors in their decision. Its possible that Hurricane Georges may have affected their decisions, too. Even though they have plenty of tobacco in their warehouses, it's not the same.
CW: Okay, let's backup for a minute. Let's go over the recent history of the TTT Trinidad line. It was in the fall of 1997 that you first introduced them, right?
DT: September of 1997. Yes.
CW: How many cigars were you selling?
DT: The most we ever received was not even 20,000 a month. And we sold everything we got. The last tentative agreement was for them to produce between 25,000 and 30,000 a month.
CW: When did you last receive cigars from Fuente?
DT: We received a huge shipment in March. It was supposed to be a three month supply that would last until we found a new manufacturer. I made them last even longer, because I thought it was better to keep the cigars in the market, even if it was only a few. It was around 60,000 cigars. After that, I got a few cigars in bundles. No more cigars in boxes, but some in bundles. The last shipment was just before Fathers Day.
CW: 20,000 cigars a month doesn't sound like very many to me. That's only 800 boxes. Is there enough margin in that to make a living for you and your family?
DT: That was one of the sad things about this. I doubt that anyone in the country had a higher cost than us compared to selling price. But because we had practically no overhead, we made a healthy profit. But you're right, especially with the huge legal expenses we've been facing. 90 cents out of every dollar was going to attorneys fees.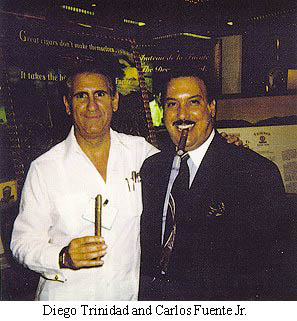 CW: So if you weren't able to make a living with this, how did you support your family?
DT: Everyone in my family continued with their other jobs and businesses. I have a small business that offers services to attorneys because I am a paralegal among other things. And I have kept on doing that throughout. We have never had a set office as such. And basically I took care of this business late at night, on the Internet and stealing a couple hours when I could during the day to make calls and open new accounts and so on. But it was enough because we didn't have enough production anyway. But always with the hope that we could get more cigars.
CW: Then in June of this year you started working with Nassar?
DT: No it was earlier that that. I think in May we had an agreement with Adel Abu Nassar.
CW: We've discussed previously that prior to working together, Mr. Nassar was selling cigars with the Trinidad name. How did you get together with Mr. Nassar?
DT: Adel called the Fuentes to tell them of a possible source for counterfeit OpusX. I think it was useful and valuable information, but I don't know for sure. Anyway, they talked for a while and sometime later, Carlos called me and said he (Nassar) seemed like a reasonable guy and suggested I call him and try to get together to avoid legal problems (with the use of the Trinidad name). And that is exactly what I did. And my agreement with Adel was based on the assumption that the Fuente's were going to continue to make our cigars. And as a result of all that, he is the one that has really been hurt here. Because he was making a good living with his cigars -- he was selling twice as many cigars as I was.
CW: Let's talk about the counterfeit cigars. I have talked with cigar retailers that ordered cigars from you and they claim the cigars they received were not Fuente-made cigars. That seems to conflict with your statement that you never sold cigars that were NOT made the Fuentes. How could that happen?
DT: Up until the end of June, I shipped every cigar myself and I can personally guarantee that every cigar I sent out was made by the Fuentes. After that, because of our legal problems, I shipped the remaining inventory to Adel and he shipped them out of his warehouse. I took the orders and then sent them to Adel and he shipped them out. So although I didn't ship the cigars myself, I am almost sure that they were legitimate. But I want to make it clear that I don't blame Adel and I take full responsibility for not being on top of everything.
CW: Have you asked Adel if he shipped out any TTT Trinidad cigars NOT made by Fuente?
DT: Yes. I have asked him and he denies it. I am still trying to get to the bottom of this. I have asked him for records of everything that was shipped out. I have also asked for dealers to send the cigars they think are counterfeit back to me and that I would refund their money.
CW: So the cigars that Joe Revolta at Arabi Cigars is selling, those are legitimate Trinidads made by Fuentes, as far as you know?
DT: Those were made by the Fuentes. And the reaction by people that tried those cigars has been more than positive. Okay, a number of people have found differences. Who wouldn't? It's a hand made product. Every cigar is different. But I think most are satisfied.
CW: Okay, let's move on. What are your plans for the coming year?
DT: I plan to come out with not only the Trinidad y Hermano line but I want to bring out at least one, maybe two more after that. My expectations are to have cigars in the market that cover the entire price range. They will all be as good as possible. Obviously, if you sell one cigar for 3 dollars and another for 12, there's got to be a difference. So that's my goal: to have cigars that go from about $3.00 up to $12.00. I think that will be 3 or 4 lines. They will all be our own cigars. There will definitely be something that sets them apart from the crowd. We'll basically have to start all over again. And this time it will be done in the right footing.
CW: Is there is anything you want to say to your customers, both the smokers of Trinidad cigars and the resellers of your cigars? I've talked to a few retailers and customers that have had a hard time getting in touch with you.
DT: It's been very frustrating for the last few months having to keep my mouth shut. If people will remember the 2 1/2 or 3 years that the Fuentes went through the Mondavi case, there was not a single word from any Fuente family member. This interview comes at a good time, but we are finally taking some legal action to defend ourselves. And since that will become public record, I can now be a little more forthcoming.
We continue to try to make the very best possible cigars we can. But in terms of my talking and maybe clarifying things and simply being available, I've had to lay low because that's the strategy that my attorney's wanted me to follow and I simply had no choice.
CW: And for the cigar smokers, when can we buy Trinidad cigars again?
DT: We're going to try to have cigars to sell by the end of November. We hope people will give them a try and decide for themselves. We hope they don't try to compare the Trinidad y Hermano cigars with the TTT Trinidad line. That's not the point. At least two of the lines will be completely different. One line will have Connecticut wrapper, I can tell you that. Which is quite different from Cameroon (ed note: that's the wrapper used on the TTT Trinidad line as well as many of the Fuente made cigars) I hope people will just try the cigars for what they are and I hope they will buy them and like them.
This time we'll have to stand on our own with our product, with our quality, with our name, without the Fuente's behind us.
CW: Thank you for taking the time to talk with us.
DT:
Thank you.