Interviews
Cigar Weekly Interview With 25 Smokin' Figurados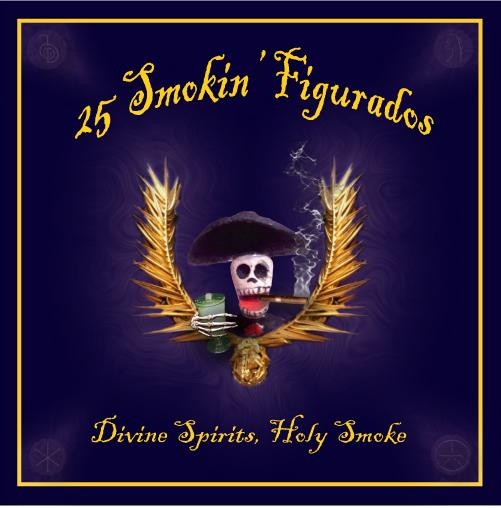 The talented new group 25 Smokin' Figurados, a collaborative effort headed by frontmen Timothy Abbott and Gregg Kirk, have released a new CD and recently launched their newly-formed band at a gala event in Austin, Texas. Contributing editor Roger Farnsworth (ElkTwin) recently caught up with the band and had a chance to interview the cigar-smoking musicians.

I saw your show the other night and I was impressed. Tell us a little about 25 Smokin' Figurados and how you got started.
Tim: We met in a cover band in Iowa back in the Pleistocene Era where we started toying around with original music. Gregg moved to the Philly area and I moved to Austin where I became the singer/lyricist in a band called Up Periscope. After that died, I started Argument Clinic in 1986. We were signed to a small label that eventually put out a CD in late '94, and it got us airplay on something like 130 stations. There were some nuggets there despite the bad production job. Gregg and I wrote some music together in the late spring of 1986, the first of note being a sweet song called "Things For You." We re-connected musically in 2001, mere weeks after 9-11. It was pre-planned. We had set aside time to go into his studio so it was weird that it happened around that time.
Gregg: While Tim was in Austin, I went through a bunch of bands in the Philly area and eventually got the job playing guitar in Robert Hazard's band. He was huge in the Philly area at the time and seemed ready to break out onto the national scene. He was riding off the success of "Girls Just Wanna Have Fun" which he wrote and Cyndi Lauper recorded. After playing in that band for a while I realized that Robert wasn't interested in collaborating on songwriting with anyone else in the band so I tendered my resignation... or I was fired... sorta all at the same time. On the side I was writing my owns songs with a group of dudes from Delaware and we booked a gig that happened to fall on the same day Hazard had scheduled a gig at Hershey Park in front of 10,000 people. I told him I had another gig going on and he asked me what I did in the band. When I told him I sang and played lead guitar he said, "I can't have you fronting another band. How would that look if you opened for me or something? What would people say?" He was right, of course, but I told him I wouldn't cancel the gig with my band so he said I needed to leave. While he was playing his gig in front of 10,000 with another guitarist, my band the Killtoys was playing in front of about 40 people at the Barn Door in Wilmington, DE!
How did you arrive at the name 25 Smokin' Figurados?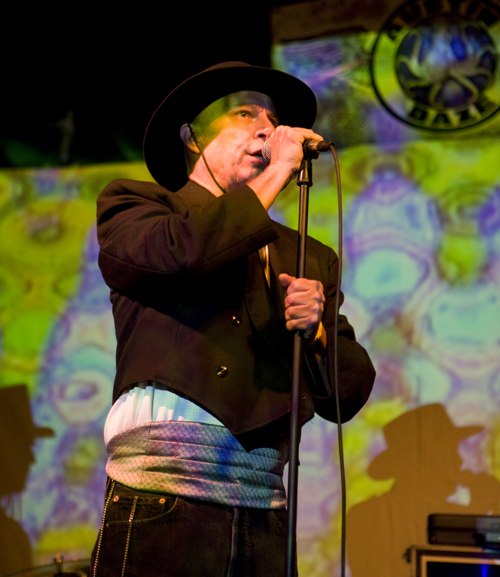 Tim: I came up with that name. I dunno exactly the minute details... Gregg had gotten me hooked on good cigars, and I thought it'd be cool to come up with a cigar angle... 25 = number of cigars in the usual box, smokin' = what we do with them, or the style of music, and figurado = an out of the ordinary, odd-yet-beautiful cigar style. I always bounce stuff off Gregg, and we had some variations of it all.
Gregg: We originally called ourselves Amigos De Los Muertos, which loosely translates from Spanish into "friends of the dead." Too many people thought we were some sort of Grateful Dead tribute band based on that name so we changed it to the Figurados. It all started really from that original recording session when Tim came out in 2001. He brought with him two calaveras (Day of the Dead) figurines... one of a mariachi singer and another of a mariachi guitarist. They seemed to represent him and me and they gave our project a visual identity. We've incorporated them in our logo and CD artwork as well.
Do all the band members enjoy cigars?
Tim: The true cigar smokers are Gregg and me. The others smoke but just not on the level we do.
When did you start smoking cigars and would you tell us a bit about your first real cigar or the first one that caught your attention?
Tim: The first real cigar I smoked was a Monte Number two. Boom... all she wrote. After that, I expanded my horizons. Bolivars, Epicures, Partagas, aged stuff. My best cigar was given to me from a man who sat on Vegas Robaina's porch while his grandson hand-rolled a few specimens. It was... incredible to say the least.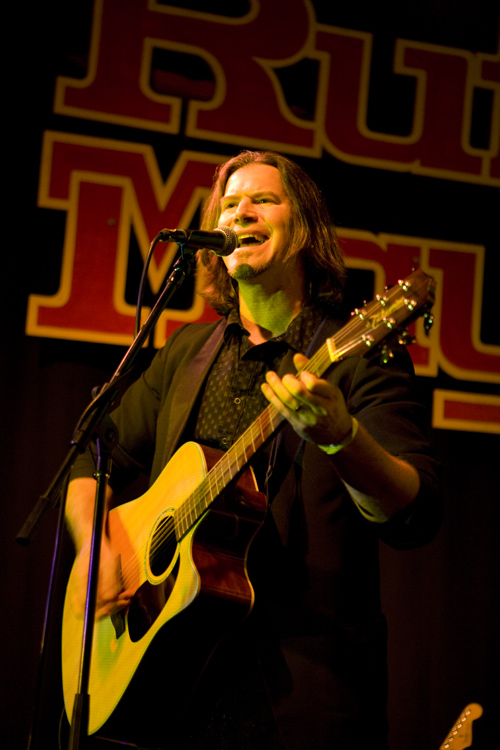 Gregg: I had been smoking Ashtons for quite a while until my brother clued me into Cuban cigars. He had been working in Toronto and was smoking them all the time and raved about how powerful they were. The first real Cuban I smoked was during a trip to Jamaica. I brought back Montecristo #2s and Bolivar pyramids. To this day, those two cigars are my favorites. I think I might've given Tim his first Monte #2, and now he's got 100 times more cigars than I do! I'm a big fan of Trinidads, Punch and I'll smoke a Siglo VI when I can find it.
I noticed that several of the fans at your show were also cigar smokers, and Jenn mentioned that you are part of a group called Ash Wednesday. Tell us a bit about that group.
Tim: We are a loose-knit group from various professions, all political types, too. We share a love for cigars. We used to meet regularly before the draconian anti-smoking laws outlawed smoking ... in cigar bars! The Stephen F. Austin Hotel, which has that second-story terrace/cigar bar, lost likely 75% or more of its business. It lost us, for example. We meet there now and then on Wednesdays and chat about everything under the sun while indulging in divine spirits. Many times we meet at each other's houses now. One of the most knowledgeable fellas on cigars is my pro photographer, Duane Osborn (duane@ophotostudio.com). Another cigar guru is Mark Foster from the Habana House in Austin who is just a wealth of knowledge.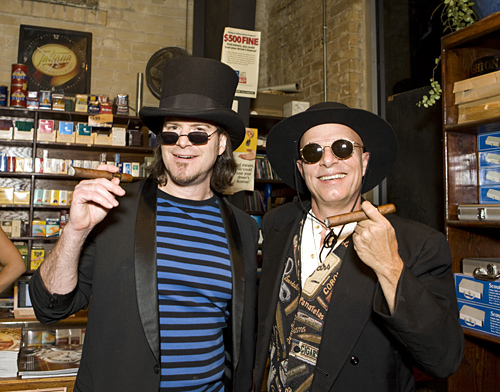 "Divine Spirits, Holy Smoke" is a great name for the CD. What message are you trying to send with this CD?
Gregg: Well, we'll leave the real messages for the listener to interpret but we are incorporating our love of fine cigars and fine libations with a positive, non-denominational spiritual message. Aside from cigars I am a beer and absinthe wanker as well. I used to brew my own beer for years and have been to the beer Meccas in Belgium and have tasted the holy nectar of the absinthe gods...bootleg La Bleu from Switzerland!
What's your favorite cut from the CD and why is it special to you?
Tim: These are our babies, and I love them all. "Redemption" is special... about spiritually re-connecting, and it's not just for one religion. "Keep It Simple" is a plea for sanity, the only song about my first marriage. It crosses many borders, and hits on all levels. "Died Tonight" is a pretty love song, not a song about just "doing it," but really about the act and art of making love and being appreciative of that Love, you know, to a higher power. "Jimmy Died Yesterday" is a combo of stories about war and how death over there affects us over here.
Reyes Family Cigars and Vegas de Santiago are sponsoring your CD launch activities. What would you like to say about their cigars or their support?
Tim: Great smokes for the price, indeed. They are genuinely nice people to work with. That perfecto that Reyes makes is perfect for me on stage, too... it is gorgeous. We had many compliments for both makers at our herf, which Jenn labored so hard to set up.
Gregg: As Tim said, both cigar varieties are great from both brands, and it's very cool to work with people who realize we are not only dedicated but knowledgeable about our smoking and drinking to the point of actually writing songs about it.
Cigars and hats seem to go together. I noticed that you wear hats on stage and some of your fans were sporting nice lids. Coincidence?
Tim: I shave my head, so caps have a reason to exist... our hat look comes from our calaveras influence... completely lifted from that.
What's next for 25 Smokin' Figurados?
Tim: More live shows, and new music. We are bursting at the seams with new music! I am rich with lyrics, melodies, and run them through Gregg. He modifies, re-arranges some, and in the end we get this music that isn't quite like I originally imagined, but rather better than I had imagined.
Gregg: We've got this CD to promote and we'll be releasing some videos in the near future. As Tim said, we've got a backlog of new songs to finish, so we'll be getting to that towards the beginning of the new year. And there are plenty of cigars to smoke in our humidors...
Is there anything else you'd like to comment on or you'd like us to ask?
Tim: Yes, we are blessed to have the support groups we have...cigar makers, fans, friends, and fellow lovers of smoke. If you like what we are doing now, stay tuned... we have much more music coming forth and it is shiny, new, and we think you'll love it.
Gregg: Well, there's a whole angle here that we didn't mention. Back in 2005 I was diagnosed with Lyme Disease and that almost completely put a stop to what Tim and I were doing. In fact, it almost completely put a stop to ME. I had a PICC line put in that year that jabbed my heart and almost killed me. Some of the spiritual nature of our music and lyrics come from the real pain and soul searching that went on during that period. Tim writes from things he's experienced and I do the same. When you go through something like that you can't help but bring something back with you that gives you a completely new perspective on things. If you want to talk about musical influences, I think this one stands out as the true influence of our band. It made us stop writing about anything mundane or posturing and forced us to look at what is real in this life and worth thinking about. It has given each of our songs this "fighting back from the brink of death" tone that fills most people who listen to us with this feeling of hope and empowerment. It's pretty awesome.
Thanks, guys, and best of luck with the new CD!