Lifestyles
Let it snow, let it snow, let it snow!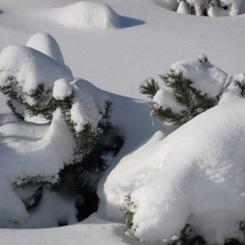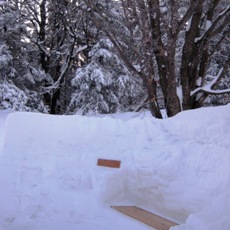 Winter can present unique challenges for cigar aficionados residing in northern climes, especially those of us who, for various reasons, choose not to light up in our own homes. However, rather than view such limitations as unbearably restrictive, I prefer to ask, "Why not look on the bright side?" After all, the great outdoors, blanketed in white though they may be, still beckon just beyond the doorway.
In fact, I relish those moments when I'm able to sample a cigar while I walk the snow-laden fields and banks of the Saint Lawrence River close to my home. Even more enjoyable are the times I find myself, stogie in tow, treading the countryside of the Eastern Townships region of Quebec. There's something serenely beautiful about sensing the aroma of a fine cigar as its fumes billow upward to meet the cool winter air. No other experience is quite like it!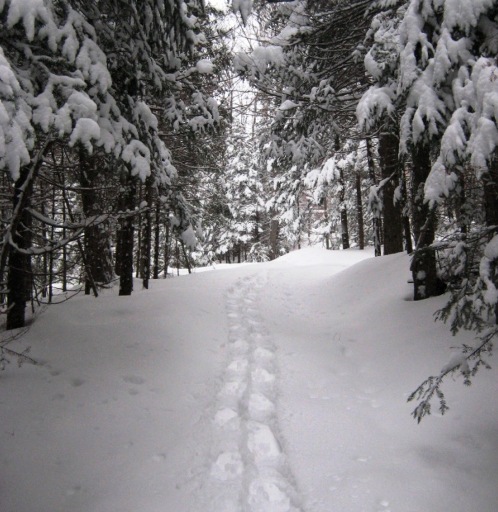 A solitary path into the heart of nature
When the winter wind isn't too blustery, my olfactory perception often seems heightened and my appreciation of a cigar's flavors sharpened. I've set flame to everything from Petit Corona to Piramide under these sorts of circumstances, never regretting the decision to do so. As long as the cigars have been well conditioned and have acquired enough age to permit the internal oils to properly distribute, no problems have ensued in terms of combustion. Sunlit days from December through March offer an added bonus. Many a time, I've shed my outer layers on such occasions, stretched out on a bare rock and dreamt of tropical beaches. Isn't snow winter's version of sand?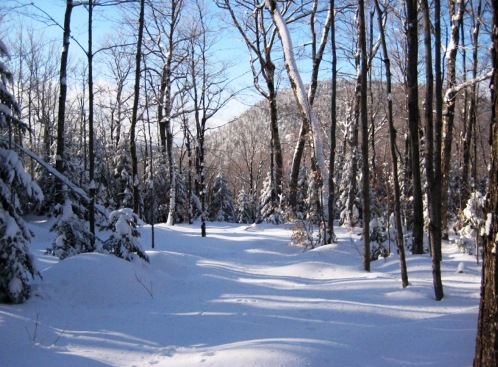 At home in hill country
This past Holiday Season, Peg and I decided to escape the hubbub of Montreal for two weeks and a bit over Christmas and New Years. We headed for the tiny rural Eastern Townships hamlet of Baldwin Mills, where we had access to a friend's cottage and farmland as well as the surrounding hill and lake countryside. I've been visiting the area, on and off, for over three decades now.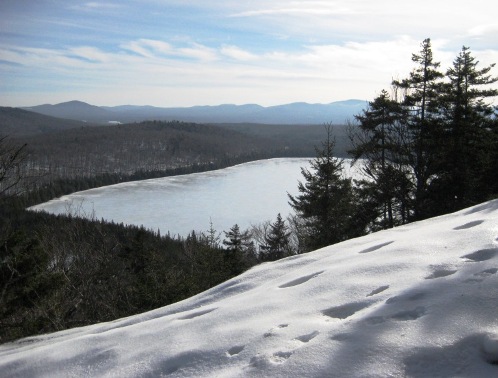 An overview of isolated and undeveloped Baldwin Pond
This is a place both restoratively calming and a little wild, where grouse, deer, moose, coyotes, bears and even the odd wildcat roam the forest recesses. Owls glide stealthily across farm fields in search of prey while peregrine falcons, hawks and eagles can often be seen cruising the currents above. The practically oppressive silence of one moment can suddenly erupt in a symphony of sounds the next, as crows and songbirds voice their calls and gusts of wind rise up to rustle the treetops. You never know what to expect.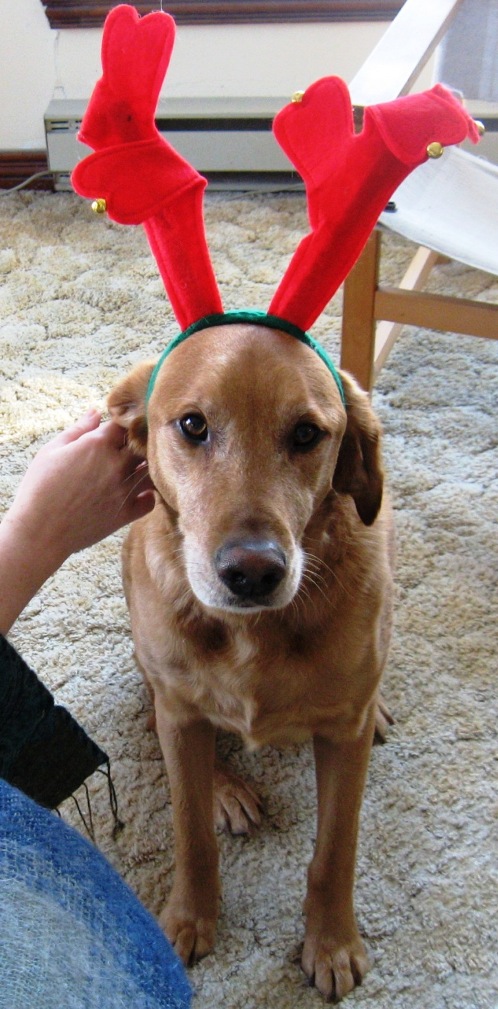 One example of the exotic local wildlife: our canine friend Harry in festive attire
I recall one New Years Eve many years ago when I decided it would be cool (both literally and figuratively, as the temperature at the time hovered around the -30º Celsius mark!) to set foot outside at the stroke of midnight and let out a celebratory yelp. So I did, suitable warming libation in hand and with my friend's late dog Augusta standing faithfully by my side. "Woo-woo," went out my cry toward the celestial horizon. Twenty or thirty seconds of absolute silence elapsed. Then, from across the hills to the south, a chorus-like response arose to greet our startled ears: "Woof-woof-woof-woo-oooooooooo." Gus and I stared at one another in total bewilderment. Apparently, a group of Green Mountain wolves wanted to join our ringing in of the New Year. But this was one party neither Augusta nor I were interested in checking out. We retreated back into the house.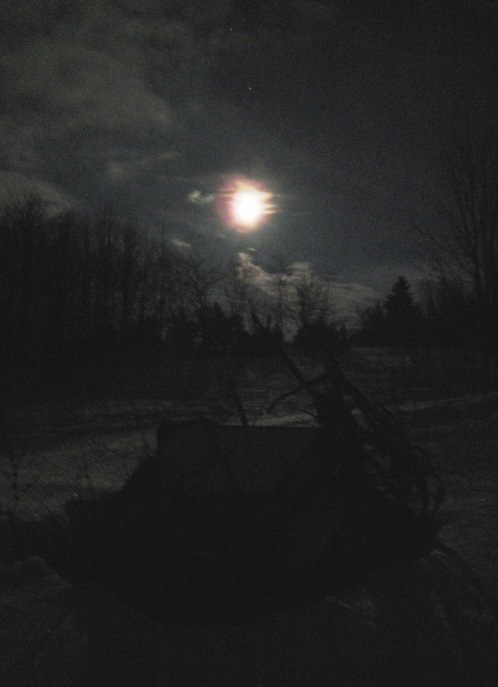 Nothing quite like being outside on a fine, moonlit night
During the winter months, the weather here can be every bit as capricious as the wildlife. It's not unusual to hit the sack seeing nothing more than a thin icy crust on the ground reflecting the moon and star-lit heavens, only to awake the following morning to foot upon foot of freshly fallen snow. Snowshoes are the order of the day - particularly true during our recent sojourn, with accumulation of the white stuff surpassing five feet in many spots even prior to the official commencement of winter.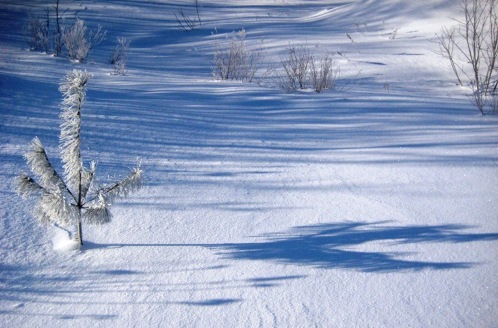 Young treetops barely poking through the snow
As Peg and I settle into the cottage and begin to survey the surrounding terrain, the creative impulse wells up within me. Let's see. I'm staring truckloads of snow in the face, and I'd like a comfortable exterior shelter from the wind where I can sit beneath the open sky and clip a triple-seam cap or two. On top of it all, we're expecting friends, a few of whom will want their periodic cigarette fixes despite our no-smoking-inside policy. Yes, I think I see the light! It's definitely time to take my outdoor appreciation of cigars to the next level, and to be able to offer our smoking amigos a place where they can relax and light up. Where's that shovel?
The 'fort' begins to take form
Over the course of a couple of days, sandwiched between hours of clearing the long driveway, snowshoeing in the backwoods, cooking, dining, wining, reading and, yes, sleeping, I create my own modest snow 'fort' twenty paces from the front door, and christen it El Patio. Complete with seating for four as well as tiny inset shelves for drinks, the winter-white shelter proves a hit with our guests. Even Peg, ex-smoker though she is, takes to enjoying the experience of sitting within the protected confines of El Patio. For me, the cigar highlight of my vacation proves to be a post-shovelling afternoon encounter with a delicious, spice-infused 2000 Partagás Edición Limitada Piramide.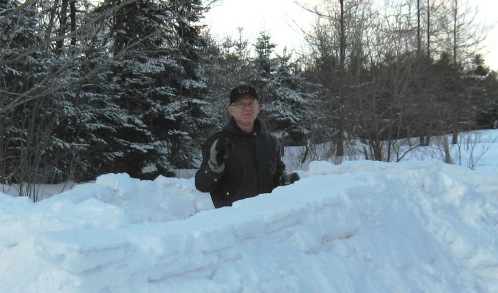 Getting there, but it's time for a break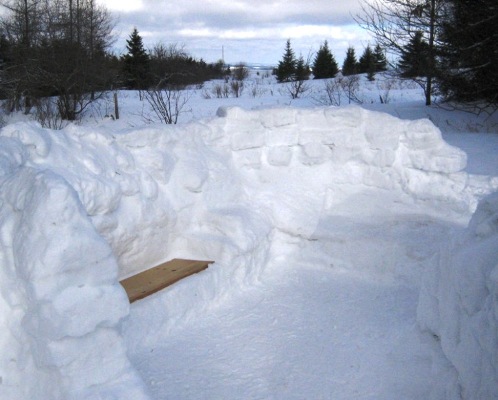 A room with a view

Cigar-friendly sign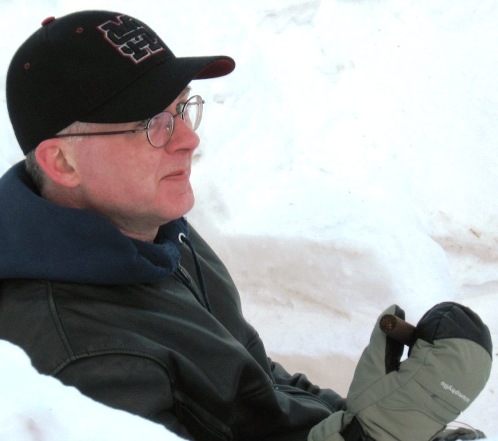 Care to join in?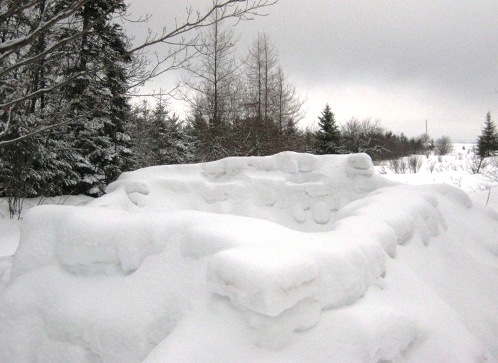 El Patio adorned with a fresh dusting of snow the following morning
Alas, as good times and good company give way once again to city life and the routine of work, a January thaw and rain showers take their toll on the temporarily abandoned 'fort'. When Peg and I return to the cottage the following weekend, there is no need to shovel the driveway, no need for snowshoes and nothing but the ghostly remnants of El Patio. But you know what? I'm more than ready for the next big snowfall!

One short week later... Was it all just a dream?
---
Doug Kuebler (Jazznut) is an inveterate aficionado and collector of wines and whiskies from around the world. Doug has organized wine and food seminars, written extensively on wines and liquors, and also gained something of a reputation for his detailed analyses of cigars. His latest book set, The Tumbler's Guide to Single Malt Scotch Whisky: Desk Reference and Field Guide, is available from Topeda Hill Publishing.