Lost & Found Spam Artist Toro Grande Corojo

Cigar:

Lost & Found Spam Artist Toro Grande Corojo
Specifications:
Purchase date: 2023
Country of Origin: Dominican Republic
Wrapper Color: Colorado Maduro
Wrapper type: Ecuadorian Sumatra
Filler: Nicaraguan and Dominican Corojo
Binder: Dominican Corojo
Vitola: Toro Grande aka "Shotgun Wedding" (6x54)
Manufacturer: Lost & Found Cigars (La Barba Cigars & Caldwell Cigars)
Distributor: Unknown
Factory: Unknown
Humidimeter: 63%
Current Production: Yes
Price: $6.30
Environment:
Temperature: 60 degrees and partly cloudy
Humidity: 66%
Wind: N/A
Setting: My regular spot in the little, glass, outdoor smoke shack, staring off at the nearby Big Horn Mountains.
Paired with: Mezcal straight from the bottle, no salt, no lime, no chaser.
Just kidding, Iced Coffee as usual.
Pre-smoke Comments:
A medium texture, leathery, fairly veiny, slightly reddish hued, oily appearance, invisible seams, fairly attractive Colorado Maduro wrapper with a smooth, medium length cap, firm bunch, and slightly tight cold draw with a very light woody taste.
Smoke/Burn Comments:
Even burn, flat coal, and a strong, mottled black ash.
Draw/Smoke comments:
Perfect draw, excellent smoke volume of smooth, cool smoke, and a strong, fragrant, herbal and floral aroma.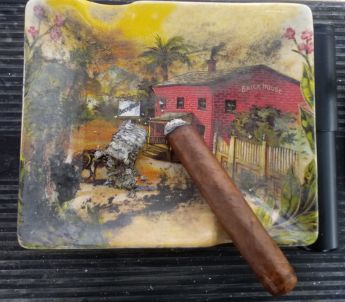 Flavor/Taste Comments:
Generous richness, ample body and flavors, perfectly balanced, of herbal, woody, and floral flavors.
Finish/Aftertaste Comments:
Medium strength, brief finish/aftertaste consisting of herbal and woody flavors.
Summary Comments:
An overall excellent cigar in ever regard. Really not much else to say that hasn't already shown this. Overall score of 95 out of 100.
Category Scores:
Appearance/Construction____13___ 15
Burn____15___15
Draw____10__10
Smoke volume ___10___10
Smoke character ___5__5
Aroma___5___5
Flavor/Strength____14__15
Finish/Aftertaste___9_____10
Summary____14___15
TOTAL___95____ 100