REVIEW: H. Upmann Petit Corona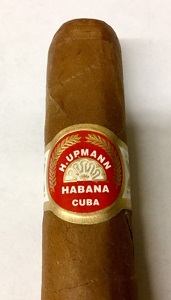 H. Upman, Petit Corona
Size - Mereva (Petit Corona), 5 inch X 42 Ring Gauge
Wrapper - Cuba
Binder - Cuba
Filler - Cuba
Wrapper
Beautiful medium tan wrapper, firm feel, thin veins, nice looking triple cap. This cigar has a nice sweet tea and sweet bread smell. Very nice.
Construction
This cigar is solid with no soft spots evident. The draw is a bit tight but smokable. Prelight draw is sweet with hints of cinnamon. Cigar burns evenly with a solid gray ash.

Flavor
This cigar is a solid medium cigar with the flavors evident from the first draw. Lots of bitter nuts and coffee flavors. About an inch into this cigar, the cigar picks up some strength with flavors changing to toasted nuts, coffee and cream. The final third is full with toasted tobacco flavors, and some sweet tea on the finish. A well balanced cigar overall. I enjoyed the flavor changes as I smoked it down.

Final thoughts
This cigar is perfect for a morning cigar. It is not strong and It pairs well with a nice cup of coffee. This cigar has nice balance of flavors, lots of toasted tobacco flavors, and a nice sweet finish. The smoke is aromatic in the room and is pleasant. Overall, a nice mellow cigar that can be enjoyed anytime of the day.
Wrapper - 5/5
Construction - 4/5
Flavor - 8/10
Final Score - 17/20