Hangman's Budget Pairings – Tales From The Lower Shelf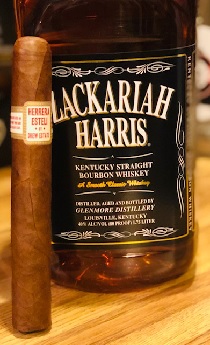 Hangman's Budget Pairings – Tales From The Lower Shelf
By – Chad "Hangman" Potier
The Herrera Esteli by Drew Estate
Vitola: Tors 6x52
MSRP Cigar: $8 (but I got this on CigarBid for $3)
MSRP Whiskey: $12 for the 750ml
Wrapper: Ecuador Habano
Binder: Nicaraguan
Filler: Nicaragua Viso , Seco, and Ligero from Esteli & Jalapa

As promised, here's another installment to keep you and your wallet happy. The Herrera Esteli is blended by Willy Herrera for Drew Estate. I found it to be on the fuller side of medium that was creamy with some bits of spice and sweet 1 deposit casino nz.com. I paired it with Zackariah Harris 80 proof Bourbon which is distilled, aged, and bottled by Glenmore Distillery in Louisville, Kentucky. I drink this as my daily drinker, it has a nice Vanilla taste with some corn and wood as well.

1st Third
The initial light and draw were smooth and easy. A lot of spice right off the bat, but it did level off. The retroheale was very easy and pleasant.

2nd Third
WOW did this thing mellow out! The spice has really eased up making way for some cedar and cream notes. I almost gave up on this cigar because of the spice, I am sure glad I didn't.

Final Third
I took my time smoking this one, I am about 1.5hours in at this point, and it has balanced out beautifully. Cedar and Cream are very out front now and hold on until the finish.
Conclusion
This is one I will keep on hand. I really enjoyed the way it balanced out after the 1st third. It took about 2hours to finish, and I enjoyed every minute of it. The Creaminess coupled perfectly with the vanilla of the ZH Bourdon.

Rating
Pre-light: 10/10 (Cedar)
Light: 9/10 (Easy to light)
Draw: 10/10 (Great draw start to finish)
Construction: 9/10 (Very good looking cigar)
Flavor: 9/10 (Nice transition through flavors)
Strength and body: 9/10 (Medium)
Average: 9/10