Mi Quierda Firecracker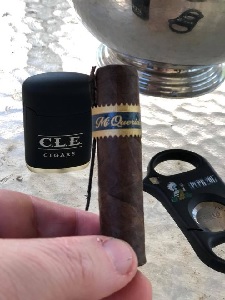 October 8th, 2018
For those of you familiar with the 2 Guys Smoke Shop vitola, you'll expect the short review that follows.
This cigar looks and smells almost identical to the regular Mi Quierda line, except that it measures 3.5 inches long with a 2 inch tail off of the cap.
Initial flavors are earthy and cedar-like with some of those cloying '(Steve) Saka (the cigar's blender) notes' we all love. The retro-hale is lightly peppery and smooth, and the burn is perfect.
The first third is excellent if short. This is a very full-bodied cigar. Some pepper appears in the main flavor profile and remains in the retro-hale.