REVIEW: SalamancaCicarGroup Mesmerize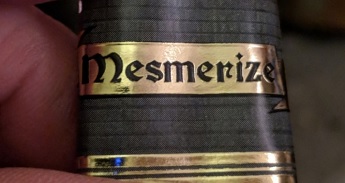 It's been a while since I've written a review and this one is long overdue. I've smoked more than my fair share of the Mesmerize and they are one of my favorites. This 6.5 inch, 54 ring Nicaraguan is sweet, so I'm pleased to share a bit about it with you.
As with all of Alan Fonseca's creations, sold under the banner of SalamancaCicarGroup.com, the construction is something to behold. Aside from the 7 elements that make up this cigar, the triple cap is expertly applied and allows for a solid "nubbing" should you take this rusty railroad spike to the limit.