Ezra Zion All My Exes Lancero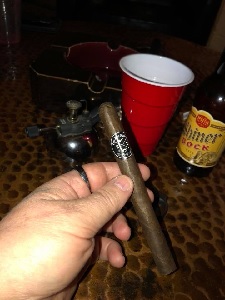 October 15th, 2018
Size of Cigar: 6.5 inches long by 42 ring gauge
This cigar has a very smooth dark wrapper. The foot gives off light earthy aromas, and the cold draw is perfect. Today's accompanying beverage is a Shiner Bock.
The initial flavors of the Lancero are earthy and somewhat sweet. There is a light white pepper note in the retro-hale. The burn is very even.
This is a medium-bodied cigar with excellent flavors. In the first third, some cedar notes join the flavor profile, and some of the pepper notes appear on the palate. The medium grey ash falls fairly easily, and the burn starts to become a bit uneven. But I will give it some time.