Cigar Weekly 2015 Blind Review #1
Kings Cigars Kings Arapiraca Corona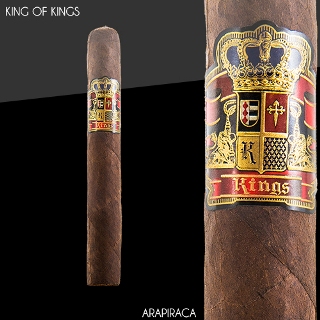 Compiled by Doug McGuire (Mad Dawg)
This review marks the return of a tradition that stretches back several years. The purpose of the Cigar Weekly Blind Review series is to provide unbiased feedback to cigar manufacturers concerning their products.
Kings Cigars is a new arrival on the international cigar scene. From early discussions in a bar in Santiago in the Dominican Republic, a business model was formed, and a new company begun with the intent "to create flawless cigars using the finest aged binder and filler tobacco, complimented with the ultimate wrapper to attain KINGS perfection."
Kings' CEO Anwar Mithavayani contacted Cigar Weekly, and supplied the cigars for this tasting.
The Kings Cigars King's Arapiraca line is described on the Kings Cigars web site as follows:
Medium to full-bodied cigar crafted for a rich taste that is smooth and unique with a little bit of spice that enhances the robust flavors and awakens your palate.
Made with the highly coveted Brazilian flavorful Arapiraca leaf, which is grown in central/eastern Brazil. It is often referred to as a Brazilian Maduro, although a bit less sweet and a little more light and earthy than a 'standard Maduro'.
Wrapper: Brazilian Arapiraca
Binder: Ecuadorian Habano
Filler: Dominican Republic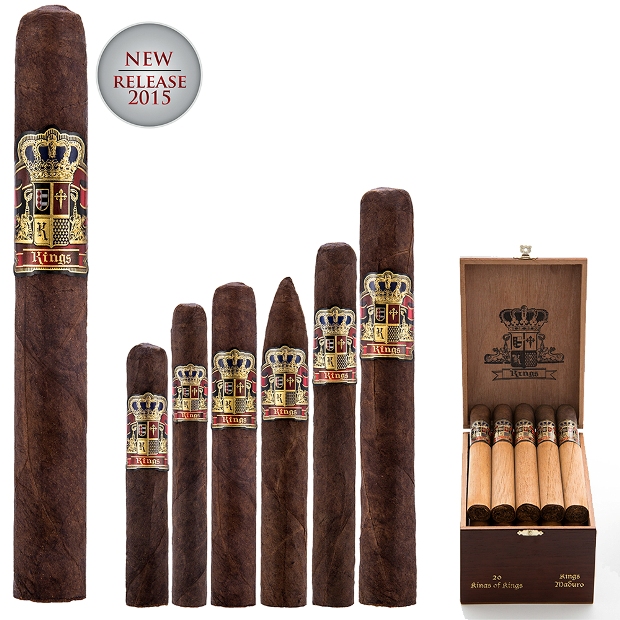 Pre-Smoke Comments
AKDiscer: (#1) Lighter side of tight on the draw. Dark brown color with a rough texture that was mildly veiny. The 'pinch test' returned a consistent firmness throughout. I used a straight cut, and part of the wrapper cracked immediately perpendicular and parallel. (#2) Construction was a lot better the second round. Draw was almost perfect, plus side of perfect. The cigar was firm throughout, smoother texture, two cracks in the wrapper, but not enough to affect the smoking process.
spiridon: The wrapper on this Lonsdale sized cigar is dark brown with sort of a leathery look and feel with a little tooth to it. There are a few prominent veins, but overall a fairly nice looking wrapper. The cap is smoothly applied. Checking the foot, I get a grassy, perhaps floral scent. The cap snips cleanly with a v-cut, revealing a draw that is a little on the tight side, but not so much as to be annoying. The overall feel of the cigar is nice, firm with no soft spots.
Shadow: Wrapper was very rough with some veining. Pre-smoke aroma was very nice, almost a floral smell to it.
jgbutler: The second cigar had a much lighter wrapper than the first cigar. The wrapper was smooth, but faintly toothy as well with some pronounced veins. A nicely constructed cigar with a firm feel and a nice even bunch to the filler, with no noticeable soft or hard spots. The pre-lit aroma was of earth and wood. The cap was well constructed and cut cleanly. The pre-lit draw seemed to be just right and stayed that way once lit. The draw was perfect the entirety of the cigar and produced thick chewy volumes of smoke. It had a gray dense ash that held to 1.5". The burn was even and spot-on the entire cigar.
TommyBB: What we have here is a simply lovely cigar. I am pre-disposed to like this as it measures an almost perfect six inches by forty ring gauge – in other words, a Lonsdale in a world where trends are much different, thicker or with much more girth. Already, just the sight of this specimen with a smooth cap and pretty wrapper, has me in good mood.
gumby: Very dark wrapper but nice construction and appearance.
Capitone: Sweet brown sugar smell, noticeable but fairly soft veins running the full length of both sticks. Soft alluring sheen. Well rolled, firm with handsome cap. Nice looking cigar.
Smoke Comments
AKDiscer: (#1) Lit easily and evenly throughout. After the first 1/3, the draw became much tighter and the binder popped along with the wrapper; eventually it unraveled. Clipped a little more off the head in an attempt to get a better draw, which didn't help. Flavor changed for the better after another ½-inch. Wrapper became worse and draw became even tighter. Ended up laying the smoke to rest about ½-way through. (#2) Burned uneven in the beginning, but eventually evened out on its own. Because of the draw being so much better, I got a more real and honest flavor. The smoke increased in flavor and strength as it progressed to the nub. The flavor shifted again in the final 1/3 to a chemical taste. I think the chemical taste would go away after a bit more aging in the humidor. Slightly above average cigar overall.
spiridon: Upon lighting, I am greeted with a small hit of black pepper, which I like. As the smoke gets under way, the draw remains a little on the tight side, which seems to cut down on the smoke produced. The pepper remains fairly constant throughout the first third, coming in at medium in strength, and I would say a little shy of medium in the body department. As the cigar burns into the middle portion, the pepper begins to fade into the background, taking a more straightforward tobacco slant. Not detecting a whole lot of complexity, but has settled into a medium strength pleasant smoke. The burn is spot on, never needing any corrections or touch-ups. The ash is a solid medium grey. Construction on this vitola seems to be very good. As the cigar gets into the final third, I find things picking up a bit in the strength department, with the pepper coming a little more to the forefront. The homestretch is rather nice, with just a touch more 'oomph' without becoming bitter.
Shadow: The cigar stayed lit throughout the smoke with no problems.
jgbutler: The second of the two cigars was almost like a totally different cigar from the first. The cigar started with a hint of pepper, and quickly added in earthy and woody notes as well as slight hint of leather. The slight pepper stayed present through the first couple of inches before fading away. The earthy note increased during the second third, and an added grassy/cedar presence came to the forefront during the final third. The final third of the cigar picked up some strength, but the cigar seemed to smooth out and had a great balance between body, flavor and strength. There was quite a bit more complexity to this cigar than the first example. I would call this a medium strength, full bodied cigar.
TommyBB: The flavor, at the outset, had me worried. It had a sweetness, but a pick to it that was unpleasant. Yet, it got a bit better, more herbaceous and sweet. It developed a strong flavor as I smoked it.
gumby: A very unsatisfying smoke. I kept hoping it would get better, but it remained a one dimensional cigar throughout. If not for doing a blind review on them, I would have ditched them at the half way point.
Capitone: 1st light divulges toast, moss and soil elements, then transitions to a mild/medium Broadleaf maduro kind of sweetness, with notes of cedar, dark chocolate mousse and very faint orange peel in background. 1st inch burned gives all types of good flavors – more wood, pepper (slight) with a maduro core and a faint hint of coconut. 2nd into 3rd gives anise, wood and licorice. Couldn't really get last 3rd, as pepper kicked up to a bite.
Summary Comments
AKDiscer: None.
spiridon: This cigar was pleasing overall, but not something that would catch my attention and make me go, "Wow." The flavor was nice, with a bit of spice and pepper, which I enjoy, but fairly one dimensional. It seemed to be well constructed, with no problems regarding burn and such. Depending on the price of this cigar, I would probably consider this a good 'every-day' cigar.
Shadow: Over all a very nice cigar with great body and aroma.
jgbutler: Not what I would call a stellar cigar, but it was a good cigar that I enjoyed smoking, and it kept my interest for over an hour. There was no harshness or bitterness in the cigar, and enough different flavors coming through the keep the cigar interesting. A very well constructed cigar that was full bodied and produced tons of thick chewy smoke, which is what I look and long for in all cigars. I enjoyed this cigar enough that I would put it into my rotation and add some to the humi. I'm really curious to see what this cigar is.
TommyBB: After an initial draw, I thought that I was done, and this experience would make for a long afternoon. The ash flaked off almost immediately, and the flavor was sharp and unpleasant, although the cigar looked wonderful. After a few minutes, I returned to it, and relit. This cigar was what many of us so desire, and that is a cigar that gets better and better, with flavors that change and remain interesting down the length of the cigar. This delivered just such an experience, and was so much better as it grew smaller and smaller. I was sorry to see it end, and when it did, I got up and likely shouldn't have. It was not a nicotine powerhouse by any stretch. Yet when I stood, I was wobbly a bit.
gumby: I think I am being generous in giving a four. This cigar was not my cup of tea.
Capitone: Great smoke! Distinguished smoke with very exciting complexity throughout the profile. Puts me in the mind of Ashton Aged Maduros, but much better. Really liked this stick. Mild to medium smoke.
Scores
Reviewer

Appearance and
Construction
(0-5)

Burn
(0-5)

Draw
(0-5)

Aroma
(0-5)

Flavor
(0-10)

Taste and
Aftertaste
(0-10)

Overall
Quality
(0-10)

Total
(0-50)

AKDiscer

3.75

4

3.75

3.5

6.5

6.75

6.5

34.75

spiridon

3

3

3

3

5

5

5

27

Shadow

3

4

4

3

8

8

8

38

gumby

4.5

5

5

3

6.5

3

4

31

jgbutler

4

5

5

3.5

8.5

8

8

42

TommyBB

4

4

5

3.5

6.5

6.5

6.5

36

Capitone

5

5

5

4

9

8

9

45

Averages

3.9

4.3

4.4

3.4

7.1

6.5

6.7

36.3

To achieve the final score, we throw out the high and low total scores, then
average the remaining scores.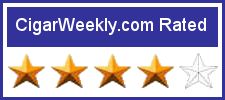 Review Results
Final Score: 36.4 out of 50 – 4 Stars – Excellent
Personally, I loved this cigar! Although I knew what it was, I knew nothing about Kings whatsoever, and I had no preconceived notions about what the cigar would be like. Pre-light aromas were very nice, draw darn near perfect, excellent construction. Even burn with the slight shoulder at the edge of the ash that speaks of aged tobacco. I got black tea flavors, along with dark caramel/molasses flavors without any cloying sweetness, rich earthiness and slightly woody essences. Flavor and body consistent, deepening and shifting as the smoke progressed. I had it pegged as high-quality Nicaraguan leaf, so I missed that. This has to be one of the nicest Dominican-filler cigars I've ever had.
The Kings Cigars King of Kings (Arapiraca) line comes in six sizes:
Robusto (5 x 52)
All sizes are cedar-wrapped, and come in boxes of 20. MSRP was not provided.
More information is available at http://www.kingscigars.com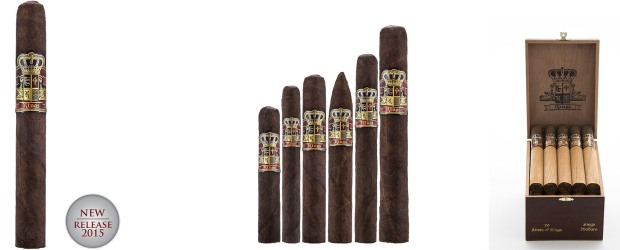 __________________________________________________
All information in the Cigar Weekly Blind Reviews database is copyright © the authors and Cigar Weekly. Unauthorized use is prohibited without express permission of either.