Señorial Cigars Belicoso No. 2 by José Blanco

Size Reviewed: 6 1/4 inches x 52 ring gauge
It was with great fascination (and, I admit, a little trepidation) that I approached this latest cigar review. Señorial Cigars is a new brand for me, despite the fact that the man behind the brand, José Blanco, has been heavily involved with two other brands I am very familiar with – Joya de Nicaragua and La Aurora.
My experiences with Joya de Nicaragua have certainly changed over the years as my palate has evolved. And Señorial, like Joya de Nicaragua, is not a cigar I feel should be recommended for a novice to the cigar hobby. I always try to read the manufacturer's marketing and sales information on a cigar before trying it. This cigar is described as "a full-bodied and truly full-flavored cigar" for good reason. Because it is! This is definitely a cigar targeted at the seasoned cigar smoker.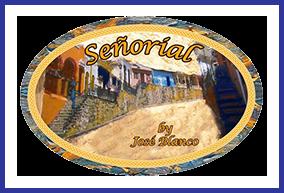 Señorial offers a Señorial 65th Anniversary Blend that is only available in one size – a Perfecto. Señorial Cigars is the other offering, which encompasses five different sizes – a Corona Gorda No. 5, Paco Robusto 5, Toro Bravo, Le Grand and Belicoso No. 2. This line features fillers of Dominican Piloto Cubano and Dominican Corojo, binders from the Esteli region of Nicaragua and Ecuadorian Habano wrappers. The filler tobacco is grown at Tabacalera Palma in the Dominican Republic, which is also, as I understand it, the country where this cigar is made. As always, I have limited my exposure to all independent reviews of this cigar other than information (which I read as a part of my due diligence for a review) provided by the manufacturer. These are my subjective thoughts. I welcome yours.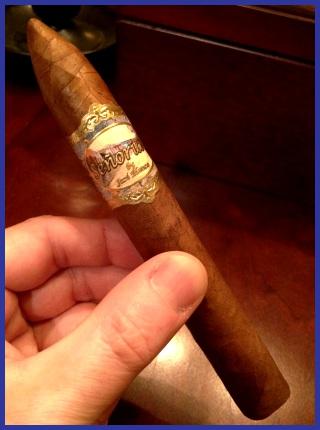 Pre-light impressions
The classic Belicoso size is generally one of my favorites. This cigar fit that proverbial bill perfectly, measuring in at 6 1/4 x 52. The construction was impeccable, with a firm, flawless wrapper. The wrapper was finished well – smooth, with a beautifully tapered head and a very clean cut on the foot. With its oily medium-brown color, the outer leaf was quite rich looking. The feel of the cigar was fairly firm. The label was eye-catching – a very traditional-looking embossed gold perimeter framing contemporary graphics that almost appeared to be painted. All things considered, a pleasant looking 'package'.
The dominant pre-light aroma of this cigar definitely seemed sweet to me, although there were also some very complex aromas intermingling in an agreeable way. As to what I experienced, it was difficult to define precisely. But I will still try to do so for you. There were hints of raw cane syrup, mild cloves, mild white pepper and sea salt – broadly speaking, a sweet spiciness with some savory/mineral notes. Without any negative associated attributes, I would use the word 'tantalizing' to describe the overall

pre-light aroma.
Cut and light
I used my Xikar double-guillotine cutter to cut the cigar. It cut very cleanly, with no residual 'crumbs', as I call them. The firmness of the cigar kept the remainder of the tapered head intact. I used my triple-flame butane lighter with Xikar fuel to toast the foot, then began to draw, puff and rotate. This cigar exhibited an absolutely flawless draw. It lit very easily, and had an even burn at the start. My first impression of the flavor, broadly speaking, was of a warm spiciness along with a little mineral note that I could only define at the time as a mild saltiness.
The smoke experience
The session took place inside – 70 degrees ambient temperature, and with a very low (dry) humidity level. As usual, in trying to be fair in my review, I paired the cigar with flat spring water. This was just about a 90 minute smoke for me.
The draw on this cigar remained excellent throughout the tasting. The burn stayed even until about the middle of the cigar, whereupon it only drifted a little. The ash was mildly flaky, and white to light grey. At first, the smoke was not voluminous. However, it did build about 1/4 of the way into the experience, and stayed rich and magnificent.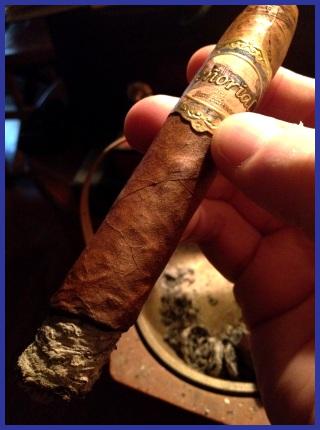 The pre-light and initially light flavors of sweet spiciness definitely toned down about 1/4 of the way into the cigar. I did detect the sweetness evolving into a savory earthiness and spiciness, with a mineral note that became balanced within the first 1/3rd of the cigar.
At the half-way mark, those savory earth and salty mineral flavors were well-balanced, not bitter, very smooth and full. I began to feel the full strength of the cigar, too.
In the last 1/3rd of the cigar, I could not quite put my finger on the precise flavors. But they were fantastic as well as (I will use that term again) 'tantalizing' and unique.
A further note about the ash... I had the impression that it wanted to remain intact (and I would encourage you to smoke the cigar in that manner, if you like). Nevertheless, I usually break the ash at 1/2" to 1", which produces a warmer smoke. This is purely a matter of personal choice and convention.
To me, the body of this cigar started as medium-full, but rapidly built to a full richness and texture. This is definitely a full-bodied smoke. The strength? In one word, "Wow." To me, strength is an objective attribute – something that can be measured in the physiological reaction in your body (esophageal, pulmonary, gastric and cerebral). This is a full strength cigar. It doesn't start that way, but quickly builds up to it. I would be very surprised if, by the time you finished this cigar, you did not feel at least light-headed.
Overall
Let me be clear once again. This cigar is not for someone new to smoking cigars. When I write that this is a full-body, full-strength and full-flavored cigar, I mean just that. If that is the sort of smoking experience you're looking for, you will certainly (in my opinion) find it with this cigar.
The Señorial Belicoso No. 2 starts medium-full before very quickly building up to full across the board. The flavors are complex and fantastic. I found it difficult to define the flavors. Still, I hope I've provided some hints that may help you in your evaluation. I truly enjoyed this cigar, and I look forward to trying one again very soon.
If you are a seasoned cigar smoker and are looking for a full power experience with great flavor, then you should definitely try Señorial Cigars by José Blanco. I'm sure you will enjoy them as much as I have!
Scores
__________________________________________________
Jerry Vogler (jbvogler) is a cigar aficionado who resides in Kennesaw, Georgia