La Aroma de Cuba El Jefe

Size: 7 inches x 58 ring gauge
Every so often, I like to revisit a cigar that's been around for awhile. What the heck. Some of you may not have run across it. Even a cigar like the La Aroma de Cuba El Jefe, which is in most tobacconists' shops, may have eluded a few cigar enthusiasts. I'm not sure exactly when this cigar hit the market. However, the one that I will be reviewing here has been in my humidor since December, 2012. Yes, I know the El Jefe has been written up almost too many times to count. But do you remember all of those reviews? No? Well, here's mine.
This is a big sucker – seven inches long with a 58 ring gauge. I guess that makes it an extra-thick Churchill or Double Corona. (Personally, I feel that anything much bigger than that is a novelty cigar.)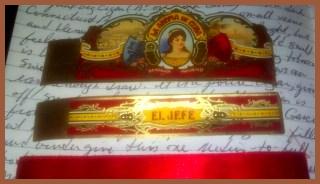 The presentation of the El Jefe is impressive. The cigar is double-banded, and sports a red ribbon on its foot. The artwork on the big band is intricate and old-fashioned in appearance. And although the dark Connecticut Broadleaf wrapper is a little bumpy and has a few small veins and flaws, it is silky to the touch. My sample squeezes alright and feels light, but not loose. It seems to be a well-made cigar.
The cold smell is reminiscent of cutting into a plug of fresh chewing tobacco – sweet, pungent and unforgettable.
I prefer a punch-cut when possible. And on this big stick, that suffices to produce a fluid draw. I use a butane lighter, and the cigar fires up easily. The usual noxious flavors that a hot light causes last only a few seconds. The 40-minute burn is fast and mostly even, and leaves a sturdy, dull gray ash with zebra-print segmenting externally. In contrast, the filler burns black. The El Jefe is a 'polite' cigar, giving off plenty of smoke when puffed and nothing much between draws.
La Aroma de Cuba is an Ashton brand, made by Don Pepin Garcia at his Esteli factory in Nicaragua. As the name implies, this offering is meant to be 'Cubanesque' in style. I read that as 'strong'.
In actuality, the El Jefe strikes me as only slightly fuller than medium-bodied. Perhaps it is the size of the cigar that dilutes the strength of the blend, but it doesn't seem very 'powerful' to me. As for the flavor profile, the first third produces pepper, leather and coffee (I guess that's your 'Cuban' style). The second third mellows somewhat, and has some nut and earth notes. At roughly the halfway point, bitterness creeps in – perhaps due to the rapid burn. (A seven inch cigar should really last more than 40 minutes.) The bitterness is not nearly enough for me to put down the cigar, but it's still unpleasant. Overall, the flavor is good but not great. I'm usually a big fan of Pepin-blended cigars. This one, however, doesn't quite do it for me.
Using the CigarWeekly.com six criteria system, this is how I score the El Jefe:
Prelight: 8.5
To summarize my thoughts on the La Aroma de Cuba El Jefe: Big stick, but not overly powerful. Flavor is so-so. I'm not displeased with it as much as I'm disappointed. I expect better from my favorite blender. The retail price is around $7.