REVIEW: Perdomo Craft-beer Blended Series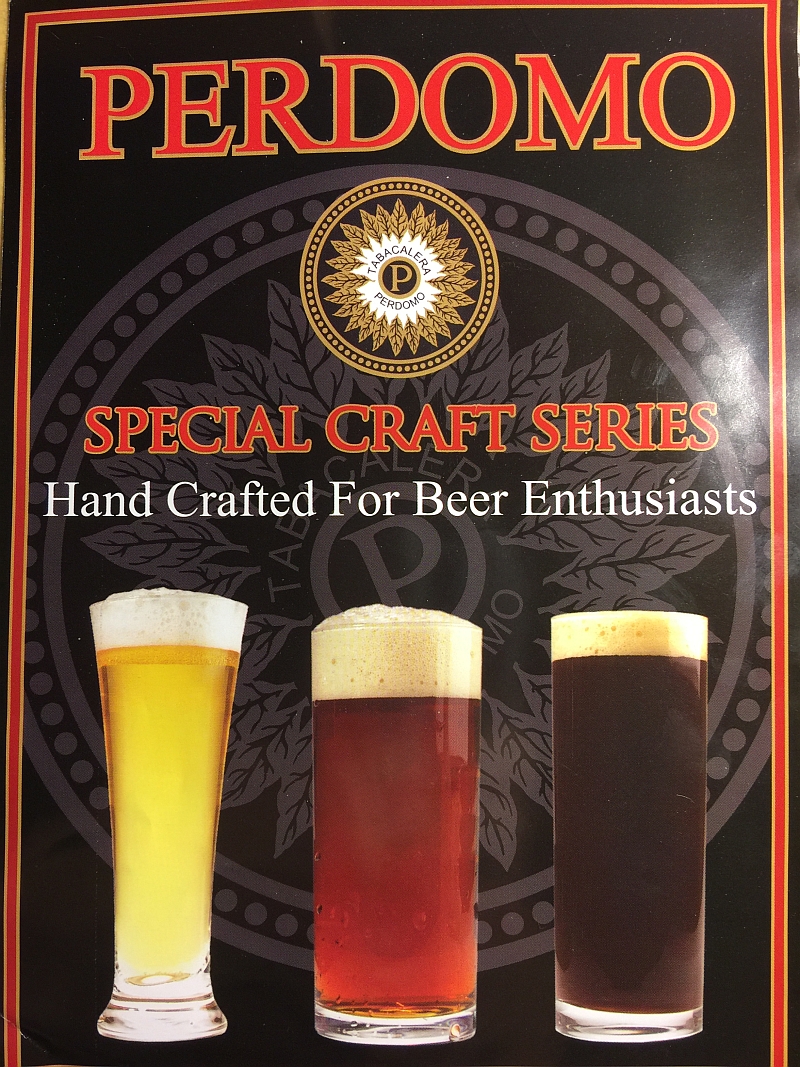 PUBLISHER'S NOTE: CW sent several reporters to the IPCPR show in New Orleans this summer. Jeff Slatton (jeffslat) was one of those reporters, and he files this review of Perdomo's Special Craft Series Sungrown line, which has been blended to accompany various craft brewed beers.
This is a compilation of three reviews of the Special Craft Series. In case you are not familiar with these Perdomos, they were specially blended to complement craft beers. For the sungrown, I chose a Stone Brewery RuinTen triple IPA. It is recommended for Amber, heavier Lager, IPA and Oktoberfest brews.


Prelight: Earthy aroma with light floral notes, immaculate construction, perfect cut with my Palio. Nice smooth pre-light draw. Looking at the foot of the cigar, I counted two or three ligero leaves, so I know it would have plenty of flavor. Also notable is the almost full-coverage band that tells you which beer to pair with the cigar.

First draw had a hint of bitterness which quickly disappeared. Flavors quickly settled into a medium-to-full strength profile that was quite pleasant. Taking a sip of the beer really opened up my palate and added to the quality of both the smoke and the beer. The pairing was perfect.

The almost white ash held nicely to about 2" before I tapped it off to keep from getting a lapful. Stayed consistent throughout the entire cigar.

The floral hints I detected pre-draw disappeared as I smoked further. There are some light spicy notes that are accentuated if you let the smoke escape through your nose, which is my general habit.

For smoke volume, I very highly recommend double or even triple-clutching (warm-up puffs before taking a deep draw). This adds massive amounts of flavor, and to the cigar's credit, did not make it smoke hot; in fact, the smoke only became hot as the nub became too hot to hold and I had to put it down in the ashtray.
The cigar burned evenly throughout (one very minor wrapper adjustment with my blog, probably from double-clutching), and never developed stickiness from tar build-up at the tip.

Depending on how fast you smoke, this cigar will last you one to two hours. Took me about an hour and a half, and I tend to smoke faster than some.

Perdomo set their sights on a cigar to go with the aforementioned beers and, in my opinion, knocked this one clean out of the park. 5/5. Joe Bob says, "Check it Out."

********
Perdomo Craft Series Maduro
Paired with a Stone Arrogant Bastard Ale (which perhaps was too aggressive for the cigar).

Beautiful dark wrapper with no veins or flaws. Foot reveals generous ligero and releases wonderful spicy notes. Pre-light draw was easy without being loose. A very well-constructed cigar that cut cleanly with my Palio.

Very earthy draw with hints of cocoa. Nice spice notes releasing the smoke through the nose (not inhaling).

Although the Arrogant Bastard is a bit aggressive, it still pairs well with this cigar.

There was a slight wrapper separation at the foot, which was easily corrected and hardly worth mentioning; otherwise razor-straight burn throughout.

Nice full bodied cigar but silky smooth, as with most Perdomo products. My only quibble is the beer I chose. A smoother porter or stout would be a better choice.

At one point I inadvertently inhaled the smoke, but it was so smooth that it didn't cause me to choke.

To change pace a bit, I added a shot of Weller Reserve, which added to the enjoyment of the cigar's blend.

At the 1/3 point, I have nothing at all bad to say about this cigar. The spiciness evens out, never getting too pronounced.

The flavor remains consistent well past the half-way point. A most excellently constructed cigar.

The spiciness grows as I approached the last third of the cigar. The draw did not heat up until the last inch, which is typical for almost any cigar.

The maduro is perhaps not quite as good as the sungrown (which I found to be absolutely stellar). Still, this is an amazing maduro, very fitting with the Perdomo brand and a great addition to the Craft line.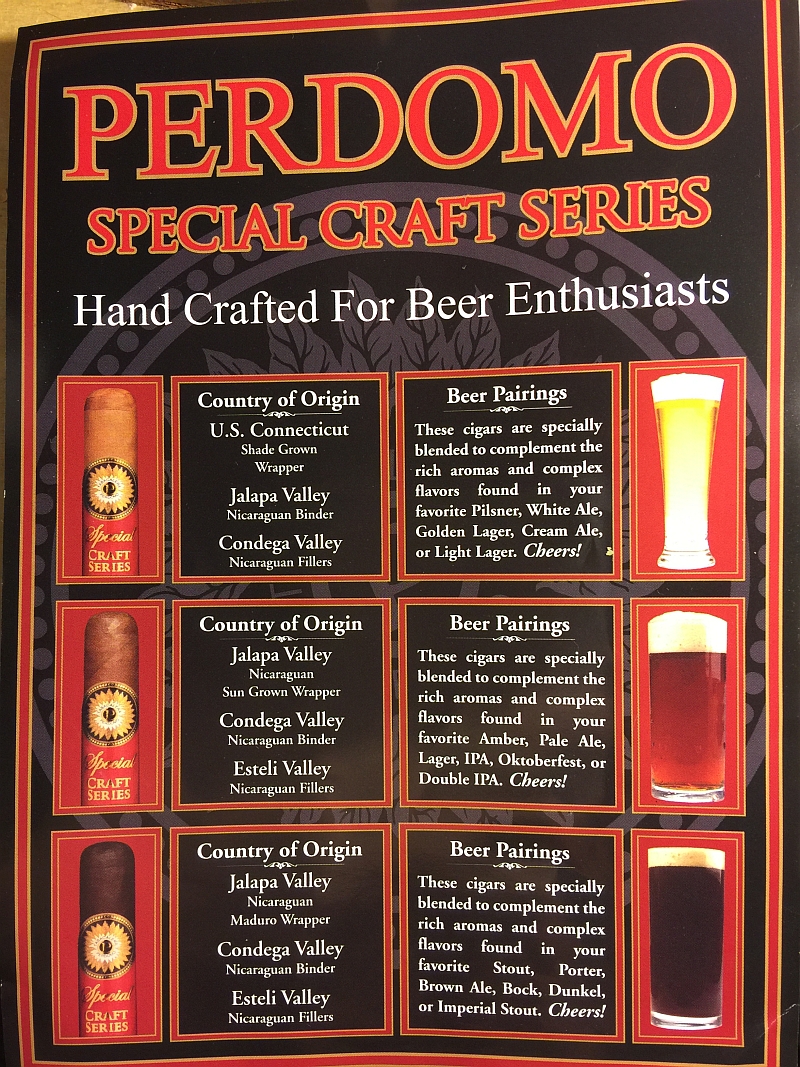 Now to find a suitable light-bodied beer to review the light-bodied Craft cigar. 4+/5. Perdomo hits another one out of the park. Joe Bob says, "Check it out."
******
Perdomo Craft Series Pilsner/Lager
Beautiful mild tobacco flavors from the Colorado wrapper and the foot of this cigar. Nearly flawless construction with only one or two very small veins showing. Cigar cut very easily with my Palio, and had a perfect but curiously light pre-draw flavor.
As this is a Perdomo Craft Series I will share that I paired it with a Twisted X Premium Tex Mex lager, one of our finer local craft beers.
Initial draw a bit stronger than I expected, but still excellent. A nice spiciness emerges at the beginning that adds nicely to the flavor of the lager.
I actually expected a lighter cigar to pair with a lager, but the blenders at Perdomo know more than I, as this is an excellent blend pairing. The flavors complemented each other perfectly.
Anyone who can find fault with the flavors of Perdomo cigars does not know cigars, and the way the blender perfectly matched the nuances of lagers and pilsners knew exactly what they were doing. This is an excellent medium-full bodied cigar that goes perfectly with the beer I chose to pair with it. The construction of this beast is nigh-unto-perfect and holds a nice steady burn. Each sip of the beer brings out the excellent flavors of the cigar.
This is one of Perdomo's finest offerings when paired with the correct beer. And I am a Perdomo fan, so that is only a mild qualifier.
A word about the beer; Twisted X is a local brewery that produces far superior product to its national counterparts. This one mingles flawlessly with the cigar and is high on my list of recommend lagers.
Hints of cocoa appear about half way through the cigar blending well with the body of the beer. Even triple clutches at midpoint didn't produce unpleasant heat. A very distinct creaminess emerged about half way further accentuating the flavors of the cigar. Mottled grey ash held steady through about half way through the cigar.
This cigar was exactly what I expected, blending excellently with the lager. Overly pleasant cigar paired with a very nice lager.
Construction – 4.5
Flavors – 4.5
Overall impression – 4.5
Perdomo has done it again. If you are a fan of cigars and craft beers, add these to your list.
Joe Bob says, "Check it out."
---
Jeff Slatton (jefslat) Hails from the San Antonio, TX area. Discuss more about this article on our Forums.