Review: E. Perez-Carrillo Limitada 2015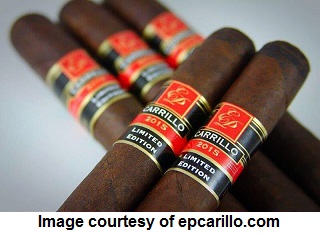 E.P. Carrillo releases their yearly Limitada series, this of course being the 2015 edition. These are always released in one size vitola only, with this year's selection being a 6 x 54 Toro.
Fast Facts:
Wrapper - Connecticut Broadleaf
Binder - Nicaraguan
Filler - Nicaraguan
Country of Origin - Dominican Republic (Tabacalera La Alianza)
I am immediately impressed while inspecting this cigar, which showcases a dark chocolate brown wrapper with just a bit of an oily sheen to it. There is one vein that runs the length of the cigar. Other than that, the appearance is rather smooth. Getting a little nose from the open foot, I sense a light fragrance - one which reminds me of licorice - that's very inviting.
Placing a v-cut on the cap, I take a cold draw and get a chocolately taste of sweetness with an easy effort. Putting torch to the foot, I am greeted with a nice volume of smoke, and am getting a nice dose of red pepper and espresso - a combination I happen to enjoy very much. The ash is nice and firm, with a medium grey tint. After the first inch, the pepper portion fades just a bit, allowing the espresso to become more prominent. As the flavors shift a bit, the smoke becomes a little more complex, with a bit of caramel and a little earthiness coming out.
Through the first third of this smoke, the burn is spot on, with no wavering and no touch ups or relights needed. I would peg the strength of the first third at a solid upper medium or perhaps even a medium-full, with the body also being medium-full. Entering the middle portion of the cigar, the flavors remain constant yet changing - if that makes any sense. There are always notes of coffee, dark chocolate and sort of a caramel thing going on. But every now and then, I get a hint of licorice and honey popping in and out. The cigar is still producing a rather large volume of smoke, with a nice lingering heavy sweet tobacco scent. The burn remains constant. So far, I have only ashed the cigar once, as the ash has been extremely firm.
As I make my way into the final third of this cigar, I am finding a little more strength, which puts this cigar in a true medium-full category (in my opinion). The burn is still razor sharp, the draw remains easy, and the smoke is cool. The sweetness fades into the background a bit while the coffee comes more to the forefront. I am STILL getting various notes of cocoa, licorice and cream that play a background melody that definitely holds my interest!
I don't have a toothpick handy, so my fingers get singed as I smoke this one down as far as I dare.
Reflecting back on this smoke, I couldn't find anything that I did not like. I found it to be a very enjoyable smoke, with enough strength and flavor to keep me in the game. All the while, the complexity practically dared me not to put the cigar down in fear that I may miss something!
I'd say E.P. Carrillo has another winner here, and would certainly encourage anyone to give this one a try.