ROMEO by Romeo y Julieta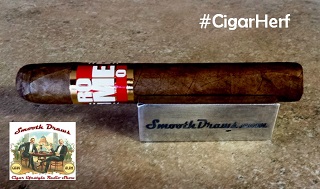 Editor's Note: Each week, our friends at Cigar Guys Radio Show, based in Atlanta, GA, do a review called 'The Cigar of the Week' on their radio show, which can be heard Saturday mornings on AM1230 ESPN the Fan 2 (WFOM radio) from 9AM to 11AM. That review is printed (in its entirety) here on Cigarweekly.com, usually on the Monday following its broadcast.
The Cigar Guys Radio Show Smooth Draws Pick of the Week
THE CIGAR
This week, Alan and Gary selected the ROMEO, which is a line extension from Romeo y Julieta, produced by Altadis U.S.A.
BACK STORY
The Cuban version of the Romeo y Julieta brand first appeared on the market back in 1875. Ever since, generations of cigar aficionados have passionately revered the brand for its excellence. As a matter of fact, Sir Winston Churchill was perhaps the most famous devotee of Romeo y Julieta. The flagship vitola of the brand was (and continues to be) named in his honor – a 7 inch long by 47 ring gauge cigar known as the Churchill.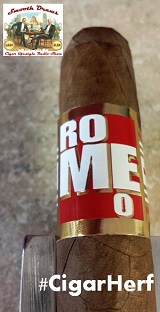 After the Cuban revolution and subsequent nationalization of the tobacco industry in that nation, an offshoot of the brand was moved to La Romana in the Dominican Republic. There, production of Romeo y Julieta cigars for the American market continues today under the direction of Altadis. The Romeo y Julieta line has long been a staple in the portfolio of this cigar industry giant. But even though the brand has grown to encompass ten different blends of varying strengths, Romeo y Julieta has always been associated with milder strength, taste and flavor.
Introduced in 2012 at a TAA meeting, and released in April of 2012, the ROMEO was an addition to Altadis U.S.A.'s existing Romeo y Julieta brand, and featured a different wrapper and a new, stronger, bolder and fuller-bodied blend compared to the company's traditional Romeo y Julieta line. This new blend was targeted toward the modern expanded tastes of today's cigar smoker.
THE CONSTRUCTION
According to Altadis, ROMEO is made with the rarest and finest tobaccos, which are carefully selected and delicately aged, and then meticulously crafted by a special team of the most accomplished artisans at the famed Tabacalera de García factory in the Dominican Republic.
The wrapper for the ROMEO is an Ecuadorian Habano. This is a major departure for the Romeo y Julieta brand, in that traditional non-Cuban Romeos are made with Indonesian wrappers, and have a much milder flavor profile. The ROMEO, with its dark and oily leaf of Ecuadoran Habano seed, is bolder and stronger.
The binder for the ROMEO is a Dominican Olor, and the filler leaves are Dominican Piloto and Olor tobacco. The wrapper is toothy, with medium to fine veins. And the head has a perfectly placed triple cap. Adorned with very assertive, non-traditional bands, the cigars are packaged in sleek, curved boxes, which are definitely not traditional in style. While there were initially four sizes when the ROMEO was launched, this line has grown to include six different regular production vitolas, with ring gauges ranging from 44 on the small end to 60 on the large end.

THE DRAW
The ROMEO started out with a slight resistance in the draw. However, within half an inch, the draw opened to a smooth, easy and effortless activity, producing very rich amounts of meaty smoke for an unforgettable smoking experience.
THE CIGAR TASTE PROFILE
The ROMEO was a bold and robust cigar, unlike any previous Romeo y Julieta. I found it to be a medium to fuller-bodied smoke, with an ample amount of complexity to keep my interest.
I noted tastes of leather, earth, wood, and the spiciness of black and red pepper, along with flavors of nuts, chocolate and molasses. There was just a hint of sweet vanilla, and impressions of raisins and dried fruit. This was a balanced smoke with elegance and strength.

DOES IT GET A BUY RECOMMENDATION?
This was a wonderfully complex, fuller-bodied cigar that culminated in pure pleasure. No wonder it received an accolade from Cigar Aficionado Magazine as the Number Three cigar of the year in 2012. Altadis has been spot-on with this line.
Does the ROMEO get a smooth draw buy recommendation? Oh yes, it does. This cigar is not to be missed. If you're an experienced cigar enthusiast who enjoys a fuller bodied cigar, you should definitely try the ROMEO by Romeo y Julieta – especially to cap off a savory steak dinner. You'll greatly appreciate the bold and robust finish of this cigar.
__________________________________________________
Alan 'The Cigar Savant' Friedman
Co-Hosts, Cigar Guys Radio Show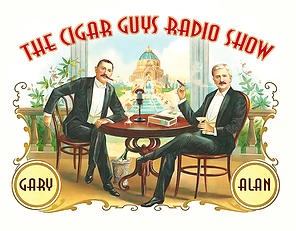 Saturday from 9 AM - 11 AM
Available on TuneIn Radio Outside the Atlanta Area
Address:
513 Brookeshyre Court
E-mail:
This email address is being protected from spambots. You need JavaScript enabled to view it.
Website:
Cigarguysradioshow.com
Twitter: @Cigarguysradio Live #CigarHerf: Every Saturday on Twitter during show hours!
Facebook: Facebook.com/Cigarguysradioshow