Partagás Serie D No. 3 Edición Limitada 2001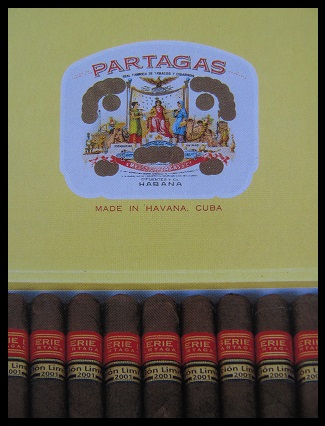 In this evocative review, Cigar Weekly's Phil Cutajar (solomr2) describes the pleasures of lighting up a classic, well-aged Cuban Partagás issued during the early days of the Edición Limitada releases.
Country of fabrication: Cuba
Packaging: Plain dress box containing 25 cigars
Name of vitola: Corona Gorda
Dimensions of cigar: 5.63 inches by 46 ring gauge
It's Sunday, and it's been a long and busy week. I've just finished replacing the brake pads on my wife's car, and am now settling down on the backyard patio to treat myself to a good smoke. This will be my 3rd cigar this weekend.
For this evening's pleasure, I've chosen a Partagás Serie D No. 3 Edición Limitada 2001 with a box date of March, 2002. This little beauty has been resting in my wine fridgador at 68% humidity since I bought the box in 2003.
The pre-torch appearance is flawless. The milk chocolate brown wrapper is applied nearly perfectly, with not a single visible seam. The cap is also flawless, and perfectly centered. There are only a few visible (and very small) veins, and the wrapper has obviously been carefully chosen and expertly applied.

The double bands slide off easily from the slightly box-pressed contour of the cigar. The cigar feels well packed, and a little tight near the head. Using a Cuban Crafters double-bladed cutter, I snip the scalp about 1 millimeter deep from the tip. The draw is tight, and I can tell this one is going to be a bit laborious to smoke.
I massage the top third to try to loosen it a bit, but it's not yielding much. For a moment, I think I should save this stick for another time, and just grab one of its three remaining sisters. But I've already experienced two or three similarly tight rolls from cigars in this box. However, although tight, they were still smokable.
I torch the Partagás, and let the foot develop a bit of coal before I attempt the first draw. The cigar is evenly lit, and the tight draw allows little smoke to come through. I pour a glass of 2013 Zolo Reserve Cabernet from one of Argentina's finest recent vintages, and continue to massage the top section of the cigar. It seems to be yielding a little with the heat.
The flavor profile has that distinctive Cuban twang, with a delectable barnyard aroma and hints of cedar wood. There is a slightly spicy, peppery backdrop on the draw. Yet it fades quickly, and leads to a clean and refreshing finish. I can't help taking in the smoke trail through my nostrils as I draw long and slow. The aroma is intoxicating.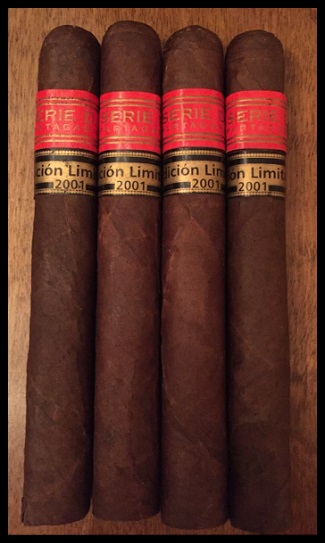 The first third is a bit mellow, and I find myself smoking too fast because of the tight draw. But as I smoke past the first inch and a half, the cigar starts to open up, and the flavor intensity begins to develop nicely. The ash is a dark and marginally flaky grey with a slightly brown cone, and falls off easily and unintentionally.
The second third yields an unmistakable Cuban richness – a heavenly blend of farm fresh aromas, creamy smoke and rich loam. Although it's still tight, I am enjoying this beautiful Limitada while I watch the sunset and listen to my rhythmic pool fountain gurgle and splash. This is bliss. At the halfway mark, the cigar is so rich, creamy and smooth that I find myself closing my eyes, putting my head back and drifting into a relaxed ambient state. The burn is even and flawless.
The second half is no less memorable. Little white dots form on the charcoal edge of the wrapper. A small crack appears in the wrapper, making the burn slightly uneven. But the cigar corrects itself without needing any touch up. I drain the first glass of Zolo and pour another. The lovely aroma of a freshly baked homemade pizza my wife has just pulled out of the oven wafts towards me from the kitchen, adding to the intoxicating ambience. I am drifting in another world.
About forty minutes have passed, and I'm enjoying the last third. A little more spice emerges – not harsh, mind you. But it give me a nice tingle on my tongue with each draw. And the finish is now a little oilier as well. The tight roll during the last third makes the cigar extinguish, so I relight and purge.
The delicious cherry taste and overall fruitiness of the Zolo mixes wonderfully with the flavor of the Limitada – almost as though these two were meant to be savored together. What a wonderful combination!
The spice from the cigar intensifies a bit as I head into the last two inches. And together with the Zolo, I'm now feeling a slight buzz. It's been about an hour, and I'm already wishing there were another two inches to smoke. I don't want this cigar to end.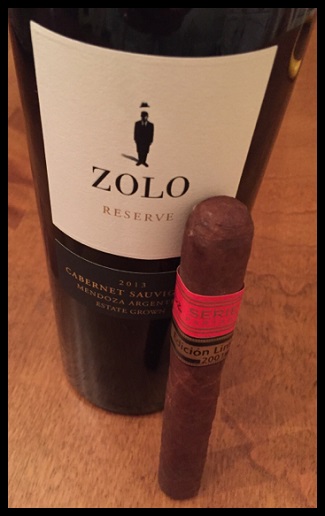 Down to the last inch and a half, and I'm starting to feel the heat on my lips and my tongue. The aroma is still rich and divine, while the flavor is getting a tad strong and spicy. The wine is helping to wash down the hot spices, allowing me to push through to the nub.
At one inch, I can barely hold onto the nub. So I'm just letting it hang from my lips between drags, savoring the smoke trail as I gently drag. The remaining rim of the cap starts coming a little loose from the body. But I can't put this nub down, even though the heat is irritating my lips.
I finally put the remaining 3/4 of an inch of cigar down to smolder in the ashtray, and begin to reminisce over the past eighty minutes of bliss.
These early Limitadas were really good at 2-plus years. But they are truly exquisite with more than a decade under their belts. In fact, I regret not buying more of these vitolas.
Despite the tight draw, this is one amazing cigar. It's worth every penny of the super-premium asking price. I've tasted few cigars that have created such an awe-inspiring smoking experience.
I am not prone to gushy prose or colorful reviews, but I hope this review imparts some of the immense enjoyment this little gem of a cigar has bestowed upon me.
Enjoy your Sundays, my friends. On this particular occasion, I certainly have.
__________________________________________________
Phil Cutajar (solomr2) is a longtime member of and contributor to the Cigar Weekly forums.
Discuss this review in the La Casa del Habano thread on the Cigar Weekly forums. Not a member yet? You can join us by registering HERE. It's easy. And membership will permit you to engage in lively, informative exchanges on a wide variety of topics.