CAO Brazilia Gol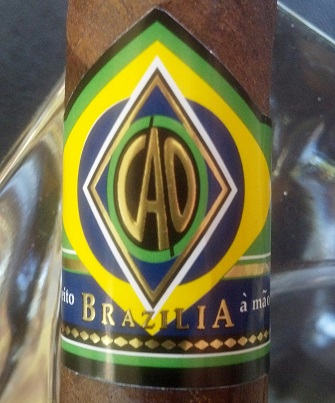 Size of cigar: 5 inches long by 56 ring gauge
I think cigar makers should put the production year on every label of every cigar they sell. The best winemakers do it. Why not date cigars? (Yes, I know most boxes are date-stamped. But what if you don't have the box?) Surely, the CAO Brazilia I enjoyed recently wasn't from the same batch as one I'd smoked fourteen – or ten or even five – years ago.
I assume that unless a particular cigar has been 're-blended', the ingredients for each batch have come from the same fields – or at least the same region – every time. This may sound like nitpicking. But I've smoked cigars from a revered brand that were vastly different (different as in inferior) than what they once had been. And I've also smoked some that were surprisingly better than I remembered. Why? Different crops, different seasons, different fermentation, etc. – that's why.
For me, manufacturing dates on bands would clear up the confusion. We are already (usually) told where the various components of cigars come from. So what about when those cigars were made? What do you say, cigar industry? How about putting production dates on the labels?
Like I've said, I first encountered the CAO Brazilia Gol long ago, and enjoyed it. Recently, when I picked this latest one up, it got me to thinking, and inspired my rant about how this wasn't (and really couldn't be) the same cigar as earlier on. Heck, even CAO isn't the same. The family-owned business was sold to General Cigar/Swedish Match in the interim.
However, some things did seem the same. As the name would imply, this cigar was still from Brazil – well, the wrapper, at least. The binder and filler were both from Nicaragua, where the cigar was made. That Brazilian wrapper was a beautiful, oily, brown-black, and quite muscular-looking given the cigar's 56 ring gauge. There were numerous veins. But they were small, and the cover was mostly smooth. The cigar felt firm and consistent from head to foot. The pre-light smell was wet dog and rotten leaves.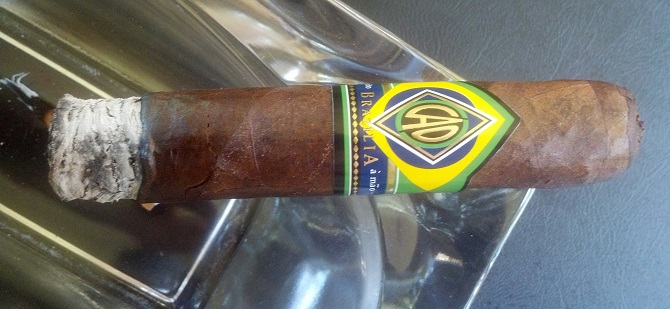 I used a cedar scrap to light the cigar. It was a difficult light. That thick, oily wrapper didn't want to catch. I used a punch-cut, and was promptly rewarded with too tight a draw. This was just too much cigar for a punch. A subsequent full-cut provided a free-flowing draw and plenty of smoke. The burn was slow and mostly even, and the Gol took an hour to nub. The ash was nearly white and fairly sturdy, with tiny segmenting. Watching the burn closely proved fascinating. The wrapper got all shiny just above the cherry as the heat caused the outer leaf to give up its oils.
Right from the get-go, leather was a prominent flavor. At the start, the cigar appeared medium-bodied at best. The Maduro twang was barely present, and I began to wonder if, indeed, this cigar was not what it used to be. After about an inch, I began to detect different flavors like cedar and tea.
At the midpoint, a little spice/pepper and the expected sweetness gradually crept in while the leather continued to intensify. This was definitely the sweet spot.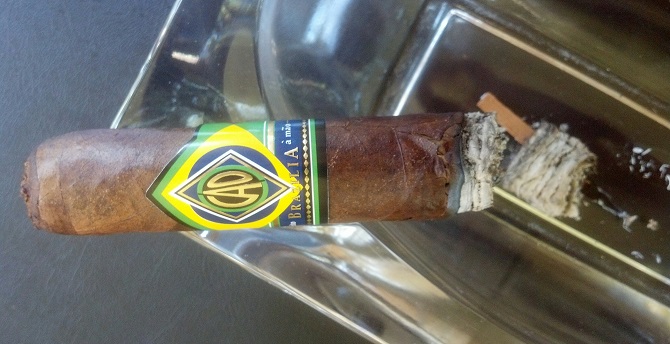 On the back end, the cigar became full-bodied and mostly leathery – like chewing a belt – and developed a real Maduro twang. The CAO Brazilia Gol took its sweet time, but it did finally burn into the brawny smoke I had expected. Overall, the flavor profile was simple and straightforward. Although it was a good and tasty cigar, I wouldn't look for much complexity in this stick.
This is how I rated it:
Pre-light – 9
Light – 8
Draw – 8.5
Flavor – 8.5
Power – 8.75 (not included in average)
Average – 8.5

I liked the cigar well enough. It wasn't great, but it was far from poor. As the score indicates, it came in above average. And you know what? Even though not from the same batch as the first one I smoked all those years ago, it still tasted like what I remember a CAO Brazilia Gol tasting like. Yes, it started slowly. But once it got going... Boy, howdy. I would like to know when it had been rolled, though. Just saying.
I'm not an expert on pairing cigars and drinks. Still, I can easily imagine the Gol going nicely with anything on the bold side. This isn't a timid cigar. It is, however, a solid cigar. And given its reasonable price (around $5), you should have a few in your humidor.
The CAO Brazilia line can be found just about everywhere.