Brun del Ré Gold Special Edition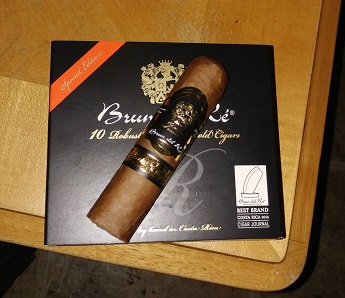 This cigar review profiles the Brun Del Ré Gold Special Edition. The company that fabricates the cigar is Costa Rican, and has been in the business for a little over ten years. From what I have gleaned, the wrapper and binder are from the Dominican Republic, and the fillers are from Nicaragua and Costa Rica.
The cigar presented itself well, with the black and gold label standing out. Although it only measured 4 inches by 60 ring gauge, this Robusto Immenso was a good looking cigar. The wrapper had very few veins, and was smooth and somewhat dull in appearance. The cap appeared lighter colored than the rest of the wrapper.
The tip clipped easily and smoothly. A burst of fruit-laden scents sprang forth from the clipped head – a veritable raisin salad of delight!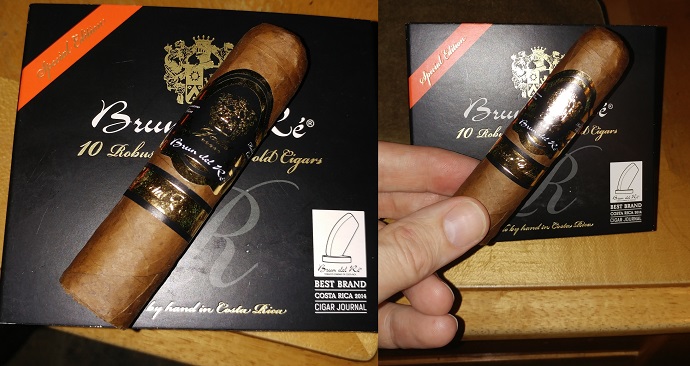 The Brun del Ré Gold was a tightly rolled cigar with a firm feel. There weren't any lumps or soft spots, and the cigar seemed heavier in weight than other cigars I'd encountered in this size format. Even with the tightness of construction, the draw was a bit less than perfect. Nevertheless, the taste of the pre-light reassured me that the 'raisin salad' was still there. Now, it was time to light up.
Upon lighting, a bit of a bite encircled my tongue. My throat also caught this sharpness, which surprised me. Although peppery on the first couple of draws, the cigar then mellowed out and began giving off a woody taste sensation.
After a half inch, the burn was even, but the draw had tightened up. The fruitiness faded away, and the woody taste became almost leather-like! This cigar was showing signs of being very complex, although my enjoyment of the complexity was dulled by the hard draw.
I began to ask myself, "Is this just another Dominican cigar?" I know some will disagree with me, but I have never been a big fan of Dominican cigars. Yes, there are some good ones out there. But to me, the majority of Dominican cigars seem grassy and tasteless. I hoped, while continuing to smoke this one, that I'd change my mind.
When I was about one and a half inches into the cigar, it started to burn unevenly. I touched it up, and kept on smoking. Still, I had to touch it up a couple more times before it resumed burning evenly again.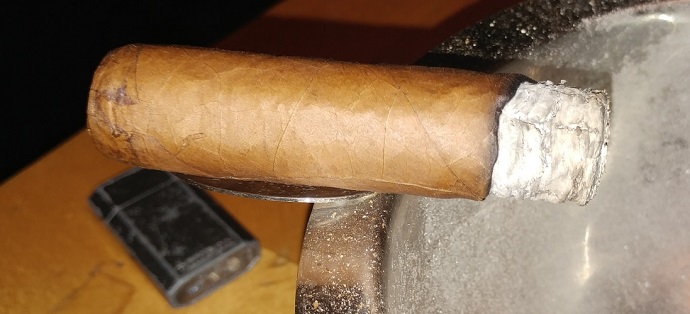 After the second touch-up, the cigar came to life, displaying a bit more pepper and even a cocoa taste. The smoke tickled my tongue and throat with a heavier sharpness that hadn't been there before. The ash was tight, and I had to flick it off. It was light grey in color, and solid. The ash broke cleanly, and left a flat ash tip on the cigar rather than a conical one.

The complex flavors persisted through to the end, leading to an even stronger finish. There was a still bit of sharpness.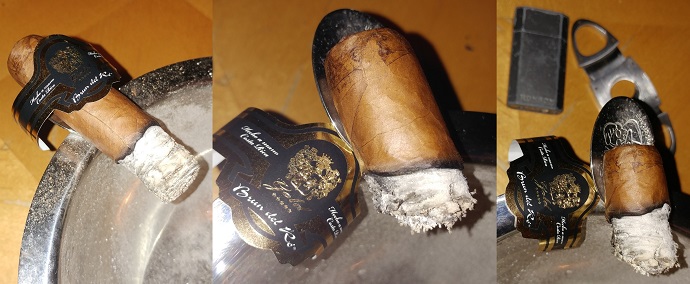 But for the poor draw, I would have rated this cigar as excellent. The Brun del Ré Gold started out as a mild to medium strength cigar, and ended up strong – almost too strong for my taste. At the end, the cigar was rich and sharp with a lot of aftertaste. That said, I'm sure there are plenty of smokers out there that would enjoy this cigar.
In summary, this cigar had a fair burn, poor draw, high complexity, medium to strong strength and a good finish. I would definitely keep some of these in my humidor. After all, a cigar smoker doesn't live on mild cigars alone!