A Cigar's Tale Review XIX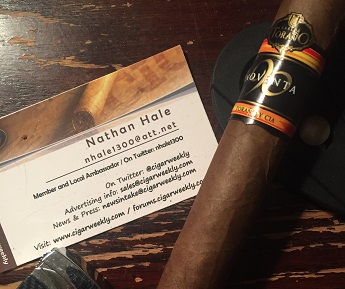 October 3rd, 2016
Cigar name: Noventa
Cigar brand: Torano
Wrapper: Nicaragua (Habano)
Binder: Nicaragua
Filler: Nicaragua
Vitola reviewed: Toro (6 inches by 52 ring gauge)
Strength: Medium +
Body: Medium +
Price: Varies
Visual
Looking over the milk chocolate color wrapper on this cigar, I am amazed at the very tight and barely visible seams. There is a slight tooth and some small veins on the wrapper. The construction is solid, with a firm feel to the cigar.
Cold aroma
The scents coming off the wrapper provide for a pleasant aroma. Notes of coffee, chocolate, brown sugar, cream and cinnamon rise to the top, and create interest in what is to come. The foot gives me flavors of cinnamon, cream, hay, licorice, vanilla, raisin and honey.
Cold draw
The cold draw isn't very complex. It's really a simple profile of hops, cream, hay and licorice. However, don't be fooled by this simplicity, because the flavors come together nicely and have me looking forward to what is ahead.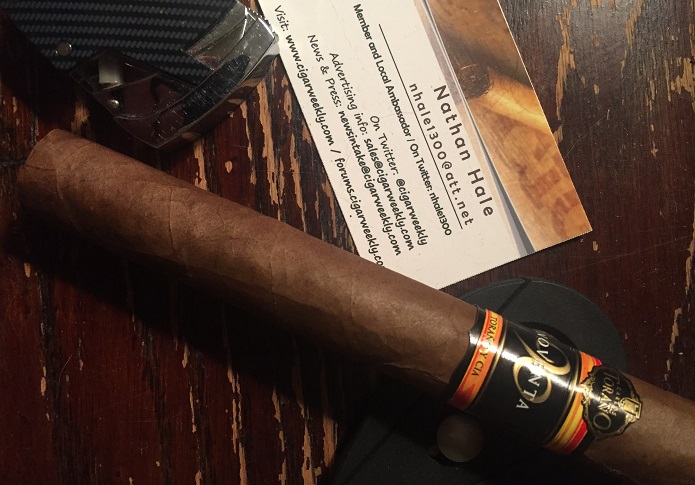 1st third
The first third presents with notes of peat, cedar, macadamia, butter, caramel and white pepper. There are some flavors in here I don't usually come across, and this makes things interesting.
2nd third
Going into the second third, some new flavors are introduced. Along with peat, cedar and white pepper, I begin to pick up earthiness, coffee and butter. The flavor profile is becoming more complex than it seemed from the cold draw. Things are indeed getting interesting.
Last third
The final portion of this cigar keeps matters in the same neighborhood, but with more fullness. The profile of peat, cedar, white pepper and toast is amped up, and brings everything to a nice finish.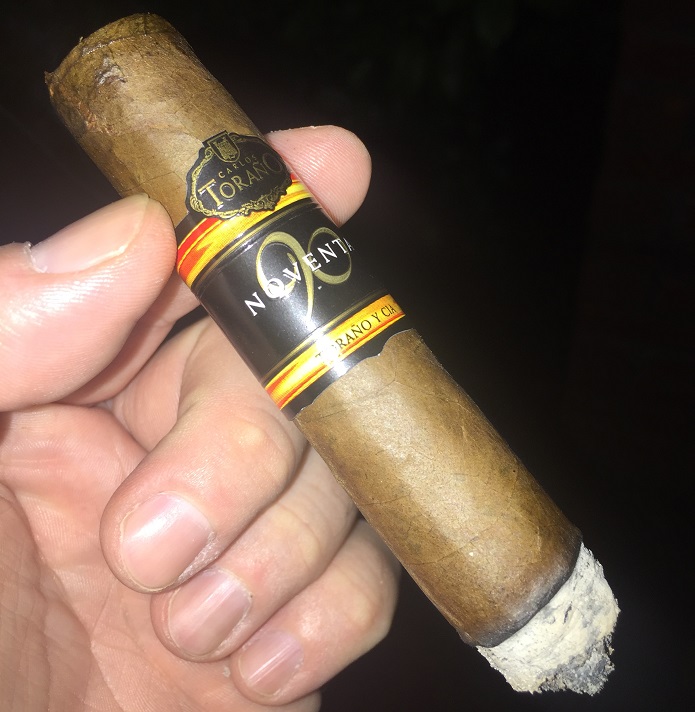 Afterthoughts
The Noventa smoked very nicely with a good draw, a nice light gray ash and plenty of aromatic smoke. Some interesting flavors made for an enjoyable experience, and I look forward to trying other cigars from Torano. Thanks to Carlos for providing Cigar Weekly the samples for review.
You can follow me at www.facebook.com/ACigarsTale, on Twitter and Instagram @nhale1300. You can find more of my reviews and many other reviewers, articles and forums at Cigar Weekly.