Oliva O Belicoso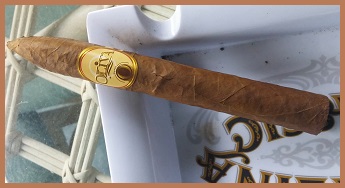 October 27th, 2016
Cigar size: 5½ inches by 52 ring gauge
Provenance: Nicaraguan puro
Initial impressions
Prominently thin veins ran along the front and sides of the cigar. The wrapper was a nearly seamless Connecticut broadleaf Maduro, which surrounded Nicaraguan Habano filler leaves. I trimmed the top with a V-cut in order to provide more air flow than a standard straight cut would have provided.
Cold draw
Dried fruits and nuts, as well as some coffee flavors, were apparent. The scent at the foot evoked dried fruits and raisins. The foot was firm, with just a little bit of give. However, the binder appeared to have lumps in the outer leafs.
Toasting of the foot
The initial sensation was of caramel essence with some black pepper.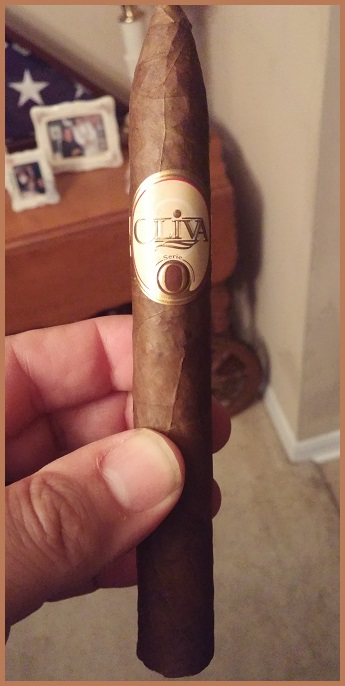 First third
A salted caramel note surprised me on the first draw. Graham crackers and toasted nuts followed immediately – a very pleasant start to this Belicoso from Oliva. White and blue smoke then filled the air. At this stage, the cigar was medium to full in flavor. The burn was slow and even, with nuances of wood and a little saltiness on the aftertaste, which some might perceive as peppery in nature.
Ash
The ash was whitish gray with a 'stacked dimes' appearance, indicating solid construction.
Second third
The balance was now nuttier and caramel tasting. The slow-burning cigar really held its flavor profile through nearly one-half its length. The flavors then changed to rich and sweet cream with hints of coffee. The burn remained slow and even, while the flavors became more like salted caramel again as the cigar changed its profile slightly and returned to its Connecticut broadleaf characteristics.
Final third
The cigar continued with its savory, woody, nutty flavors. Now, there were earthy and black pepper tones as well. The amount of smoke dwindled somewhat, but the flavors were devoid of harshness as I headed towards the last few puffs.
Summary
This was a very complex cigar from Oliva. Despite its imperfect construction, the flavors were well maintained throughout the entire experience. This particular cigar was aged for about a year after purchase.
Oliva makes a variety of cigars that are mostly medium-full to full strength, and are really not aimed at the novice herfer.
Thanks to for Nathan Hale for allowing me to write my very first review for Cigar Weekly.
__________________________________________________
Rob Ciaschini resides in Tampa, Florida