The Gent Gordo: A Spicy Twist on Maduro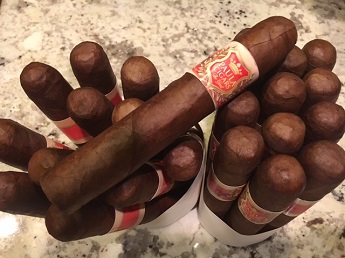 November 24th, 2016
Manufacturer: Paula Cigars
Size of cigar: 6 inches by 60 ring gauge
I've been enjoying this new blend from Paula Cigars since its pre-release about eight weeks ago. This boutique brand is extremely consistent in quality of construction and flavor. The company employs two rollers in the Dominican Republic, while the owner Paula and her husband roll stateside in New York City.
The silky smooth Habano Maduro wrapper signals the smoker that a top-notch experience lies ahead. This impression of quality continues with a binder comprised of Dominican and Ecuadorian premium leaves, which contribute to a solid feel in the hand.
At the core of The Gent lies a generous helping of Nicaraguan and Dominican long filler, which gives nice structure as well as combining with the binder and wrapper for an aromatic, medium-bodied, extremely satisfying blend. I've enjoyed twenty cigars or so of this premium blend, and I'm always struck by the consistency of The Gent's flavor and burn.
On approach, this 6 by 60 looks and feels solid. Veins are hardly noticeable, and the wrapper actually has a marbled, caramel appearance. At an angle, the outer leaf gives off a nice sheen – definitely a 'tasty' look.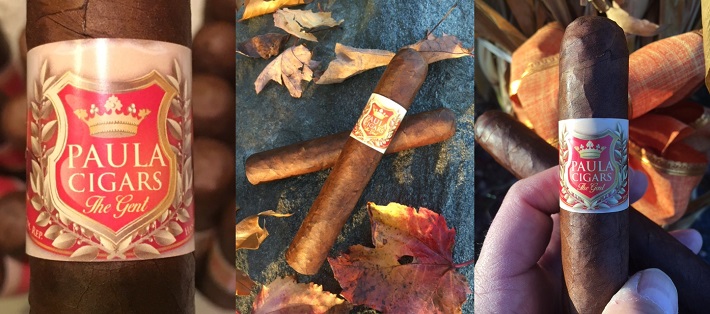 Prior to lighting, the wrapper gives off a slight earth and leather aroma, and the cold draw is deceptively mild. In my opinion, to get a true sense of a cigar's cold aroma, segregation from any other blends in the humidor is key. That said, I must confess that I enjoy the character my cigars acquire after resting among the other blends I keep on hand. So the only time I get to sense that 'pure' cold aroma is when I first unwrap a bundle of Gents. I can tell you that they smell awesome.
I'm using a sharp bullet to cut this large ring smoke, because I like to minimally disrupt the cap. I tend to be a little mouthy with my smokes, so I appreciate a toothy wrapper and a firm feel between my teeth.
Toasting the foot of this hefty stick, I'm immediately greeted by a familiar aroma of wood, tobacco and leather.
At first taste, I'm picking up a little spiciness from the wrapper, and the first draw brings with it cream, spice and nuts. Now, as I've stated in previous reviews, I don't have the most educated palate. So you may detect more than I'm able to describe.
As the first third progresses, the flavor is interesting – creamy and nutty with a hint of cocoa. I still feel that familiar tingle of spice on my tongue that will remain until I reach the nub.
From the initial draws, the flavor and aroma are smooth, pleasant and full, although not strong. Incidentally, my wife has just walked into the house (I'm smoking fireside) and asked me what I'm smoking, commenting that it has a nice aroma. This, of course, is music to my ears, and something not heard every time I choose to treat myself to a cigar indoors!
The second third starts out and ends with the same strength as the first, the flavors combining into a nutty and slightly floral mix. I'm not tasting leather or cocoa as much, but that could just be my happy taste buds being lulled to sleep. The spice on my tongue is still there, and I'm enjoying The Gent very much. This cigar has become a favorite of mine, and is just as good with my morning coffee as it is with evening tea or a glass of water.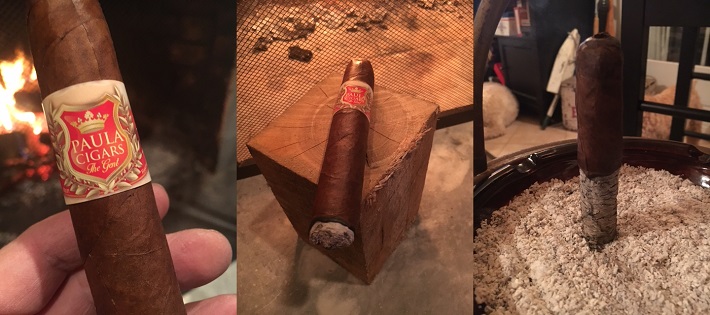 As I move into the last third of the session, the taste remains simply great – so rich and smooth that I'm already thinking about having another. While the firmness has left this colossal smoke and the last inch and a half has begun to soften to a spongier consistency, the flavor is still excellent, and the cocoa makes a final appearance.
For my money, this unique cigar hits on all cylinders, and delivers a premium experience and flavor in spades for a medium-bodied blend. The Gent smokes cool, holds a good ash and burns straight, even with the car windows rolled down.
This blend is a new one from Paula Cigars, and currently comes in two ring sizes – 60 and 42. Both versions are 6 inches in length. The Gent is sure to please both seasoned aficionados and those new to the sport. I'm giving this smoke a 'Bundle Worthy' rating.
__________________________________________________
Anthony Toland (Cigar Gent, AKA CV-66 @redrockscanyon on Twitter)