Lucious Lyon Robusto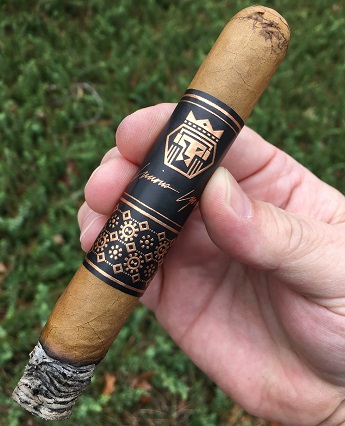 December 15th, 2016
Size of cigar: 5½ inches by 50 ring gauge
There have certainly been cigars inspired by television shows or memorable characters before – to name a few, Sons of Anarchy, The Sopranos and even Duck Dynasty. Now along comes the Lucious Lyon brand from Meier and Dutch of Bethlehem, Pennsylvania.
In case you're not familiar with the namesake character, Lucious Lyon is a renowned music mogul and charismatic anti-hero (portrayed by Terence Howard), and the protagonist of the hit show Empire. His story is not entirely dissimilar to that of the real life mogul, Jay Z.
At any rate, it is the essence of Lyon's life of luxury that this cigar hopes to capture. There are three vitolas in the line – a Robusto, a Torpedo and a Toro. The cigar I'm reviewing is the Robusto, which is the smallest of the three.
The wrapper of the Lucious Lyon Robusto is a light brown to dark-khaki shade-grown Connecticut leaf, grown in the U.S. The brand is manufactured at the HATSA factory in Honduras, and has a Mexican San Andrés binder with a filler mixture of Nicaraguan and Honduran tobaccos. That's a four-country blend. In keeping with the spirit of the character, the cigar has a very large and suitably ostentatious band – black with an impressive gold geometric design and graphic lion's head.
My two samples were smooth, with no blemishes and only a few small veins. The heads were double-capped and a tad rough. The cigars were uniformly firm when squeezed, and the pre-light aroma was dank and candy-sweet. Things smelled promising.
As is my custom, I used a punch to cut and cedar splints to light the cigars. The burn was slow and even, and the easy draw produced huge volumes of smoke. The resulting ash was sturdy, only falling when I removed the band. Its appearance was mid-gray with small, even segments. The filler produced a noticeably lighter colored ash than the wrapper and binder. Total smoking time averaged 44 minutes.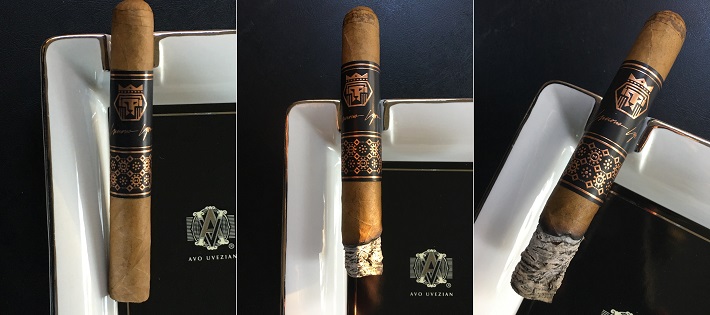 My first puffs were subtly sweet and mild. Spice was barely present, and the cigars tasted vegetal and earthy. Notes that became clear in the first third included wheat, burnt toast and mushrooms. During the middle third, some cedar and nuttiness came through along with sweet baking spices.
The final third brought more intensity to the flavors without them getting 'nasty' – an admirable quality.

This is a typical Connie in that it is a milder cigar. However, perhaps owing to the multinational blend, the profile is anything but typical. The Lucious Lyon Robusto is plentifully flavorful.
So, how did I rate it using the Cigar Weekly scale? Let's see, shall we?
Pre-Light: 8.75
Light: 9
Draw: 9
Construction: 8.75
Flavor: 8.5
Power: 7 (not included in scoring)
Average: 8.8
An 8.8 score is not bad at all. In my humble opinion, the Lucious Lyon Robusto is a fine cigar. It is smooth and mild with flavor galore. And yes, although it is not high on my priority list, I would certainly smoke one again.
Truthfully though, the Lucious Lyon Robusto just isn't my type of stick. I prefer fuller, heavier smokes. I certainly don't mean to damn it with faint praise. But I couldn't find anything wrong with it, either.
Is it worth the $12.50 list price? That cost seems a little high for what I feel it's worth. But then, they didn't ask me. If lighter cigars are your thing, try this one. To quote Lucious Lyon himself, "You wanna' try me?"