Cigar Weekly's Top 10 of 2016 - Part 2

January 9th, 2017
Welcome back dear reader! Today, we'll resume our coverage of the Cigar Weekly Top 10 of 2016.
You'll recall that in our first segment, we disclosed ten cigars that almost made it, and discussed other boutique cigars that you just might want to try - a suggestion that I make most sincerely!
As with just about everything 'Cigar Weekly', our Top 10 was not 'created' based on who advertised or on any other 'outside' influences - other than you. Our members, followers and fans on social media were offered the opportunity to nominate, and then vote on, the cigars that made this list. And that's one of the reasons our 'Runners Up' list was so vast. Personally, with a list of more than 40 cigars, I didn't expect to see that 'bunch up' in the 11th to 13th places.
If you nominated a cigar and voted, and it's in this list, good for you. People often asked, "Why are you collecting email addresses with the votes?" And some of you who didn't want to leave a real one, well, you got pretty creative! But 'poor you' to anyone who left a false email. Because one of the individuals who voted, and whose votes most closely matched the chosen Top 10, is going to win a prize! Yep, there was value in leaving your proper email address.
Well, enough of the housekeeping and rambling. I know what you're waiting for. Let's get on with it and see which cigar came in at number 10!
Rocking in at Number 10 we have another tie:
What?!
Well, the official winner is the La Palina Illumination. But drawing up in a tie is one of the two Cuban selections that made the nomination list - the Bolívar Royal Corona.

Now, you may ask why a Cuban cigar got on the list? Many of our members are (and have been) longtime connoisseurs of cigars. And they've had a chance to get their hands on some. Also, many live in areas where Cuban cigars are not embargoed. Like we said, this was a member-nominated and voted blog. However, because the purchase of Cuban cigars is still NOT legal in the United States (you can find a discussion on this topic in our forums here), we'll let the Bolívar be an Honorary Top 10 winner. But the 'official' prize goes to the craftsmen at La Palina.
Stepping up to Number 9, it's the Pain Killer Lancero from GTO cigars: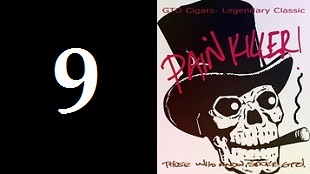 Congratulations to Oscar Rodriguez and family. This achievement is significant, given that Oscar's distribution is almost 100% through 'brick and mortar' cigar shops, and highly focused on the southeastern US, which Oscar calls home. The PainKiller is a favorite of our publisher, BigO. And I too find myself reaching for them, even though I'm a more of a Robusto guy. If you follow us on social media (@cigarweekly on twitter, CigarWeekly.com on facebook), you'll see that our favorite Dutch ambassador, Guus Elgersma, is a fan as well. I do belive he plans to write a review.
Number 8 was no surprise. I think this cigar made just about every 'Top Cigar' list this year:

Your 8th favorite cigar of 2016 award goes to the folks at A. J. Fernandez for their New World.
I had my first New World gifted to me by Gary 'Doc' Laden, host of the Smooth Draws Radio Show broadcast here in Atlanta. I'll just say that when I saw this cigar on the nominations list, I knew it was going to do well in the voting! That makes for three A. J. Fernandez cigars in our top selections for 2016, as the Last Call and the Hoyo La Amistad both appeared in our Runners Up tabulation.
Hitting the list at number 7 is the Padrón 1964 Anniversary Series Hermoso:

I'm an infrequent Padrón smoker, given my preference for medium or mild cigars. But make no mistake. Padrón has a fan base as loyal as the Chicago Cubs. (Congratulations to the Cubs for their 2016 World Series victory!) I think the world would likely spin backwards if there were no Padrón in this list. Quality of flavor and construction are hallmarks of the brand, and our members placed the '1964' firmly at Number 7.
Wrapping up this part of the countdown, we have our Number 6 cigar - The Crowned Heads Le Carême: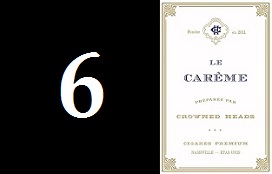 With just a single vote separating this cigar from the Number 7 and Number 5 winners, we're pleased to award 6th place to Jon Huber at The Crowned Heads for his new release, Le Carême - a cigar recently featured in a review by Jeff Slatton (aka jefslat on the Cigar Weekly forums). I smoked a sample of the Le Carême last evening as I was composing this article, and found it very tasty indeed. Congratulations!
You may have noticed, as we've counted down these cigars, that quite a few of them are from boutique or smaller manufacturers. The truth is, not all the good cigars come from the big guys. But of course, you already knew that - these were your nominations and votes, after all.
That said, boutique and smaller manufacturers of cigars are in real danger of disappearing entirely. Please, dear reader, take a moment today to fill out the petitions at CigarRights.org, and join up while you're there. Then, write your congressperson and senators. Your voice needs to be heard and counted if we're going to save these fine cigars from the over-regulation and over-reach of the FDA.
Thanks.
Stay tuned. Part 3, featuring the cigars you voted to be the Cigar Weekly Top 5 of 2016, will be revealed in just a few days!