A Cigar's Tale 'Short Story' Review XXXII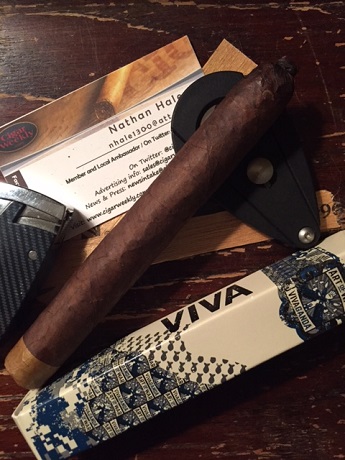 April 17th, 2017
In this installment of my column, I'm reviewing a sample from the 2016 IPCPR called Art of War. It's produced by Viva Republic. The cigar comes to us as a Corona Gorda vitola. It measures 6 inches long by a 47 ring gauge, and costs around $9.50. The wrapper is a Connecticut Broadleaf, while the binder comes from Ecuador and the filler leaves are sourced from Columbia, Nicaragua and the Dominican Republic.
The wrapper has a dark chocolate color and small veins. It's capped with a pigtail. The cigar is firm, and I find no major flaws in it. The aroma from the wrapper includes scents of barnyard, tobacco and woodiness. There is a closed foot on this cigar. The cold draw has some peanut, brown sugar, tobacco and salt to it.
The first-third of this cigar has a profile of tobacco, coffee, cocoa powder, dough, cumin and black pepper. The next-third transitions into cocoa, bread, cedar, dried fruit and mixed nuts. The Art of War finishes out in the final-third with notes of black pepper, bread, crushed red pepper, cocoa, coffee, cedar, leather and butter.
There's a pleasant smoke coming from this cigar, and it exhibits an even burn throughout. The ash displays a salt-and-pepper tone, and the strength comes in at medium with a body of medium-plus. Overall, this is a good stick – something to try for sure. As always, let me know what you think.
Score:
Pre-light: 8
Follow me on Facebook at www.facebook.com/ACigarsTale, or on Twitter and Instagram @nhale1300. You can also find me (and lots of other cigar-related content) at www.cigarweekly.com.