GTO Pain Killer Maduro Robusto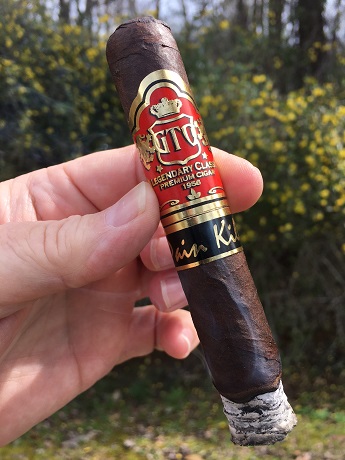 March 27th, 2017
Size of cigar: 5 inches x 52 ring gauge
I know what a GTO car is, but what's a GTO cigar? Well, a little Google action provided the answer to that question. GTO Cigars is a family business that manufactures its cigars in its own factory – Tabacalera GTO Dominicana.
The firm's cigars are small batch, boutique cigars, but not small batch in the sense that they are made as a side job in an enormous factory pumping out a hundred million cigars per year – not that there's necessarily anything wrong with that system.
GTO represents a different, very organic approach to the production of a cigar. The business model seems to be more 'Mom and Pop', rather than 'International business'. Except for a couple of blends that utilize Connecticut wrapper leaf, GTO's cigars are all Dominican Puros. The tobacco is grown right on the family farm in Valle del Cibao, in The Dominican Republic.
The head of GTO Cigars is Oscar Rodriguez, who is, by all accounts, a congenial and approachable man. Rodriguez is a very hands-on CEO, doing everything from growing and blending to most of the company's promotional work. His pedigree is real, as his family has been associated with tobacco for nearly sixty years. And while he is a relatively young man, he still considers himself 'old school'.
So, does this close relation of family, land and traditional production make for superior cigars? Most think it does. With two GTO Pain Killer Maduro Robustos to review, I would decide for myself.
The GTO Pain Killer is one of a half-dozen blends in the company's repertoire. It is available with either a Maduro or Corojo wrapper, and is made in two sizes – a chubby Toro and an average-sized Robusto. The binder is, of course, Dominican, while the filler is Dominican Ligero. As I've stated above, the two cigars I smoked were Robustos from the Maduro line. This is a composite review.

My samples actually measured a little shy of the listed 5 inches, being 4.75 inches in length. Both cigars were dark brown, veiny, rough and bumpy with an oily sheen. These were not the most elegant-looking cigars. But sometimes, one must look past the wrapper appearance. The blend that is sought requires a certain leaf, looks be damned. The cold smell evidenced rotten vegetables, barnyard and candy – yeah, that's right, candy and poop.
When squeezed, the Robustos felt spongy with a few notable blog. The caps were thick and flat. I used a punch cut, followed by a cedar scrap to light the GTOs. Both cigars caught the flame well and burned readily, providing a free-flowing draw and plenty of heavy smoke. The resultant ash was pale gray with fine segments. Initially, the ash was sturdy. However, past the mid-point, it became flaky. One sample burned evenly, and the other went a little wonky. But it was no big deal. Smoking time averaged 37½ minutes for each of the two sticks.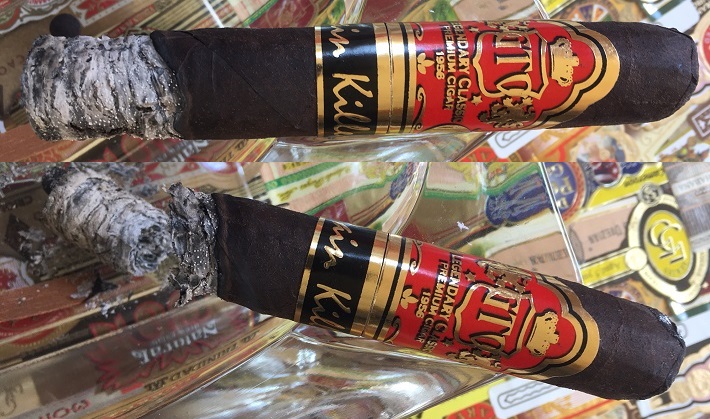 My initial puffs tasted exclusively of leather. A half-inch into the cigar, subtle caramel sweetness became apparent. There was an accompanying astringent quality to the cigar. That combination of leather, sweetness and puckering quality is what I refer to as 'the Maduro twang'.
During the middle third, hot pepper, delicate baking spices and a meaty-savory feature came in secondarily. Leather dominated throughout the smoke.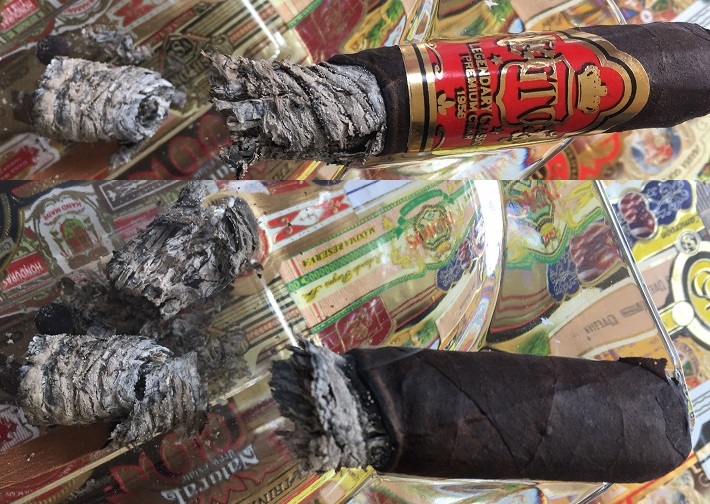 Over the final third, the flavors intensified further, and some coffee notes became apparent. The finish was free of any bitterness. This was a knuckle-burner.
The GTO Pain Killer Maduro Robusto proved to be a full-bodied smoke with a surprisingly complex profile. Yes, leather was there in spades. But there were other underlying flavors as well.
Alright, let's look at the scoreboard and see how the Pain Killer did:
Pre-light – 8 (Not a looker)
Light – 9 (The Ligero filler burned better than I expected)
Draw – 9.5 (Hey, no problem here)
Construction – 8.5 (Could be better)
Flavor – 9.5 (Now, we're talking)
Power – 9 (Not included in the average, but this GTO certainly has some giddy-up)
Average – 8.9 (Not too shabby)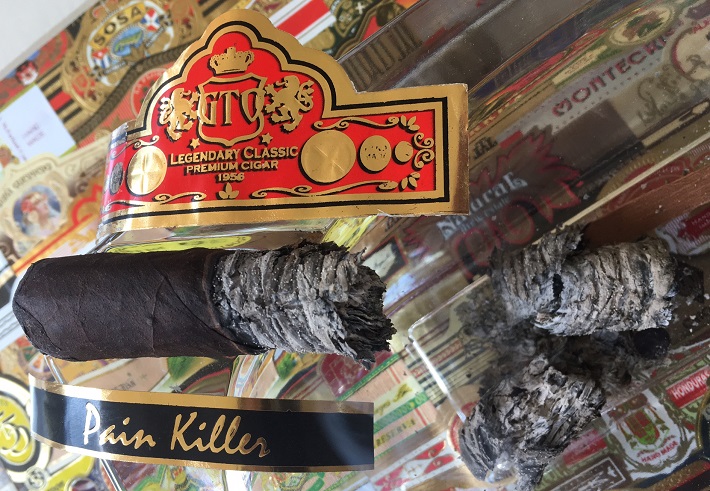 I didn't know quite what to expect from the GTO Pain Killer Maduro. I'd seen a lot of chatter on social media, but that's not always an indicator of the real story. Here's what I found for myself... It's a very Maduro cigar – I mean, like leather for days. If that's not your thing, stay away from this cigar. On the other hand, if you like Maduro cigars, you'll love this one. It's a full-bodied cigar, but it's not one dimensional, and has an unexpected complexity. I believe the correct term is 'Cubanesque'.
I liked this cigar, and I'll smoke it again. It should pair well with most of the liquors normally associated with cigars, such as Rum, Scotch, Bourbon, etc.
The GTO Pain Killer Robusto sells for about $8-9, depending on local taxes. The GTO line is sold by select tobacconists (primarily in the southeastern US), but its market territory is expanding. I recommend that you look out for it.