CAO Flathead Steel Horse Apehanger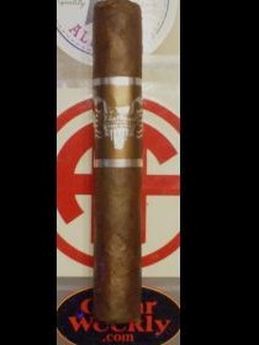 CAO Flathead Steel Horse Apehanger
Specifications:
Manufacture/Purchase date: 2023
Country of Origin: Nicaragua
Wrapper type: Connecticut Habano Oscuro
Filler: Dominican Republic, Mexico, Honduras, Nicaragua
Manufacturer: STG Estelli
Price: $9.99 (cigars.com single)
Setting: My regular spot in the little, outdoor smoke shack.
A medium texture, somewhat veiny, very visible seams, wrapper with an overall fairly attractive smoke.
A Smooth, flat headed cap, somewhat soft bunch, slightly tight cold draw tasting strongly of chocolate.
Slightly uneven burn, flat coal, mottled grey, typical structure ash, with some spots of wrapper flaking form normal handling, and the wrapper began peeling about half way through.
A slightly tight draw, ample smoke volume, and cool, but somewhat biting/sharp smoke, with a faint but fragrant aroma consisting solely of woody scent.
With ample richness, body, and perfectly balanced flavors of earthy, woody and baker's chocolate tastes. Quite mild in strength.
Finish/Aftertaste Comments:
Of a modest, brief length finish/aftertaste of earthy and chocolate notes.
Overall, I'd call it a excellent cigar, based almost solely on the unique, standing taste, aftertaste and aroma.
Otherwise it definitely had some issues with the wrapper flaking off nickle sized spots, and it beginning to peel slightly in the second half. Definitely didn't cut too much of the cap, as it doesn't really have one with its completely flat head, and the fact I used a punch.
Final score was an 86 out of 100, giving it a very good on the scale, mainly due to the wrapper issues.
Besides that, since it didn't really hurt anything, I would personally call it an excellent cigar if you don't mind some possible, minor wrapper issues and really just care about flavor and burn.
Appearance/Construction____13___ 15
Flavor/Strength___14____15
Finish/Aftertaste____9____10
Overall Quality___13____15