5 Points Cigar Shop & Lounge Grand Opening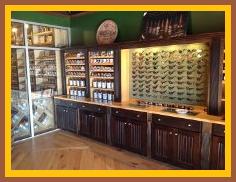 Is wintertime really a 'dead' season for cigar industry events? Not when the inauguration of a brand new establishment takes place.
On January 31, 2015, cigar and pipe aficionados gathered to celebrate the grand opening of the 5 Points Cigar Shop & Lounge, located in the city of Athens in the Oconee County region of northeastern Georgia. Four months of planning, building and organizing had gone into the making of this exceptional place.
Approximately 400 people frequented 5 Points over the course of the day, with some 150 cigar and pipe smokers being in the shop at any given time.

Manufacturers and representatives, associated with 25 cigar brands, ensured there was no shortage of industry personnel to talk shop with. The top selling brands (in no particular order) were Caldwell, 7-20-4, La Palina, Casa Manga, Regius, GTO Cigars, Perdomo and Esteban Carreras. Special note should be made of the box of Fuente Fuente Opus X 'A' cigars, which did not last the day.
Food was more than plentiful, including delectable treats served by Safir of Holy Crepes and two 6 foot subs from Larry's Giant Subs. As if that weren't enough, a pair of competition chefs, Steve Baker (the Porkinator) and Dotson Riffe of rollingsmokecompetitionbbq.com, teamed together to offer up a pair of whole roasted pigs and twenty Boston butts for the event.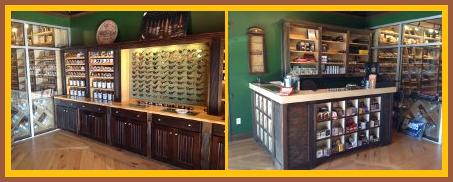 Big Tre Powell and Chris Creemo Moore took to the stage to provide music. Yes, there is a stage, which doubles as a game table area when it's not being used by performers.
Cigar events are usually accompanied by raffles. But to say that this one held raffles would be an extreme understatement. Throughout the day, cigar items, hats, t-shirts, ashtrays, knives, license plates and cigars were up for grabs. These items were all supplied by the different companies in attendance.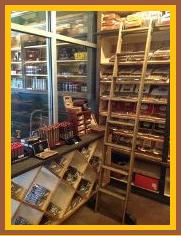 Each purchase earned an individual one raffle ticket, while a locker purchase entitled one to a ticket for the grand prize draw. The grand prize was worth approximately $4200, and included a Fuente Fuente Opus X humidor by Prometheus as well as 48 rare Opus X cigars. Michael Stover and his wife Heather were the lucky winners of the grand prize.
With a 20 percent discount off all items, the store was constantly busy. Lineups sometimes backed right out the front door. Indeed, from the opening at eleven in the morning until well into the night, memberships and tobacco items were constantly being sold.
Memberships are offered at three different price levels – $365 for regular sized lockers, $600 for medium lockers and $1000 for the largest lockers. The store's layout includes 237 regular lockers, 18 medium lockers, 16 large lockers and 5 corporate lockers.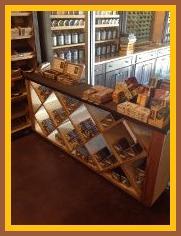 All the lockers were hand built by Cappy's Custom Cabinets. Each regular locker measures 12 inches deep, 10.5 inches wide and 13.5 inches tall – high enough to hold most bottles of your favorite spirit (which you can buy just down the road at the 5 Points Bottle Shop). Worried about temperature and humidity for the cigars in your locker? Don't. The front doors are vented, and the entire lounge is temperature and humidity controlled.
The very well stocked humidor, 20 feet square by 15 feet in height, incorporates Spanish cedar, cypress, maple and reclaimed woods in its construction. The trim of the humidor (and the entire stage) was fabricated by Oneta, utilizing reclaimed wood from the old Athens Jittery Joe's Roasters building. There are over 1300 facings in the humidor. The entire shop and lounge was built by local companies.
After buying your cigars at the shop (purchase of a day pass is required if you are not a member), head through the red leather clad door and into the lounge. There, you can watch one of two 60 inch televisions, join in a card game or use the free wi-fi. Two couches and numerous chairs offer plenty of relaxing seating room.
Other amenities include a refrigerator (should you wish to bring a drink or two) and a tap fridge capable of accommodating a house root beer or any other tappable beverage. Many cigar smokers love coffee, and coffee is supplied by Jittery Joe's daily. If you are hungry, you can get something at any of several restaurants nearby, and bring it into the lounge to eat.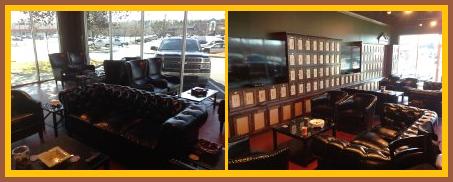 Rest assured that frequent cigar events will be happening at 5 Points Cigar Shop & Lounge in the future, too. And since a large community of pipe smokers also calls this place home, a Briar's Club meeting will also be a regular occurrence here.
Do you need a cigar? Just come into the shop side of the 5 Points Cigar Shop & Lounge and talk to any of the knowledgeable sales staff. Eric, Shawn, Brad, Blake and Ashley are always willing and ready to help out and talk cigars. There are even cigar industry representatives who, when they're not on the road, call 5 Points their home.
If you're ever in the Athens area, you owe it to yourself to make an excuse (if need be) and come to the 5 Points Cigar Shop & Lounge. Just drive over to 1720 Epps Bridge Parkway (in front of Home Depot). You can grab a smoke, and enjoy some smooth draws and long ashes with fellow brothers and sisters of the leaf in the newest cigar lounge in Georgia. For any other questions, you can call the shop at (706) 549-3100.