IPCPR 2015 Notes and Dispatches
Kuuts Cigars - An introduction to a new (to me) company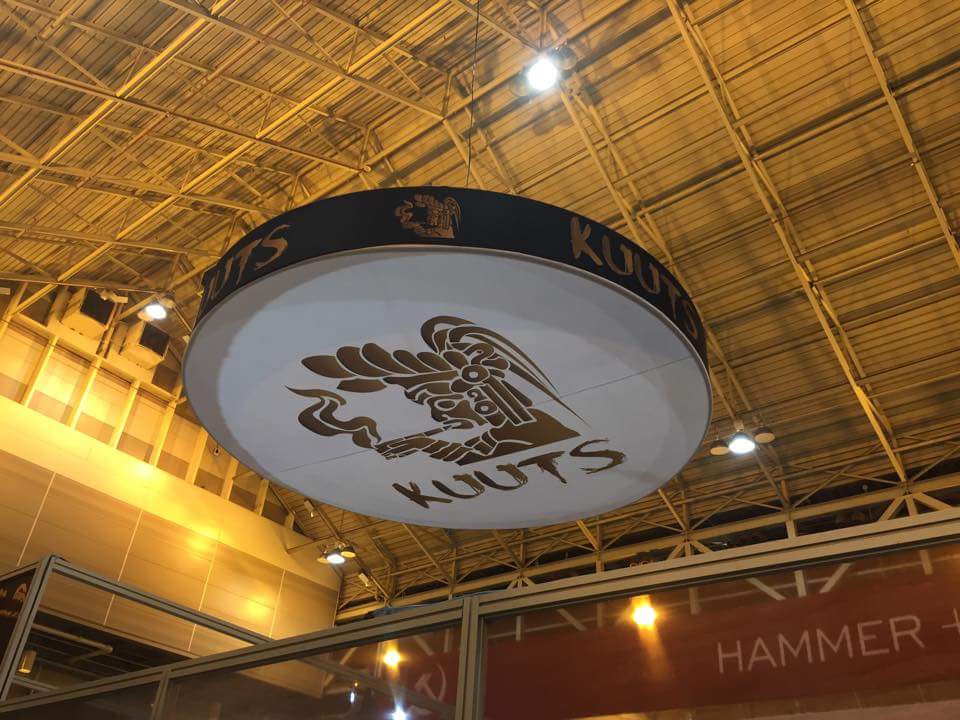 Right in the thick of the show, was a neat, clean, not-so-busy exhibit. It was too big and well-appointed to be that way. I finally got the time to visit and sit for a moment. Kuuts' territory manager Edward Miranda sat with me and told me a little about their company. Kuuts is four years old, now, which means they were not in existence when I last covered the IPCPR show. Their manufacturing company is in Danli, Honduras, a good place to be, as many cigar cognoscenti well know. Their parent company is Spanish Tabak, a larger, continental concern in business for fifteen years, now.
According to their promotional literature, their company is Comañia Hondureña de Tabacos (CHT) and they own the factory outright. It has a capability of producing 6,000,000 cigars per year. "With 98 pairs of rollers working in a family atmosphere, CHT has the ability to keep all aspects of the manufacturing process under one roof."
Kuuts/CHT has three "legacy brands" which have been in production since they opened Miró, Placeres Reserva and Kuuts Nicaraguan; the Kuuts Nicaraguan was their first product from that country. The Placeres Reserva is a box-pressed cigar in five sizes with a medium blend of Nicaraguan Jalapa, and Honduran filler, a Costa Rican binder and Habano Nicaragua wrapper. The Miró is a medium-full cigar also with a Nicraguan/Honduran filler blend, Nicaraguan binder and Sumatra wrapper. The Kuuts Nicaraguan has the now popular Ecuadoran Habano wrapper, Nicaraguan binder and filler.
As for their new offerings, there is a blend called the Capa Negra in the Miró brand, available in five sizes it has the newly popular San Andres wrapper, Nicaraguan binder and a filler blend also with Nicaraguan as well as Honduran leaf. The filler blend includes a healthy dose of ligero primings. Both Miró blends are suggested at a price point between $6.80 and $10.00
The second new blend, which I am smoking as I write this article, is the Kuuts Connecticut which sports the Ecuadoran Connecticut capa, over a Nicaraguan binder and filler bunch of Dominican, Nicragauan and Honduran leaves. Miranda billed this one as a mild-medium, but even at this time of day, it checks in as a solid medium. It has a lot of body and flavor, it's not your typical "airy" Connecticut/Dominican smoke. And there is a good amount of smoke in every draw and puff. It is getting sweet on me, about an inch into the smoke, and it's burning pretty well, despite the lack of attention I am giving to it as I work. These are set to sell in the range of $6.50-$8.00, as are the Placeres Reservas.
They also offer some slightly less expensive smokes in smaller boxes, cans and bundles. These include the Placeres Serie Roja, Placeres in the cans of 25, and two long filler bundles.
Since the IPCPR show, I reviewed a Kuuts Connecticut on August third. Please click over to read and possibly comment on that review as it appears in the Reviews Forum of the Cigar Weekly Community Forums and Discussion Groups.