CASA DE MONTECRISTO BY PRIME CIGAR & WHISKEY BAR SET TO OPEN IN BRICKELL
CASA DE MONTECRISTO BY PRIME CIGAR & WHISKEY BAR SET TO OPEN IN BRICKELL
One-of-a kind venue set to open its doors early 2016 in the epicenter of Miami's Downtown Brickell area.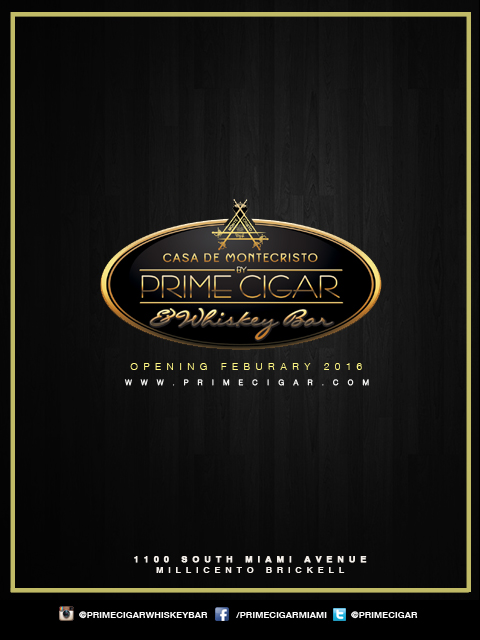 January 5, 2015- Brickell-Miami is ready to welcome Casa De Montecristo by Prime Cigar & Whiskey Bar, a sanctuary where "sophisticated relaxation" isn't just their motto, but a way of life. Prime Cigar's first location in Boca Raton, set them apart as the premier cigar bar in South Florida. They will now partner with Altadis USA, one of the world's top premium cigar manufacturers, to unveil a one of kind cigar and whisky lounge, with a Miami twist. The new establishment opens its doors in early 2016, located in the heart of Miami's business district, at Brickell's newly built 1100 Millecento residential tower.
Prime Cigars' founders, Jason Reznik and Ryan Leeds, decided on the 4,700 square foot location at the Millecento, as Brickell has become one of Miami's most dynamic neighborhoods, where business and nightlife seem to live together seamlessly. The upscale bar and lounge, will feature a walk-in humidor, full-bar stocked with exclusive and hard to find whiskeys, member's lounge, and private board room. Custom furniture and design elements (which exude simple elegance) will please the cigar aficionados, or those looking for a unique experience, for a rare whiskey, craft cocktails, or a nightcap. The establishment also features a "vintage collector's room," which houses unique and vintage cigars.
One important feature that sets Prime Cigar apart is the state-of-the-art air control system. This innovative system provides 80 tons of A/C, and replaces 100 percent of the air constantly. This system was of great importance to Leeds and Reznik, as they wanted customers to enjoy themselves in the upmost comfort.
Prime Cigar was born out of close bond between father and son. Ryan Leeds' father passed away in a tragic accident, which led Leeds to ponder the meaning of life, with friend and business partner, Jason Reznik. Ryan retired from his career in banking which spanned two decades, and put his efforts into creating Prime Cigar in Boca. Inspired by the lessons and experiences of his father, Ryan created a space which celebrates their love of cigars, good whiskey, and luxury comforts.
Ryan Leeds stated:" Our goal with Prime Cigar, was to create an atmosphere where patrons could slow down. We wanted an environment where friends and colleagues could spend quality time. We wanted a place where fathers and sons can create the same type of experiences that my father and I shared. We are excited to partner Prime Cigar with Montecristo and bring our brand of "Sophisticated Relaxation" to the Miami-Dade public.
ABOUT PRIME CIGAR & WINE BAR
Founded in 2010, Prime Cigar & Wine Bar is a cigar bar and lounge featuring premium cigars, top-shelf spirits, and fine wines. Prime Cigar delivers a "sophisticated relaxation" experience to all its guests and boasts a state-of-the-art air control system, ensuring a comfortable smoke-friendly environment.
About Altadis U.S.A.
Founded in 1918, Altadis U.S.A. is one of the largest cigar manufacturers in the world, and is responsible for many noteworthy and celebrated premium cigar brands including Montecristo, Romeo y Julieta, H. Upmann, Trinidad, and VegaFina among others.. Altadis U.S.A operates premium cigar production facilities in the Dominican Republic and Honduras with production affiliations in Mexico and Nicaragua. For more information about Altadis U.S.A., please visit their website at www.altadisusa.com
For more information on Casa De Montecristo by Prime Cigar & Whiskey Bar, please contact Creativas Group at: This email address is being protected from spambots. You need JavaScript enabled to view it.. Photographs and interviews are available by request. Follow on social via @ Casa De Montecristo by Prime Cigar & Whiskey Bar
Creativas Group Inc. provides public relations and marketing counsel to national brands, recognized special events and leading non-profit organizations. For more information: www.creativasgroup.com.Follow us on social media @CreativasGroup.