TOMMY BAHAMA "BACK NINE" ACCESSORIES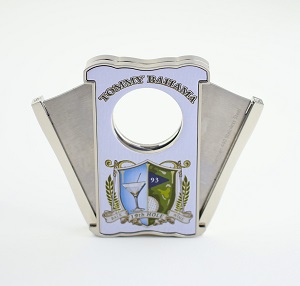 Island Lifestyle Importers is proud to premier the new Tommy Bahama® "Back Nine Golf Series" of accessories at the 2017 International Premium Cigar & Pipe Retailers (IPCPR) Convention in Las Vegas. The "Back Nine Golf Series" is the newest theme of cigar accessories from Tommy Bahama®. Inspired by the great golf crests from around the world, this Tommy Bahama Golf Crest celebrates the passion, fun and frivolity around the game of golf. These accessories are perfect for on the course and gathering afterward at the "19th Hole" for story-telling.
The "Back Nine Golf Series" consists of a tabletop quad-torch cigar lighter ($99.95), pocket dual-torch cigar lighter ($85.00), cigar cutter ($75.00) and 610 All-Purpose Cigar Carry Case ($39.98). The bodies of the lighters and cutters feature the exclusive Accu-Body-Cast-Design and are designed to highlight the fine artistic details of the Tommy Bahama Back Nine Golf Crest. As an added feature, the background embossing mimics the dimples of a golf ball!
Completing the "Back Nine Golf Series" is the 610 All-Purpose Cigar Carry Case. Perfect for the golf enthusiast who loves to enjoy his favorite cigars throughout the round. It will safely and easily accommodate six 7x54 Churchills front to back or ten 5x50 Robustos side-to-side. It is built for the challenges of a round of golf - crush proof, air/water-tight and floats! The exterior of the case is rubberized for additional durability. A handy lanyard is included for security. The case includes a removable humidifier just in case you forget and leave it in your golf bag!
Island Lifestyle Importers is the exclusive designer and manufacturers of Tommy Bahama Luxury Cigar Accessories & Island Lifestyle Cigars. They were the recipient the 2016 IPCPR "Best in Show – New Exhibitor" award at last year's convention. They can be visited at Booth 531 at this year's IPCPR.
FOR MORE INFORMATION CONTACT: Ryan Frailing or Rick Louis at This email address is being protected from spambots. You need JavaScript enabled to view it.