FRATELLO HIRES NEW SALES DIRECTOR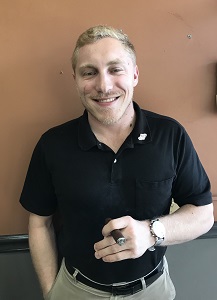 FRATELLO CIGARS HIRES DIRECTOR OF SALES FOR THE MID-ATLANTIC
Springfield, VA (November 1st 2018) – Omar de Frias is proud to announce the hiring of Samuel Dietz as the new Director of Sales for the Mid-Atlantic for Fratello Cigars. Sam is an energetic and engaging young leader. With his background and sales acumen we expect to boost our presence and product traction in the northeast." Said de Frias.
"When it comes to business growth one of the hardest things for any entrepreneur is to learn to let go and delegate key aspects of the business. This is the moment where we double down to keep up with our accelerated growth. Said de Frias.
"I've been an avid cigar smoker and fan of Fratello for years. This opportunity comes full of challenges and with a clear path to learn from Omar and expand my knowledge of tobacco." Said Dietz.
Fratello Cigars was established in 2013. Since inception Fratello has grown to be sold in 800 brick and mortars in the US and 9 international destinations.