NEW RELEASE: Protocol Night Stick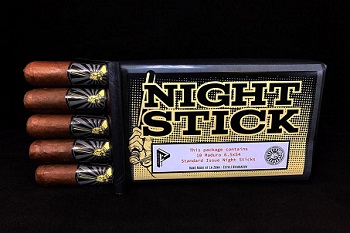 DENVER, CO (Friday, March 15, 2019) ——
Cigar Dojo, the first and largest social cigar app, and Cubariqueño Cigar Company, a rapidly growing favorite in the craft cigar industry, have collaborated for the second time, introducing the Protocol Night Stick—a swift and just assault on the palates of die-hard cigar enthusiasts.
Following in the footsteps of 2018's Hit Release: Protocol K9—a limited edition project that proved to be among Cigar Dojo's most acclaimed and fastest selling cigar collaborations—the two community-focused companies have combined talents once more, now upping the ante with a 6½" x 54 toro gordo; a commanding cigar truly befitting its "Night Stick" title.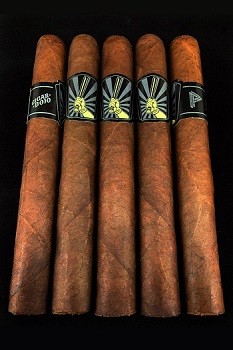 With Protocol Night Stick, members of both Cigar Dojo and Cubariqueño worked in collaboration with Espinosa Premium Cigars' director of operations, Héctor J. Alfonso, Sr., to design the Nicaraguan-based blend. Like all Protocol cigars, the Night Stick caters towards Nicaraguan tobaccos and vibrant flavors. This begins with a filler recipe selected from Nicaragua's uppermost Condega and Jalapa growing regions, giving the blend an approachable sweetness. This blend is bound in a Nicaraguan leaf and finalized in a highly specific Ecuadorian Habano Rosado Oscuro wrapper, imparting deep levels of stone fruit and cinnamon to the flavor-forward profile of the Protocol Night Stick.
Juan Cancel, co-owner of Cubariqueño Cigar Co., notes, "We wanted to follow up the extraordinarily successful Protocol K9 with something special for the Cigar Dojo community! We wanted the Dojo Nation to have a very memorable cigar experience, so we blended this beauty especially with them in mind! We hope you guys enjoy the Night Stick as much as we do; I actually love it and am sad that it will not be a regular-production cigar. I made myself a few extra because I know they are going to sell out fast!"
As the Night Stick's predecessor was extremely short-lived on the retail shelves of Pennsylvania-based Famous Smoke Shop (completely selling out in a matter of 2 hours), Protocol Night Stick has increased production to 500 limited-edition bundles of 10 cigars (compared to only 300 bundles for Protocol K9). With a completely new blend and size, Night Stick showcases custom-designed artwork as well, adding to the atypical series of police-themed projects from Cubariqueño and Cigar Dojo. Like the K9, Night Stick is being offered exclusively through Famous Smoke Shop, including an in-store sale (accompanied by a release-party with members of Cigar Dojo and Cubariqueño), as well as online orders through famous-smoke.com.
Cigar Dojo owner Eric "Master Sensei" Guttormson commented, "The release party, the amazing cigar, working with Juan, Bill, and Kevin—the Night Stick is EPIC in every facet, so get ready for another instant classic."
With Cubariqueño co-owners Juan Cancel and Bill Ives being among the first influential members of Cigar Dojo's app upon its debut in 2012 (including a Dojo Hall-of-Fame induction in 2014), the two companies have shared a tight-knit bond and common core beliefs; this has allowed for highly engaging collaborations such as the Protocol K9 and now the Protocol Night Stick!
"Juan and I have been involved with the Cigar Dojo community since 2012," adds Bill Ives, co-owner of Cubariqueño Cigar Co. "Being able to work with Eric and blend a second Dojo cigar after the K9 hit is an honor."
The Protocol Night Stick Release Party will be held at the Famous Smoke Shop and accompanying Leaf Cigar Bar, located in Easton, PA. The event will begin simultaneously with the cigar's release on April 5th at 12pm (Eastern Time).
Protocol Night Stick Breakdown
Wrapper: Ecuadorian Habano Rosado Oscuro
Binder: Nicaragua
Filler: Nicaragua (Condega | Jalapa)
Factory: La Zona
Production: Limited Edition (500 bundles of 10 cigars)
Packaging: 10-ct Bundles
Vitola: 6½" x 54 "Attitude Adjuster"
Price: $89.99 ($9/cigar)
Release: April 5, 2019 | 12pm (EDT)
Retailer: Famous Smoke Shop