Hiram & Solomon Release Grand Architect
June 2, 2019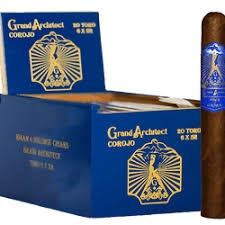 Hiram & Solomon Cigars is pleased to announce, the availability of our latest creation to fill out
the company's portfolio of fine premium cigars - The Grand Architect.

The Grand Architect gets its name from one of the founding principles of Freemasons. "It is appropriate that a society founded on the principles of architecture, which symbolizes the terms of that science to moral purposes, and whose members profess to be architects of a spiritual temple should view the Divine Being, under whose holy law they are constructing that edifice, as their Master Builder or Great Architect. Sometimes, but less correctly, the title 'Grand Architect of the Universe' is found."
The Grand Architect is a blend of select aged tobacco, including a rare Paraguay leaf that is also
present in both the Entered Apprentice and Veiled Prophet and produces an inviting aroma.

• Wrapper - Corojo
• Binder - Seco Habano
• Fillers - Paraguay and 2 types of Nicaraguan Ligero
The Hiram & Solomon Grand Architect, is expressed in three popular vitolas and comes packaged in 20-count blue lacquered boxes:

• Robusto - 5 x 50
• Toro - 6 x 52
• Gran Toro - 6 x 60
Hand crafted at Plasencia Cigars in Esteli, Nicaragua, the Grand Architect has a retail price set
between $10.00 and $12.00 USD.

If you are attending the 2019 IPCPR, we invite you to preview the Grand Architect at the Hiram
& Solomon booth #3864.

For more information or questions contact us at This email address is being protected from spambots. You need JavaScript enabled to view it. or Fouad
Kashouty at +1 (732) 580-3266.