Cigar Dojo Collaborates with Alec & Bradley on Dojo Chico Cigar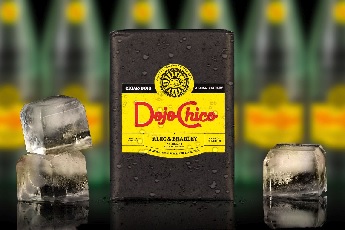 DENVER, CO (Monday, August 23, 2021)-- Cigar Dojo has teamed up with Alec & Bradley Cigars to showcase the duo's second collaborative project: Dojo Chico.

From a fertile valley of Mexico, uncovered by the Aztec people during the 15th-century, a peculiar mineral water has bubbled its way into the hearts of cigar enthusiasts in recent times. This holds especially true for both the Rubin family of Alec Bradley Cigar Co. and the team at Cigar Dojo, praising the fizzy elixir for its unrivaled refreshing nature and palate-cleansing cigar 'pairability'.

This inspired the creation of the Dojo Chico--a cigar capable of offering a clean, refreshing, tongue-tingling smoking experience on par with the mineral water it was modeled after.
Bradley Rubin, co-founder of Alec & Bradley Cigars, notes, "There is a very specific brand of mineral water that Eric and my father, Alan, are obsessed with. We embraced this bizarre fascination, chose a very refreshing blend, and came up with Dojo Chico!"

Like the water itself, Dojo Chico cigars are meant to be gobbled up by the six-pack, available in bundles of six cigars with an approachable price point of $6.50 per cigar. The cigars are hand-crafted in Nicaragua, rolled in a connoisseur-favorite corona gorda format that brings out a concentrated smoking experience. Nicaraguan tobaccos make up the core recipe, being bound and wrapped with leaves of undisclosed varietal and origin.

"Dojo Chico pays homage to our favorite mineral water, which we drink by the case here in Dojo studios. This cigar is fun, affordable, and features a great blend from the Alec & Bradley boys that performs as good as a cigar twice the price," added Eric Guttormson, owner of Cigar Dojo.

The Dojo Chico cigar will be offered exclusively through retailer Payless Cigars & Pipes, featuring a staggered release that runs through the 2021 Rocky Mountain Cigar Festival. The cigars will first be made available at the Dojo's own pre-festival party (with Bradley Rubin in attendance) on Thursday, Aug. 26th, held at the Dojo studio in Lakewood, CO. More cigars will then be released at the RCMF on Saturday, Aug. 28th in Broomfield, CO. Finally, any remaining bundles will be offered through paylesscigarsandpipes.com on Wednesday, Sep. 8th.

Dojo Chico Breakdown:

Wrapper: Undisclosed
Binder: Undisclosed
Filler: Nicaragua
Factory: Undisclosed (Nicaragua)
Production: Limited Edition (840 bundles of 6 cigars)
Packaging: 6-ct Bundles
Vitola: 5 5/8" X 46 (Corona Gorda)
Price: $39 ($6.50/cigar) | $40 (RMCF Pricing)
Release: Aug. 28, 2021 | Sep. 8, 2021
Retailer: Payless Cigars & Pipes