Frontier Cigars Expands With Cigarillos and XL's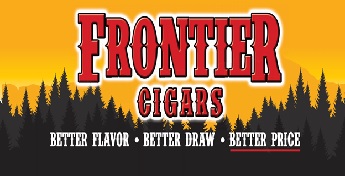 Frontier Brands, the owner and manufacturer of Frontier Cigars, is pleased to announce the expansion of their Frontier Cigar lineup with the addition of the Frontier Cigarillos and Frontier XL's. These new offerings are made in their Dominican Republic factory along with their flagship product Frontier Cheroots.
The Frontier Cigarillos are a hand made all-natural tobacco cigar made with the finest premium tobaccos from Nicaragua and Dominican Republic. Wrapped in an Ecuadorian Connecticut Shade leaf these premium style cigars come in six flavors: Honey, Honey Berry, Rum, Russian Cream, Sweet Aromatic and Whiskey. Each cigar is individually cellophaned and packaged in stay-fresh crush proof retail tins of 10 cigars. They are a perfect addition for any tobacconist. The MSRP is $17.99 per tin.
The Frontier XL is an all-natural corona sized cigar with premium Nicaragua and Dominican tobacco fillers. They are wrapped in Ecuadorian Connecticut shade wrappers. The initial offering is in two flavors, Russian Cream and Sweet Aromatic, with additionally flavors coming early next year. They are packaged in retail friendly stay-fresh pouches of 3 cigars. Each pouch is re-sealable to maintain freshness. The suggested MSRP is $4.99 a pouch.
According to Ryan Frailing, Chief Operating Officer of Frontier, "With the overwhelming acceptance of our flagship product, Frontier Cheroots, we accelerated the launch of our Frontier XL and Frontier Cigarillos and brought them to the marketplace this year. I believe by offering the finest leaf and highest quality tobaccos along with our excellent price points and aggressive promotions have been the keys to distinguishing our products in the marketplace. Our Frontier Cigars use no HTL or other manmade wrappers or fillers. Additionally, with the growth of cigars in the convenience store segment it allowed us to advance our product offerings by about two years."
Frontier Cheroot cigars are manufactured in the Dominican Republic. Made with quality premium filler Nicaragua and the Dominican wrapped in a lush Pennsylvania broadleaf wrapper they come in four flavors: Honey, Honey-Berry, Russian Cream and Sweet Aromatic.
For more information or distribution inquiries on Frontier Cigars contact Ryan Frailing at (941) 378-3200 or This email address is being protected from spambots. You need JavaScript enabled to view it..
About Frontier Brands, LLC: Frontier Brands is a wholly owned subsidiary of Island Lifestyle Importers, LLC in Sarasota, FL. Island Lifestyle Importers is the manufacturer and owner of the Island Lifestyle, Island Club and Royal Leaf premium cigar brands as well as the exclusive manufacturer of and world-wide licensee for Tommy Bahama Luxury Cigar Accessories. The focus of Frontier is to bring the same high quality standards to the traditional mass cigar market at affordable price points.